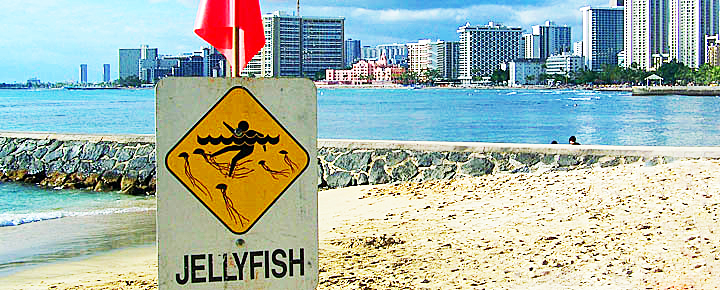 Plan a "jellyfish sting free" Hawaii vacation with our updated 2021 calendar of Hawaii Jellyfish sting warning dates and suggestions. You may want to keep this information handy when you are looking for cheap flights to Hawaii.
Jellyfish are fascinating and are themselves comprised of nearly 95% water. Their needle-like stingers are located on their tentacles. When activated, the stinger shoots into the victim, releasing the venom. This all happens in a millionth of a second.
Jellyfish Sting Tips
Location. South facing Hawaii beaches are most impacted by jellyfish eight days after a full moon. These include Waikiki, Ala Moana Beach Park, Hanauma Bay, and the Waianae Coast on Oahu. Kauai can have warning signs posted at Poipu Beach and even Salt Pond. Maui beaches and Big Island beaches are also affected but typically have fewer problems.
Timing and awareness. You'll usually find jellyfish on impacted beaches eight days following a full moon. The problem can persist for three days. If you're here during a jellyfish invasion, talk to the lifeguard for advice.  Also, check the beach to see if any jellyfish are present on the sand.
If you are stung, first, you'll find some good news below. There is much ongoing research in jellyfish stings, and the University of Hawaii has developed a topical treatment in the works. Jellyfish have long been a problem in Hawaii, and they only seem to be getting worse here and globally.
Jellyfish in Hawaii. Here in the islands, jellyfish types seen include the box, moon, and lagoon varieties.
2021 Hawaii Jellyfish Sting Warning Dates
While a jellyfish sting can happen at other times, these are the most likely dates when problems may occur. Also, be on alert the days immediately preceding and following the caution dates.
2021
February 5 to 7
March 6 to 8
April 5 to 7
May 4 to 6
June 3 to 5
July 2 to 4
August 1 to 2, 30 to 31
September 1, 28 to 30
October 28 to 30
November 26 to 28
December 26 to 28
Jellyfish Treatments and Prevention
Searching online will yield a wide range of suggestions for what to do in the event of a jellyfish sting. Some of the best suggestions we've seen include the following:
1. Seek medical attention as soon as possible if in shock or if you have any complications.
2. Rinse the site with vinegar to deactivate the toxins and remove the remaining tentacles and nematocysts. Others say to wash the area with seawater to deactivate stinging cells. Or you can remove tentacles by scraping them with a credit card or other plastic object.
3. Use hot water or ice packs to reduce the pain duration and intensity. Others suggest after removing the tentacles, immerse the affected arm or leg in hot water of 104 to 113°F for at least twenty minutes.  If other body parts are impacted, a hot shower can be used instead.
4. Friends recommend, and we have used After Bite itch eraser for years
. It is ammonia and baking soda based and works well to relieve pain from stings from our experience. A range of new prevention and treatment products is also available, including somewhat controversial ones (do read the reviews). One we saw with good reviews was Sting-Kill. Please let us know what has worked for you.
5. Read over 100 comments below for others' recommendations.
Another Point of View From Mayo Clinic.
1. Carefully pluck visible tentacles with fine tweezers.
2. Soak the skin in hot water. Use water that's 110 to 113 F (43 to 45 C). If a thermometer isn't available, test the water on an uninjured person's hand or elbow — it should feel hot, not scalding. Keep the affected skin immersed or in a hot shower for 20 to 45 minutes.
3. Avoid the following: scraping out stingers, rinsing with seawater, rinsing with human urine, rinsing with fresh water, applying meat tenderizer, applying alcohol, ethanol, or ammonia, rubbing with a towel, or applying pressure bandages.
Have you been stung by a box jellyfish, and if so, what treatment has been most beneficial? 
Beat of Hawaii photo at Waikiki Beach.
Updated 1/19/21.
Disclosure: We receive a small commission on purchases from some of the links on Beat of Hawaii. These links cost you nothing and provide income necessary to offer our website to you. Mahalo! Privacy Policy and Disclosures.