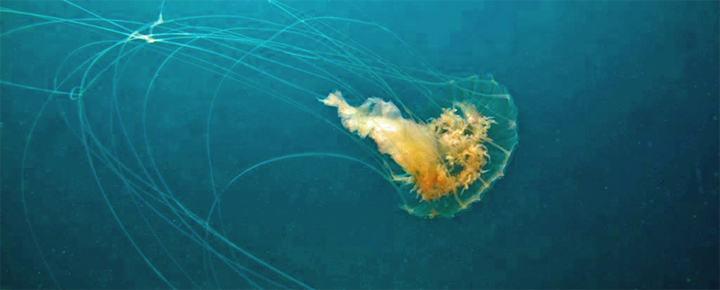 Jellyfish sting are often in the news, and in a multitude of our visitor comments. With proper planning and caution, these do not need to be part of your Hawaii vacation. Our post today also features other issues Hawaii travel problems you may encounter and our advice for avoiding them.
Hawaii Jellyfish stings
Read our annual Hawaii jellyfish stings update that includes all dates in 2019, to stay current on where and when these could be a problem on your Hawaii vacation.
Tips: Check the full moon calendar when planning your vacation and add 8 days. This gives you a good approximation of when jellyfish arrive on the Hawaiian Islands' south facing beaches only. Expect them to be a problem for 3 days. The seriousness of the invasions varies from month to month and is not predictable.
Mosquito bites
While mosquitoes can be dangerous and transmit diseases like Zika and West Nile virus, malaria and dengue fever, we have not had any of these problems of recent here in Hawaii. The likelihood of being bitten is far worse towards sunset and when in wooded or especially wet areas. Unless you have a rare reaction, bites are usually self-resolving. To expedite that, don't scratch no matter what. Doing so always makes the bites itch worse and/or last longer. Beyond that breaking the skin can result in infection, and Hawaii is definitely known for nasty skin infections.
Tips: First avoid the sting. We used to do that with Deep Woods Off , which works great in Hawaii. Now we use this highly rated new Natural Mosquito Repellent. Things to ease the itch include After Bite (we always have this on hand), cortisone cream, calamine lotion or a paste made from meat tenderizer and water. Another suggestion is to apply a cold papaya (save half to eat). Ice might make it feel better too.
Centipedes and scorpions
Okay, on the subject of scorpions, yes they are here in Hawaii. If you've ever seen one, please let us know. We've only seen one dead one, once. Centipedes – we have plenty. We've written about them before, which remain among some of our most popular non-deal posts. You'll find a plethora of comments about them on our site, with others foibles, and care suggestions.
Related Posts include Centipede Bite in Hawaii and Centipedes in Hawaii: I Was Stung Today.
Seasickness
With ocean all around, and cruising or sailing experiences abundant, avoiding seasickness is a top priority. There are so many theories on how to take precautions, but for us, being on the ocean during relatively calm conditions is always number one. Things we have tried with varying degrees of success include:
1. Scopalomine patch. This took too long to work, and really should be started well in advance of rough sea conditions. This works, albeit with side effects.
2. Dramamine. These should be called sleeping pills, given how drowsy they make you feel.
3. Bonine. Better than Dramamine, but still completely unacceptable in terms of how they can leave you feeling and how ineffective they can be.
4. Wrist pressure bands. The manual bands that have what feels like a marble inside that presses on the inner wrist. These just did nothing in our experience.
5. Ginger candy. Tastes great, but doesn't seem to do a thing to alleviate seasickness.
Sunburn
Keeping out of the sun or wearing covering (and SPF protectant) clothes during the hottest part of the day is obviously the best choice. Second is good sunscreen. I've been sticking with the recommendations from the Environmental Work Group.
Read our 2019 update on Hawaiian Sunscreen.
Coral scrapes
These can be very painful and serious, with the distinct possibility of infection, and are clearly best avoided. If you get scraped, however, here are some basic suggestions:
First, clean the scrape with soap and water. Then clean with hydrogen peroxide diluted with water. Rinse again and apply an antiseptic/antibiotic ointment. If it's at all serious or shows sign of an infection, consult a physician. Hawaii has lots of urgent care locations where these are most often treated.
Ocean safety
This is perhaps one of the greatest concerns for Hawaii visitors. Underestimating the danger of the ocean can, and frequently does lead, to injury or death. It's always smart to read the ocean safety brochure in your hotel room on arrival. If you aren't completely sure of the situation, swim where there is a lifeguard.
Tip: Read our 2019 Top 10 Hawaii Beach Safety Tips.
Medical emergency
Your Mainland health insurance "should" work here just fine. And in the event you need to seek medical attention, it's good to know that you're in good hands. Hawaii health care often scores near the top in the national healthcare score card.
Car accident
Hawaii is a "no-fault state." Your own vehicle insurance will pay the bills for your injuries and your passengers' injuries. And you cannot sue or be sued unless there are serious injuries. "No-fault" applies to injuries, not to vehicles or property, so the driver-at-fault in an accident is responsible for damages to vehicle and property.
Driving citations
While perhaps not an emergency, these are definitely something you'll want to avoid, and the best way is to simply slow down. Hawaii is known for strict speed enforcement with expensive fines, often using laser detection. Read our 2019 Ten Safe Driving Tips for Hawaii Visitors.
Lost or delayed luggage
As you know from our prior posts, we've experienced this more than once and it wasn't pretty. We were so happy to have purchased trip insurance. Read about our experience in the post How Travel Insurance Just Saved Us Over $600.
Next, it's helpful to photograph your luggage exterior and its contents in case of loss or delay. (It seems like we're always running around at the last minute and never think to do this). If something doesn't show up in Hawaii, the good news is that most bags are ultimately recovered and will be delivered to your hotel at no cost.
Tip: If your bag is delayed, ask about the airline's policy for replacing things you may need in the interim. 
Baggage delay must happen frequently, as we often see the lost baggage delivery truck driving around the island. In the unlikely event your bag is truly lost and not just delayed, the maximum liability of domestic flights is $3,300 per person. This is where your knowledge and photos of what's inside may really pay off.
Updated 8/8/19.
Disclosure: We receive a small commission on purchases from some of the links on Beat of Hawaii. These links cost you nothing and provide income necessary to offer our website to you. Mahalo! Privacy Policy and Disclosures.