Bold, sophisticated, and featuring a new look in Hawaii hospitality, the Koa Kea Hotel and Resort has made its debut at Poipu Beach.
Does this self described calming sanctuary, the former Poipu Beach Hotel, live up to expectation? I stayed there recently to find out.
With the lowest opening special at $299 per night, my expectations were high. The Koa Kea met them in guest service, amenities and elegance.
What to expect from the design by Anita Brooks.
When I walked through the lobby its furnishings and color palate reminded me of modern Moroccan elegance. The lobby exterior had the feeling of a lodge with its stone archway and pillars leading out to the pool.
My partial ocean view room was done in a dark brown and white color combination with turquoise accents. A strong departure from traditional island colors.
On a tour of the property I saw some rooms with vaulted ceilings and others done in lighter shades.
My luxury room favorites.
I love coffee and having an in-room espresso maker was a big hit.
The two-person shower was elegantly done in Italian marble and featured a generous assortment of L'Occitane products. In addition to a regular shower head I could opt for a rainfall effect from the ceiling or have both at the same time. The rainfall was my favorite.  I also liked the lighting effect in the shower which replicated natural light from the outside.
Bath towels were large and over sized. I found the guest bathrobe, one size fits all, a perfect fit for my tall frame.
The bed linens were fine Egyptian cotton and featured a lush mattress topper for a good night sleep.
Outdoor pools were the ultimate in relaxation.
I liked the smooth rock lined jacuzzi that was kept hot at 104 degrees. There was no smell of chemicals in either pool. The swimming pool had a mottled dark blue bottom. As I lounged by the pool I enjoyed the view of the expansive lawn leading out to the ocean.
No beach and that's okay.
There's more privacy and unobstructed views. You're always a close walk to where you can swim in the ocean.
Guest service professional and attentive.
With only 121 rooms the hotel prides itself on guest comfort and service. When I arrived I was met by the Valet who escorted me to the front desk and introduced me by name.  After check-in the guest service agent escorted me to my room to ensure everything was in working order. Nightly turn down service was excellent.  Whenever I had a special request it was seen to immediately.
My Guest Tips at Koa Kea.
1. Call the hotel directly at 808.828.8888 and negotiate upgrades.
2. Microwaves are free but you'll need to make a request.
3. Ask for a top sheet if the down duvet is too heavy for you. It's high quality and feels nice, but used as a top sheet the way it was intended, I found it too heavy for our tropical climate.
4. Resort fee is $15 per day and includes unlimited valet parking and high speed Internet. The gym is complimentary.
5. There are two guest service laundry rooms on the grounds.
6. When you step out on your lanai it won't be completely private as you'll see from my picture.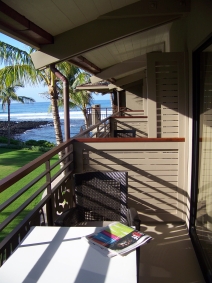 7.  For best views book a partial ocean category or higher. If you're lucky enough to score an ocean front room, you'll feel like you're sleeping over the surf.
8.  I stayed in the 'Eha building which had strong morning sun.  The 'Ekolu building looks cooler that time of day with less glare and better evening sunset views.
If you stay at Koa Kea Hotel and Resort, be sure to comment and let us know about your guest experience.