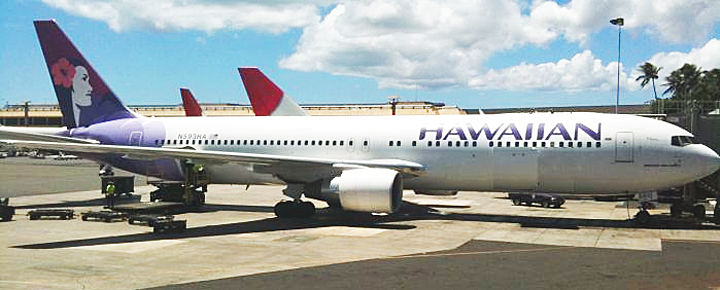 Hawaiian Airlines told us late last night, then announced this morning, that they will be flying 5 times weekly between Boston and Honolulu using their A330 aircraft. This will, at 5,095 miles, be the longest domestic route in US history and the first ever nonstop to Hawaii from Boston. Commemorating HA's 90th year in business, the route is being designated "HA 90."
The routes starts in spring break, providing a great time for New Englanders to give Hawaii a try!
HA89 will operate BOS-HNL, departing 8:00am and arriving 1:40 pm.
HA90 will operate HNL-BOS, departing 1:45pm and arriving the following day at 6:00am.
CEO Peter Ingram: "Boston is the largest U.S. market without nonstop service to Hawai'i with nearly 500 people flying between eastern New England and the islands on any given day."
Inaugural airfares. To celebrate the only nonstop service connecting Boston and Hawaii, there is a Hawaiian Air special round trip fare of $617 (economy) and $1,776 (first class). Tickets must be purchased by 9/17 and are available for travel from April 4 to April 30. Blackout dates for travel to Hawaii are April 12-14, and to Boston from April 19-21. We expect to see economy airfares remain at or below that level, for the foreseeable future due to competition. The first class airfare is an excellent offer.
Beat of Hawaii analysis.
1. We were surprised to see Boston as the next non-west coast addition for Hawaiian. Frankly, we'd have more expected and still anticipate the likes of Atlanta, Chicago, Montreal, Philadelphia, Toronto, or Washington, among eastern options. On the other hand, part of the decision could relate to the fact that a number of those have direct competition, while Boston does not.
2. Boston is a focus city for Hawaiian partner JetBlue, as well as competitors Delta, (and to a lesser degree) American and United. So we definitely anticipate very competitive pricing, at least from Delta and American for a long time to come. Without doubt, Hawaiian Airlines has done its homework on this offering. Their only other east coast route, New York, was a very tough egg to crack for Hawaiian, and took years to develop.
3. We do still expect to see a number of new routes (west coast, east coast and Asia/Pacific) coming soon from Hawaiian. New routes have in part become possible due to their new single-isle Airbus fleet (see our Hawaiian Airlines A321 trip report). That plane is fast becoming the mainstay for many existing and upcoming west coast routes. The company recently announced it is suspending its Honolulu to Beijing route due to lack of demand.
4. Another factor is that Southwest Airlines will very soon be plying the Hawaiian skies. With that significant change in the competitive environment, it is great to see Hawaiian leverage their current (A330) and upcoming (B787) wide-body fleet for unique offerings such as this.
Disclosure: We receive a small commission on purchases from some of the links on Beat of Hawaii. These links cost you nothing and provide income necessary to offer our website to you. Mahalo! Privacy Policy and Disclosures.