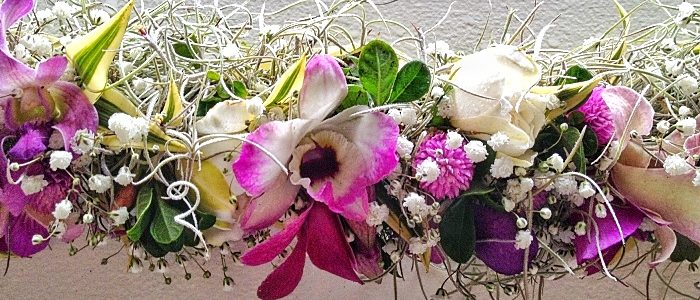 May Day is being celebrated as Lei Day in the islands. This year obviously looks to be quite a different one. But next year, please join us the first week of May. In Hawaiian culture, the lei is said to represent Aloha. You can see more lei photos at the end of this post.
2020 Warrior Lei Day Nā Lei Koa
The 93rd annual Lei Day Celebration at Kapiolani Park is cancelled. Nā Lei Koa or Warrior Lei Day was announced by the City of Honolulu as a way for islanders to express aloha and appreciation for first responders, medical professionals, and essential workers.
All of us are invited to make lei and display on our mailbox, front door or balcony. Those can be shared in social media with hashtag #naleikoa.
Lei Day is an annual statewide Hawaii celebration on all the islands that was established as a holiday in 1929. Each Hawaiian island has different type of lei (the same word is both singular and plural) and celebrations. The festivities have grown year after year.
The islands each have special flower and lei representation. The Big island has the red lehua blossom. Kauai is green (of course) and is represented by the mokihana flower. Oahu is the ilima flower. Maui is the pink Lokelani. Molokai is the kukui tree and Lanai is the yellow Kaunao.
We have attended Lei Day celebrations for years. Photos below are an annual Kauai celebration. While waiting to enter this popular Kauai festival, we made lei under the watchful eyes of experts in the craft. Inside there were beautiful lei including edible ones awaiting us, and entered in competition.
Below is a gallery of more exception lei. Please let us know which lei you like best.
Disclosure: We receive a small commission on purchases from some of the links on Beat of Hawaii. These links cost you nothing and provide income necessary to offer our website to you. Mahalo! Privacy Policy and Disclosures.