If you're a fan of Hawaiian culture, you've undoubtedly heard the phrase below. The traditional garlands of flowers and foliage known as lei (singular and plural, they take the same form) have long been associated with Hawaii. For almost a century, May Day has been a celebration that has afforded us a chance to celebrate the lush natural beauty of our surroundings, showcase the artistry and craftsmanship of our people, and perpetuate Hawaiian cultural traditions.
"May Day is Lei Day in Hawaii."
May Day is celebrated worldwide, a traditional celebration of springtime that has come to also be a day for labor and solidarity in many countries. For almost a century, Hawaii has been putting our own spin on things with Lei Day, a celebration of Hawaiian culture and the aloha spirit. Lei, which can take the form of a necklace or wreath as well as a head band ("haku" lei, or "lei po'o") are an important part of Hawaii culture year-round and are presented at graduations, anniversaries, birthdays, weddings, and other events, to honor each person's uniqueness and express the giver's love and respect for the recipient. Lei can include a wide variety of flowers, plants, feathers, and fabric. There are even yarn lei and ribbon lei that you can make no matter where you live. Visitors to the islands will be familiar with the common plumeria lei, a single strand of blossoms from the introduced tree also known as frangipani in other parts of the world.
Read on to explore the history of how this holiday came to be and a look at some of the celebrations to be held on each island for this upcoming Lei Day (Monday, May 1, 2023).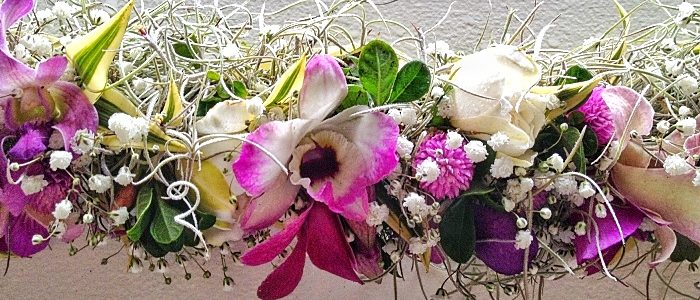 How did May Day become Lei Day in Hawaii?
The idea of a first lei day  was proposed by Don Blanding, sometimes referred to as the "poet laureate of Hawaiʻi," in 1927 when a lei event took place in downtown Honolulu. He presented his idea to the editors he wrote for at the Honolulu Star-Bulletin, and worked with them to promote it to the public. It was his co-worker, columnist Grace Tower Warren, who suggested celebrating the holiday on May 1st, and crafted the slogan, "May Day is Lei Day in Hawaii."
The public proved very receptive to the idea, newcomers and natives alike. Princess Helen Kawananākoa told Blanding that it was a "beautiful thought" and said, "You may count on me for anything you want to help it along." She expressed to him that many Hawaiians felt unrepresented by the official holidays of the time, which were all Western in origin, and would be happy to have one that allowed them to celebrate and practice their own cultural traditions.
The first Lei Day celebration, in 1928, was observed by thousands of people wearing lei throughout the islands. In 1929, Lei Day was officially recognized by Governor Wallace R. Farrington, not as a state holiday, but as a "day of celebration" to be observed "by all true friends of Hawai'i." Thus began the tradition of "May Day is Lei Day in Hawai'i." Today it can be celebrated by the simple act of giving and receiving lei among family and friends, as well as numerous lei-making competitions and showcases throughout the Hawaiian islands, and other festivities such as the famous Brothers Cazimero Lei Day shows at the Waikiki Shell
95th Annual Lei Day Celebration in Honolulu.
After 3 years of no in-person celebration, The County of Honolulu's annual Lei Day celebration returned to its full glory last year. Sponsored by the Honolulu Department of Parks and Recreation, this year's celebration will be held on Monday, May 1, 2023, at Kapi'olani Park, from 9 a.m. to 5:30 p.m. Lei makers will have spent years in their lei garden preparing for the event.
The theme flower is 'A'ali'i (Dodonaea viscosa) and the 2023 theme is Lei Kuahiwi – mountain lei. The corresponding theme flower is 'Ōhi'a Lehua (Metrosideros polymorpha).
As lei day celebration approaches, the theme for this year is Lei Wao Nahele or forest lei. In an interesting twist that will showcase the ingenuity and artistry of the lei makers, while protecting our natural resources, the flower which represents this theme, the 'Ōhi'a Lehua, will itself not be present in any of these creations. In order to help protect the natural population from the potential spread of the Rapid 'Ohi'a Death in lehua forests, harvesting materials from these trees has been curtailed. Instead, contestants will be creating clever imitations, lei that evoke and honor the 'Ohi'a tree without endangering it, by utilizing materials from other plants with similar-looking flowers, blossoms, and foliage, such as Calliandra and Eucalyptus.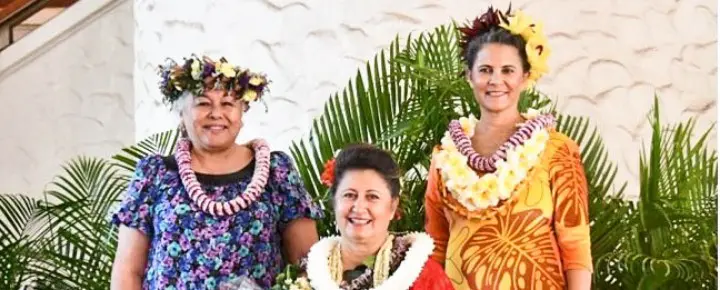 The event will be presided over by the 94th Lei Court. The lei court selection took place during a March 4th event at Kapolei Hale, where aspirants were selected based on their "lei-making abilities, hula performance, poise, personality, and public speaking in English and Hawaiian." Each year the court is selected from 1 of 4 rotating age groups, and for this year, we have the age category of Kupuna, 61 years of age and older. While playing their most prominent role during these May Day celebrations, the court members also serve in an honorary capacity during several other events throughout the year, including guest appearances and being participants in parades.
Three traditional lei competitions include Hawaiian lei, youth lei, and lei lipine (ribbon, fabric, yarn lei). Because the lei contest is such a big part of Lei Day festivities, many local organizations offer free lei-making workshops in the months prior. This gives everyone the opportunity to enter the lei contests. Lei events often feature a particular theme, sometimes a corresponding theme flower, and unique lei contest rules.
Hawaiian Airlines May Day 2023, presented by Kilohana.
The Bishop Museum's annual celebration of mele, hula, and lei has returned with Keauhou, Robert Cazimero, and special guests including legendary local musicians like Jerry Santos and Nina Kealiʻiwahamana. The Hawaiian Airlines May Day 2023 Honors "Kilohana," a cultural symbol of "celebrated excellence and representation," and will take place on May 1, 2023, from 5-9 pm. on the Bishop Museum Great Lawn.
The 17-time Nā Hōkū Hanohano award-winning group The Brothers Cazimero with Keauhou returns as the headliner of the concert that features mele, hula, and moʻolelo (traditional myths and stories) set to entertain and educate.
[Update: The "Hawaiian Airlines May Day 2023" show has already been sold out, but you can still watch a live stream of the event on the site Mele.com, a new Hawaii-based streaming platform that is rolling out on May 1st, with this as their featured opening event.]
Waikaloa Marriott Attempts World's Longest Ti Leaf Lei.
Waikoloa Beach Marriott on the Big Island is leading an effort to break the Guinness World Record for the longest lei, set at 3.11 miles by a group in India in 2012. The hotel is making a traditional twisted ti-leaf lei and is having daily workshops starting at 10 am for the month of April. Visitors and residents are encouraged to join in the effort; find out more on the official attempt page. The final push to complete the lei will take place on April 30th, during the 2nd Annual Lei Festival at Waikoloa Beach Resort, with measurement for the official Guinness World Record scheduled for May 1. They are hoping to achieve a length of 5 miles (26,400 feet) in order to keep the record in the islands for as long as possible.
Other Notable Lei Day Events:
Maui
Lei Day Heritage Festival at Hale Hōʻikeʻike Monday, May 1st from 2 pm to 7 pm.
Maui Historical Society's Lei Day Heritage Festival features local live music and food, practicing lei-making skills, lei making demonstrations and workshops, and a lei contest. The Hale Hōʻikeʻike museum at the Bailey house will also be open and offering tours.
Big Island.
Hilo Lei Day Festival at Kalākaua Park Monday, May 1st from 10 am to 2 pm
The annual festival features local musicians, hula performances, and lei-making activities.
Kauai.
Walter and Irma Lee Pomroy Lei Contest Monday, May 1st, from 10 am to 1 pm.
The annual Lei Contest sponsored by the Kauai Museum will be held at the Royal Sonesta Kauai Resort's Puna Ballroom this year.
Keiki La Lei Contest Saturday, May 6th, from 9:30 am to 11 am.
A separate contest for children lei-makers will be held at the Kauai Museum in Lihue.
2023 Hawaiian Airlines Lei Day airfare sale $119-$199.
Hawaiian is offering special discount rates during select date ranges as part of its Lei Day promotion:
Maui to Los Angeles 05/16/2023 – 05/29/2023 $119-$159
Kauai to Oakland 05/16/2023 – 06/08/2023 $119-$159
Maui to San Jose 05/17/2023 – 06/08/2023 $119-$159
Maui to San Diego 05/17/2023 – 06/08/2023 $129-$169
Kona to Oakland 05/29/2023 – 06/11/2023 $149-$189
Kauai to Los Angeles 05/18/2023 – 05/31/2023 $149-$189
Kauai to Sacramento 05/11/2023 – 05/24/2023 $159-$189
Maui to Oakland 5/17/2023 – 06/08/2023 $159-$199
Some photos in this article are from the lei day celebrations we attended on Kauai.