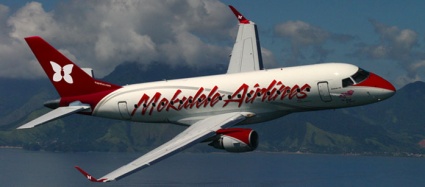 Here's yet another tale in Hawaii's never ending saga of inter-island transportation. Less than one year ago we were excited to see a new and local player, Mokulele Airlines, enter the prior duopoly of Hawaiian Airlines and Mesa Airlines' Go!.
Low Airfares drove Mokulele's financial problems.
So much has occurred  in such a short time span. First we've been blessed with the lowest inter-island airfares in years.  They've gone as low as $3, and have regularly been in the $30's to low $40's.
By February, however, Mokulele ran out of money.  As a result, they were subsequently acquired (89%) by partner and aircraft provider Republic Airlines.
What might happen next at Mokulele.
Now, Avondale Partners analyst Bob McAdoo believes that Mokulele will likely be shuttered in the very near future. While thus far denied by Mokulele, statements by Avondale and Mokulele CEO Scott Durgin make it appear that Mokulele Airlines will either:
Go out of business entirely; or
Change to different aircraft. That would likely be a downsize to more market appropriate, older, 50-seat Embraer 145 jets. Republic has acknowledged considering this.
Pressing issues at Republic (Mokulele's parent).
Republic has bigger fish to fry than Mokulele.  In fact whales would be a more approriate term.  In July Republic acquired Midwest Airlines and just last month won a bankruptcy auction to acquire Frontier Airlines.
They apparently have need of Mokulele's three jets in their mainland operations.
Mokulele has continued to lose money since it entered the Hawaii market.  There seems no way for three carriers to make money on inter-island service.  This problem has been exacerbated by our still ailing economy.
If Mokulele folds entirely.
We would see an immediate return to significantly higher airfares.  I expect that they would soon double, with base fares of $80 to $90, and much more for desirable, busy or holiday times.
For every good reason, let's hope that Republic sees fit to stick around here in Hawaii.
Note:  We have no reason to believe that Mokulele's Cessna-based services would be impacted if Republic decides to terminate its jet service.
Disclosure: We receive a small commission on purchases from some of the links on Beat of Hawaii. These links cost you nothing and provide income necessary to offer our website to you. Mahalo! Privacy Policy and Disclosures.