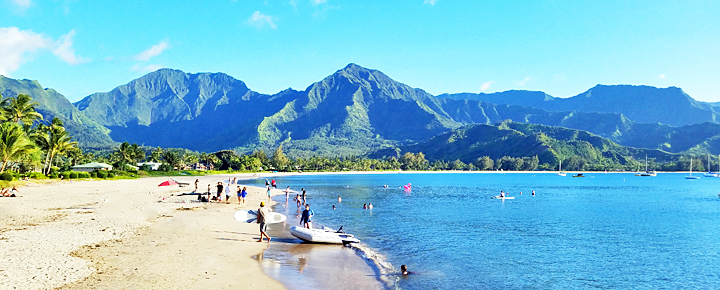 This story caught our eye since the spacecraft will be arriving near our home on Kauai. Yesterday, SpaceX filed plans with the federal government's FCC to land their first orbital Starship here in Hawaii. To be specific, if things go as planned, it will land on the ocean, just miles north of the Garden Island.
The flight, the rocket's first orbital test, is the beginning of plans to land on Mars eventually. And that's just the beginning.
After takeoff from SpaceX in Texas, the Starship will separate from its booster and then orbit the earth once at an altitude of just 72 miles above the earth. Then it will target Kauai, where some 90 minutes after launch, it is scheduled to have a "powered, targeted landing just off Kauai's northwest coast, at a distance of 62 miles to be exact.
Recently, the vehicle's prototype performed a similar landing to what is expected here in Hawaii. The vehicle stands 160 feet tall and is built of stainless steel while the booster attached, it is nearly 400 feet tall.
An exact date has not been set for the takeoff and near-Kauai landing. However, it will be sometime between now and February.
It is also in Musk's plans to make travel between planets something not far from airline travel.
Once completed, SpaceX will carry both people and cargo to both Mars and the moon. In addition, the company has a $3 billion contract from NASA for carrying astronauts.
The company has had a series of recent flights in preparation for their trip to Hawaii.
We'd love to get a glimpse of this, although that appears unlikely. So instead, the spacecraft will arrive at Kauai via open ocean from the northwest.
Fascinating plans include New York to London in one hour.
Musk hopes to use his Starship for transporting people between cities too in what he calls point to point (orbital) transportation. Thus, virtually any city pair on earth would be within one hour away. Musk estimated that such travel, somewhat equivalent to airline travel, is both feasible and could represent a $20 billion annual market. That is according to proponents, of course, while others disagree.
Image courtesy of SpaceX.
Disclosure: We receive a small commission on purchases from some of the links on Beat of Hawaii. These links cost you nothing and provide income necessary to offer our website to you. Mahalo! Privacy Policy and Disclosures.