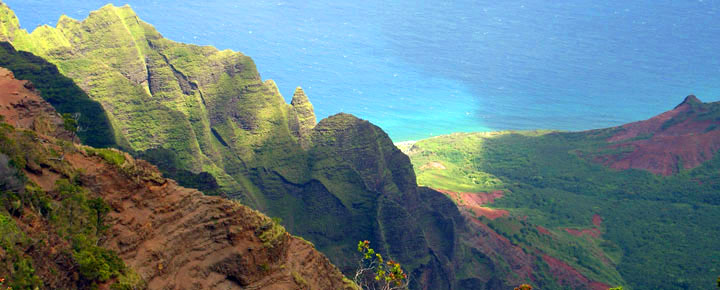 United States Postal Service is about to have its first stamp dedication on Kauai, in honor of the new Napali Coast Kauai Forever stamp. The stamp (see image below), is already in circulation as part of the O Beautiful stamp sheet, which highlights natural beauty throughout the country.
The Napali Coast Kauai Forever stamp, features Kauai photographer Tim Delavega's striking image of waves crashing on the coast.
There was a previous stamp which featured Mount Waialelale on Kauai.
If you're on Kauai and wish to attend, the celebration will take place on August 16 at the post office in Hanalei. It is free and the public is invited. You will also be able to receive unique hand cancellations of the Na Pali stamp from 10:00 to 12:30. There will also be refreshments throughout the day. The event also celebrates the reopening of the Hanalei Post office, which was closed due to flooding since April.
The post office will also be selling collectibles related to the new stamp collection.
Napali Coast Kauai State Park
The Napali Coast Kauai State Park remains closed due to flood damage sustained in April. We expect an update soon on the reopening of the park and the road leading to it. The 6,000 acre park is located on the northwest quadrant of the island and extends from Polihale State Park to Kee Beach. The dramatic cliffs rise to nearly 4,000 feet above the ocean.
Disclosure: We receive a small commission on purchases from some of the links on Beat of Hawaii. These links cost you nothing and provide income necessary to offer our website to you. Mahalo! Privacy Policy and Disclosures.