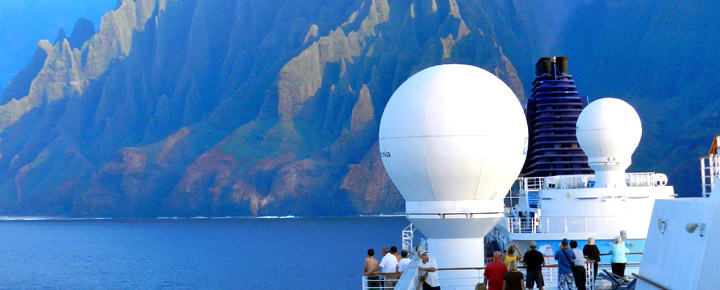 We've been watching NCL Pride of America sail around our Hawaiian islands for years and wondered from a distance what it would be like on board. This ship, the only US flagged cruise ship, sails Hawaii on its seven night itinerary, 52 weeks a year.
Pride of America Reviews
When the ship first launched back in 2005, the reviews indicated a not so stellar experience. After receiving many questions about the cruise from our readers, we decided to check it out and spend a week on board. We honestly didn't come with high expectations and ended up being pleasantly surprised by the service, food and caliber of staff.
In this, our first of several posts, we'll be reviewing the Pride of America ship and its itinerary. Next up in Summer 2016, we'll be cruising with the just dry-dock refurbished Pride of America. Thereafter we'll cover changes to the unique ship, as well as our own tips for making the best use of your time on board and in port.
Why Choose Pride of America
Perfect for anyone wanting to see "Hawaii In A Nutshell." If you like the idea of visiting four islands in one week and unpacking only once, this is the itinerary and ship for you. Pride of America surprised us with its nonstop entertainment and plethora of activities on board.
Pride of America Hawaii Itinerary
Look for our tips next week on each Hawaii port. Stops on Maui and Kauai are two nights each offering many opportunities for independent travelers to rent a car. This is highly recommended both for the independence and cost savings over other options. Another big highlight on the last day was sailing close to the Na Pali Coast. With the exception of Kauai, most of the other sailing happens after dark (except in summer with longer days). The other day ports are at Hilo and Kona, with Kona being the only one requiring use of tenders. If lava should again flow to the ocean from the volcano on Big Island, you will also get to experience from the sea.
Seasickness
One of your editors is somewhat prone to this and had no issue including transiting the notorious Alenuihaha and Kauai channels during the week.
Check-in Procedure
We arrived during their busiest time, around 2pm, and the average wait was perhaps 90-120 minutes from arrival to stepping on board. If you want to avoid lines, arrive early or after 4:00pm. Stay tuned for tips on check-in that will save you up to 60 minutes.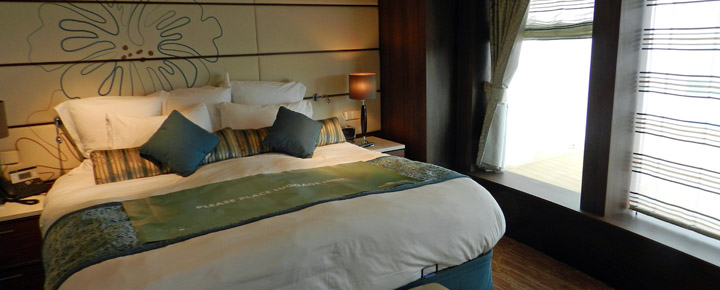 Accommodations | Pride of America Stateroom Experience
Extremely functional while not large cabins with large closets and extra storage. We booked a standard balcony room and found it to be a highlight. Cabins can be configured for two twin beds or one king size bed. Great soundproofing between cabins. The only time we heard others was when standing on the balcony. Suitcases fit easily under your bed. You can remove mini bar items and use the refrigerator. Other requests seen to without fail included nightly turn-down and ice daily. Our room steward, Laurence, quickly learned and remembered our preferences and was fast to respond to any special needs or issues (like spilled water). Most times Jeff commented that you could just open the door and whisper his name for him to appear. After the first day, we realized the outside door had a signal for requests. In-room safe was not functional when we arrived and was fixed the same day.
We have suggestions upcoming on cabin selection and other tips to ensure you really enjoy your room.
Food On Board
Jeff is beyond fussy in this regard and was not expecting much. He was pleasantly surprised. Food is much higher quality than some reviews led us to believe. One review said it was tantamount to high school cafeteria food. Admittedly, however, the presentation at times was odd. The main Aloha Buffet was an unexpected highlight where we could assemble food just the way we wanted. It was fun to try a sample plate and then return for the exceptional items.
What you need to know is that the staff wants to meet your expectation. For example, poached eggs were delivered hard the first two days. We mentioned it the second time it happened and there were no problems thereafter.
Head chef Alain who hails from France and cooked for Julia Child is fantastic and oversees 12,000-20,000 meals daily. We'll be talking more about our behind the scene food tour and many food tips later.
Food highlights we experienced included delicious croissants, exceptional pizza, Indian food, fresh Kona lobster ($40 surcharge for that, but worth the price) and fabulous sushi and sashimi.
Specialty Dining Rooms
Food quality is the same as the public dining rooms. The difference is a smaller themed venue with highly personalized service. We dined at Cagney's, twice at Jefferson Bistro and once at East-West. An additional charge applies from $15 to $30 per person.
Public Dining Rooms
We dined at Liberty, Skyline and Cadillac Cafe. Our favorite was Skyline with prompt service. Tips on reserving a table are upcoming.
Entertainment
Cruise director Markey Mark combines genuine enthusiasm with talent. Under his direction there was no shortage of activities all day long. We were impressed with their Hawaiian Cultural expert, China, who embodies the best of the islands with warmth and sophistication. You'll like her. Another entertainment stand out was the pianist Katie Guglielmo.
Ship Decor
Understated Americana theme as you'd expect by its name. Stateroom corridors offered floral carpeting and Hawaiian artwork on the walls. Central areas had large murals of scenes from America and beautiful wooden staircases. Some areas had period designs including Art Deco. Their new suites (pictured above) offer contemporary design which is perhaps a look ahead for the future of the ship and the company. The central atrium was our only disappointment with its darker colors and federal design. We breezed through it but didn't linger. The pool deck was themed for Miami and had a fun feel.
Gym
We took a yoga class ($12 fee) in the Aerobic studio and worked out in the gym. The yoga was not up to par. The gym had many great machines and treadmills. Dumbbells go to 70 pounds.
Library
One of our favorite rooms with its exquisite details, warm furnishing and bookshelves. Perfect for any bookworm looking for a quiet space.
Questions?
We are happy to respond to your questions about the cruise.
(Beat of Hawaii paid a travel industry rate for this cruise).
Also read 
Hawaii Cruise Review: American Safari Surpasses Expectations.
Disclosure: We receive a small commission on purchases from some of the links on Beat of Hawaii. These links cost you nothing and provide income necessary to offer our website to you. Mahalo! Privacy Policy and Disclosures.