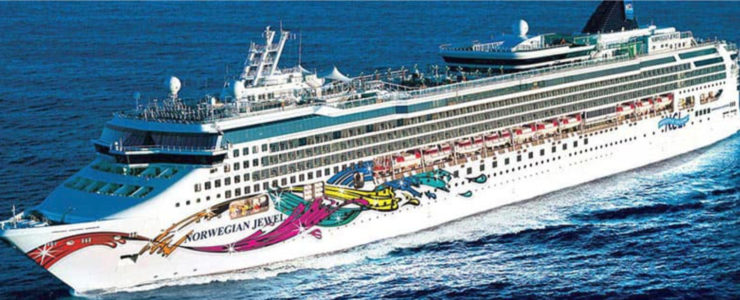 Breaking. 3/22/20, 4pm HST. The NCL Jewel is at this moment pulling into Honolulu Harbor and a complete about face has occurred. Now, passengers will be allowed to disembark under very special circumstances. That after many frightening days at sea during which the ship was refused entry to multiple countries. Reports are that no one on board has shown signs of illness and they have been at sea for far longer than 14 days.
Also see: Hawaii Travel Ban Major Updates as of 3/22/20.
The reason for this change is that one of the ship's engine's has failed and it was not deemed safe for it to continue across the Pacific. The cruise originated in Sydney on February 28 with over 2,000 passengers and 1,000 crew, a time when all seemed reasonably fine. Since then however, four countries refused it docking permission, as had the US at Honolulu Harbor. Those included French Polynesia, Fiji, New Zealand and Australia. It was also refused docking at Pago Pago in American Samoa, where it last stopped for refueling. Passengers were not allowed off the ship there.
The Norwegian Jewel does a couple of these itineraries each year, and your editors once contemplated being on-board. The two-part cruise starts (in this case) in Australia, then visits Fiji and other Pacific islands before a tour of French Polynesia. The next part commences in Tahiti, and visits neighbor islands before a tour of the Hawaiian Islands ending in Honolulu.
Nine charter flights await passengers
We have learned that when passengers disembark, they will be screened by a number of state and federal agencies. Then they will proceed directly from the ship to Honolulu Airport where they will board charter flights. The flights include two from Hawaiian Airlines, two from Sun Country, two from Delta Airlines, two from Wamos, and one from Qantas. They will be headed to Los Angeles, New York, Vancouver, Sydney and Frankfurt.
The charter flights are scheduled to depart until Monday between 9am and 8pm. Passengers will not be allowed to disembark until Monday, as their flight times approach. The State Department of Transportation said, " The ship experienced propulsion problems that require repairs at the next port, which is Honolulu Harbor. The repairs must be made without passengers on board, which has prompted the change to allow the passengers to disembark. No passengers or crew will disembark on Sunday, March 22, 2020."
MS Maasdam heading to San Diego
The other cruise ship, the Holland America MS Maasdam was only allowed to dock in Honolulu Harbor on Friday for the purpose of restocking of provisions and refueling. That ship is now en route to San Diego where it is expected to arrive at 6am on March 27.
The DOT said that all cruise ships in Hawaii are on a 30-day operational pause that began March 14, 2020.
Holland America cruise ship first banned from docking at Hilo
Holland America's MS Maasdam was en route with over 800 passengers from Auckland to San Diego via Pacific islands including Hawaii. It was due to end in California on April 3 after visits planned at  multiple ports in Hawaii starting March 24.
Holland America first asked for permission to dock at Hilo on the Big Island. The Hawaii Department of Transportation refused that request.
Let us know your thoughts in comments below. 
Disclosure: We receive a small commission on purchases from some of the links on Beat of Hawaii. These links cost you nothing and provide income necessary to offer our website to you. Mahalo! Privacy Policy and Disclosures.