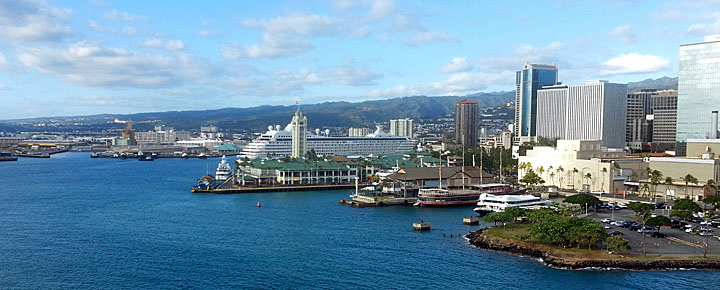 As of 3/28/20, 9am HST. Alaska Airlines Hawaii cuts have been announced that will result in Hawaii flights being limited to "critical travel at this time. The same has happened at Southwest. .
Beat of Hawaii: If you are holding an airline ticket between now and May, please see what to do at the bottom of this post. 
Hawaiian Airlines' CEO Peter Ingram indicated this week that he expects flights to Hawaii will remain suspended until May 20, 2020, unless the state indicate otherwise.
That was confirmed earlier here: Hawaiian Airlines Flights Cancelled Through May 20 | Will Resume With Sale.
The Hawaii Tourism Authority said, "We still have many visitors who arrived before being informed of the state and county directives. With airlines cancelling more flights every day, it's vital these visitors arrange for their return flights immediately."
Beat of Hawaii: First, we are still trying to absorb all of the changes taking place so rapidly. The island state of Hawaii is a fragile environment, and the best aloha visitors can share at this moment is to stay home. We need to take care of the people who live here. 
The State of Alaska joined Hawaii with a 14-day mandatory arrival isolation. All Hawaii arrivals will receive a Department of Agriculture form with a date stamp which must indicate where they are staying. That will be monitored. If it is a hotel, guests must remain in their room. This will probably be changing soon, as we don't envision most hotels remaining open.
Governor Ige said that this is "the first of its kind in the nation." Failure to comply will result in up to $5,000 in fines and one year in prison.
The state indicated that those taking connecting flights will isolated at the last point of arrival, rather than the first.
Fast moving closures and changes.
Also in effect, all commercial ocean and trail tours/activities and all Hawaii State Parks are closed. That includes things like surfing and stand-up paddling instruction, boat tours, whale watching and dinner cruises.
Non-commercial use of beaches statewide will be permitted according to Governor Ige. Kauai starting charging for non-resident beach parking.
Included are all theaters, entertainment venues, bars, clubs, dine-in facilities and other attractions in the closures.
The Prince Waikiki is remaining open at this time in order to serve essential airline personnel. Other major Honolulu hotels, including but not limited to the Halekulani, Halepuna Waikiki, Hale Koa, Ko Olina, The Four Seasons, Disney Aulani, Prince Waikiki, Mauna Kea Beach Hotel and the Westin Hapuna Beach Resort are either closed or are closing.
Kauai also on curfew.
Kauai also has a mandatory island-wide curfew that started last week. It runs from 9pm to 5am daily. Mayor Kawakami said, "In order to ensure that the public is properly protected, it is prudent that we take bold steps to ensure our public safety officials and first responders and healthcare workers have the necessary environment in which to keep us all safe."
Airline updates | How Long? And what to do if you have tickets to come to Hawaii between now and May 20, 2020.
Airlines will fast be updating their policies and flight schedules, and their change and travel credit/refund policies. We are awaiting the next round of changes that include a refund option for cancelled flights, as is required by the US DOT.
Alaska Airlines (checked 3/25) is offering waivers for tickets purchased through February 26 for travel through May 31 and tickets purchased since then for travel through February 28, 2021. Changes are free (except for fare changes ). If you cancel, the funds are redeposited for future travel without penalty. New travel must occur by February 2021.
American Airlines (checked 3/26). If you bought before March 1, 2020, for travel through May 31, 2020, you can rebook without change fees. If you purchase between March 1 – April 15, 2020, for travel through January 30, 2021, you can change your reservation at a later date without change fees. Award tickets do not appear to be included in waiver. Fare differences apply.
Delta Airlines (checked 3/25) changed its policy today. Delta offers a fee waiver for changes on tickets purchased between March 1 and March 31 and for tickets for travel in March, April and May. Tickets can be cancelled as well, with value to be applied to new ticket within one year of original purchase. Fare differences apply.
Hawaiian Airlines (checked 3/25) is in the process of updating their fee waiver and cancellation policies for both trans-Pacific and interisland flights. They have also been contacting guests. We do expect to see changes based on their near universal flight cancellations announced yesterday. The airline has asked that you only attempt to reach them by phone if you have a flight within the next 72 hours.
Southwest Airlines (checked 3/25) does not charge change or cancellation fees. Funds redeposited that have expired or will expire between March 1-May 31, 2020, will now expire June 30, 2021. Fare differences apply.
United Airlines (checked 3/25) is waiving change fees on tickets issued March 3 through March 30 and tickets for travel purchased before March 2 for travel through May 31. Fare differences apply. Tickets may also be credited for future travel.
Note: It is very difficult to reach the airlines by telephone at this time. Check your carrier to see how to best reach them online.
When will flights to Hawaii officially stop? 
As you know, flights are controlled by the federal government. Thus far, federal officials at Department of Homeland Security say they are weighing all options, including the possibility of halting all domestic air travel.
Aviation industry gurus say a ban on domestic flights for up to one month is highly likely to occur. Multiple sources have indicated that the government and the airlines are working out the details of a ban. We could learn more on that at any moment, with it to take effect in the days ahead.
Empty planes and cancelled flights become effective total travel ban.
Until flights are finally cancelled, airlines can't afford to fly planes that aren't at least reasonably full. Thus, flights are ending, be it by further government action, or by market forces.
We will continue to update you from our perch on Kauai, and look forward to welcoming you back to Hawaii with Aloha.
Disclosure: We receive a small commission on purchases from some of the links on Beat of Hawaii. These links cost you nothing and provide income necessary to offer our website to you. Mahalo! Privacy Policy and Disclosures.