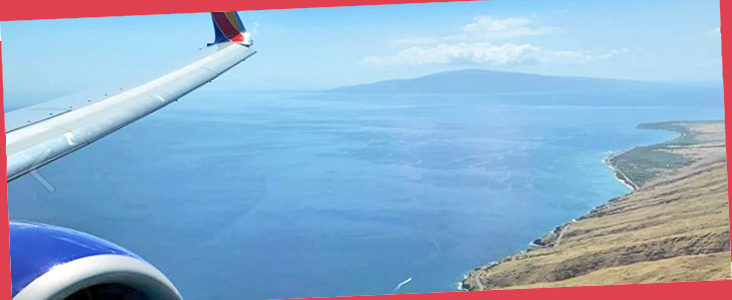 Some updates today regarding Southwest Hawaii connecting flights not from the west coast. The airline published a list early this morning of gateway cities that now offer one-ticket travel to and from Hawaii. We have received a huge number of inquiries about what cities currently have or will have one ticket service. Read on for exactly what the issue is, and why other airlines offer connecting service from across the US, while at this time at least, Southwest does not.
The Hawaii section on Southwest's website is still a work in process. As of today it still said: "Soon Southwest will be flying to Hawaii," which we know has been the case since March. This morning, Southwest posted the list of cities from which visitors to Hawaii can purchase tickets either non-stop or on Southwest Hawaii connecting flights. Later today, that list was removed. What that means, we'll continue to monitor.
Here, however, is what we saw. The list includes both west coast and non west coast departure cities for flights to Hawaii. All of these require just one ticket:
Direct flight cities:
Oakland
San Jose
Connecting West Coast cities:
Burbank
Long Beach
Ontario
Orange County
Portland
Sacramento (direct service pending)
San Diego (direct service pending)
Seattle
Connecting non West Coast cities:
Albuquerque
Boise
Denver
Las Vegas
Minneapolis
Phoenix
Salt Lake City
Spokane
Why aren't cities further east included for Hawaii Hawaii flights and when will they be?
Southwest does not offer red-eye (overnight) flights. Those are used by airlines to enable the long flights and many time zones between Hawaii and the eastern US. That could change for Southwest in the future, but apparently not in the short term. There are a number of issues including staffing and logistics that would need to be addressed to accommodate overnight flights. If and when that does happen, Southwest can offer connecting service from further afield. CEO Gary Kelly said, "we don't really desire to fly red-eyes right now…. for our style of operation, it would complicate things."
Until Southwest has overnight flights, travel from other originating cities will require two tickets.
Image courtesy of SWA Facebook page.
Disclosure: We receive a small commission on purchases from some of the links on Beat of Hawaii. These links cost you nothing and provide income necessary to offer our website to you. Mahalo! Privacy Policy and Disclosures.