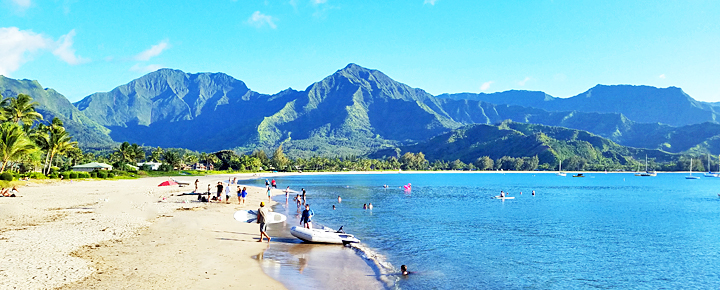 The North Shore Kauai Highway from Hanalei to Kee Beach reopened yesterday. But as we anticipated, it is not without problems, and some caution is advised.
Early this morning, a human chain was formed by some north shore residenta at Waipa, who prevented visitors bound for Haena State Park from entering the highway. Police arrived and reopened the road. Protesters remained as a visual indication to visitors and the state that the area is not ready to reopen. Essential bridgework, for example, is still in process. The state, however, was required to reopen the road. There is also concern, which we deem valid, that there has been woefully inadequate planning and coordination that is needed to resume operations.
There are those too who welcome the reopening, as the area has been out of business since last year's flooding. It has also hurt all of the north shore economy, even at Hanalei.
The new Haena State Park Master Plan is now in effect, which limits access to just 900 of the prior 3,000 daily visitors.
In addition, are you ready for additional delays of 30 to 90 minutes, or more, en route to Hanalei?
1. Problem at Hanalei Bridge. Kuhio Highway emergency maintenance delays until at least September. 
We learned last month that another critical highway piece was to undergo emergency repairs and stabilization. This is resulting in extensive traffic delays heading both north and south approaching the Hanalei Bridge. The hillside just south of that bridge is crumbling and must be repaired immediately. Until completed, traffic will use a single, shared alternating lane at all times. In addition, expect multiple 30-45 minute road closures in both directions throughout the day, so that crews can dislodge loose debris and clear the highway. When the delays caused by the intermittent closures are mutipled by those caused due to the shared one-lane road, this is a very concerning situation.
The hillside there has been eroding onto the highway for years and it is likely that last year's rains and/or events subsequent thereto put the situation over the critical breaking point. This is most unfortunate news for residents, businesses and visitors alike.
2. Kuhio Highway beyond Hanalei | reopening delayed until at least June 13.
The highway north of Hanalei, and Haena State Park is still closed for ongoing repairs since last year's epic flooding. It was first due to open May 1, then May 20, and now as of this afternoon, June 13. We'll add "at least" to the June 13 date, since we know first hand just how slowly things move here on Kauai. In addition, some of the personnel and equipment needed to reopen the highway could end up being diverted to the new problem at the Hanalei Bridge.
It isn't yet clear if the opening of the road will occur simultaneously with the reopening of Haena State Park or not. Previously, a decision to open the road prior to the park actually being accessible was planned. Two days before the road was set to reopen on May 1, county, state and federal officials toured the area. Based on safety and other concerns expressed by Kauai officials, the decision was made to postpone reopening. Another delay is certainly possible.
The idea of the road without the park, restrooms or any other facilities, made no sense. Chipper Wichman, President of National Tropical Botanic Gardens, which includes Haena's Limahuli Gardens, said of this idea that "without facilities, these people are essentially going to a dead end. Where are they going to turn around?"
The highway reopening remains squarely in the hands of the Hawaii DOT. At risk is $70M in federal funds if the highway does not open immediately when ready as a public road. US Senator Brian Schatz from Hawaii had said he would help get to the bottom of the funding dilemma, although we haven't heard anything from him on this recently. Beat of Hawaii friend Mayor Derek Kawakami said this week that county officials will again meet with DOT before the scheduled road opening to discuss the viability. He reasserted, however, that the ultimate decision is that of the state.
Regarding the park, DLNR said that, "barring bad weather or unforeseen delays in repairs or new management implementation, Hā'ena State Park and the Kalalau Trail in the Nāpali Coast State Wilderness Park will reopen to visitors in early-to-mid June. The official reopening date will be announced in May." Well, we know now that early June isn't happening, and for that matter, mid-June seems highly unlikely.
As you know, a reduction in the number of daily vehicles allowed in the park, from 2,000 to 900 per day is planned.
If the road does open prior to the park is actually ready, there will be restrictions in place to prevent visitor access to Haena. The manned checkpoint beyond Hanalei will remain open at that time, where visitors may be advised of delays or be discouraged from proceeding. Car rental companies will be disseminating warnings regarding the new regulations and ongoing issues.
Access, parking and transportation will be dramatically different than before. Wichman said "the county giving a million and a half dollars to establish a new shuttle that will really help remove cars off of the road is unprecedented." Kauai Visitor Bureau executive director Sue Kanoho added, "we just don't want that area to be abused like it was in the past…. There's been a lot of erosion. So just like Haleakala and Hanauma Bay, we're going to have to limit the people."
Haena State Park environmental protection.
What we are about to see is a new park management plan. The goal is to greatly reduce human impact, given that unlimited access is clearly not sustainable. How changes will evolve is a work in process, and what we anticipate now is, of course, subject to change. And there's no way that this is not going to remain controversial albeit necessary.
Kauai has been remiss in protecting its resources. Wichman said of the flooding, "this was divine intervention." Others have noted that the coral reef has begun to regenerate since the flood related highway closure.
Here's what visitors should expect from Princeville to Haena. 
1. Visitors should expect delays of from 30 to 90 minutes in each direction approaching the Hanalei Bridge. Delay times may vary unpredictably at this point, due to the nature of the repairs.
2. The park, parking plan, a new reservation system and more. The park is still set to reopen in June barring any further delays.
3. If the road opens prior to park access, bridge repairs and parking, expect severe traffic delays. Work on repairs to the three small bridges that separate Haena from Hanalei will be ongoing with weekend closures to be announced.
4. New day parking regulations. Until the park is open, posted no parking will be in effect for all of Haena State Park. Once park facilities open, that will be lifted. We are still awaiting more information on the new parking system.
5. No overnight parking at Haena. There will no longer be overnight parking at Haena State Park. Permitted overnight Kalalau trail hikers can either be dropped off or use the new park and ride shuttle service.
6. Increased parking fines. A minimum $200 fine will be in effect for illegal parking, up from $35. Illegal parking had been widespread prior to the road closure.
7. Parking enforcement. Tickets will be issued by uniformed officers of State DLNR and the Kauai Police Department. We expect vigorous enforcement.
8. Limited parking for surfing and fishing. That may be available in special zones but we still have not heard how that would work.
9. Tunnels Beach. There will be no parking at Tunnels beach, which is directly adjacent to but not within Haena State Park. Parking there had been a problem for years. What we have been told is that access to Tunnels Beach access will be on foot from nearby Haena Beach.
10. Limahuli Garden is scheduled to remain closed until sometime in June. A reopening announcement is expected later this month.
Park and ride shuttle service coming.
The new North Shore Kauai shuttle will begin in June (or perhaps later) from Princeville to Kee Beach. The service will have stops at various points along the way including at County lifeguarded beaches. Their website is set to launch later this month.
The shuttle is due to start at the same time as new parking becomes available at Haena. The lot will will have a capacity of 100 cars, available by advance reservation only. Full-time Kauai residents, however, will have some access without prior reservation. How residency will be determined, we don't know.
A park and ride facility is planned for Princeville, either at the shopping center or likely elsewhere since parking there is already a mess. That development remains in process. Until ready, park and ride may begin in Hanalei. Introductory round trip tickets will be $11 for visitors, $2 for Kauai residents, and those with bus pass, no charge. Tickets will be purchased in advance electronically, and cash will not be accepted on board.
Beat of Hawaii photo at Hanalei Bay.
Disclosure: We receive a small commission on purchases from some of the links on Beat of Hawaii. These links cost you nothing and provide income necessary to offer our website to you. Mahalo! Privacy Policy and Disclosures.