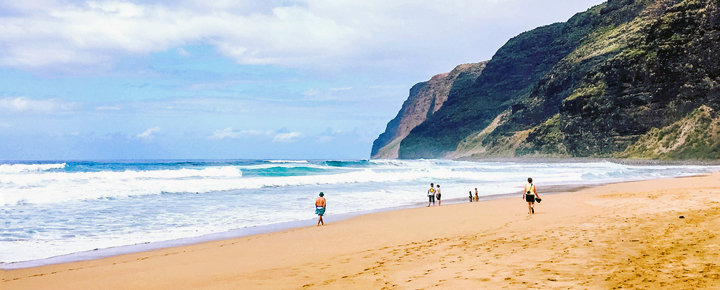 One of our favorite Kauai beaches received national attention not long ago when Travel and Leisure proclaimed Polihale State Park as the world's best secluded beach. We still agree with their choice and returned yet again recently to see what's new on its seven miles of spectacular shoreline with sand dunes up to 100 feet tall.
What we found was good cell phone service (if you recall that was not previously available), new facilities and shelters for day or overnight camping and road improvements that cut the drive down to a quick 15 minutes from the highway. Previously it was a 30+ minute drive on the five mile sugar cane road to reach its sandy shores as can be self from our pre-road repair video below.
Polihale State Park | World's Best Secluded Beach Revisited
Polihale State Park should be on everyone's bucket list of things to do on Kauai. Located on the far west side of the island, it is tucked under the foothills of the majestic Na Pali Coast.
Our take: Polihale is the perfect place for a Kauai sunset, a picnic and getting away from it all.
Travel + Leisure: Verdant cliffs frame the westernmost public beach on Kauai, accessible only via old farm roads.
Polihale Beach is reached by driving west past Kekaha town. Driving instructions and map are included below.
Visitor Details
1. Facilities. There is running cold water, toilets, picnic shelters and outdoor showers. No food service and little shade.
2. Activities. Polihale is almost always dangerous and not good for swimming (even for locals). It is known for rough conditions, rip tides and rogue waves. There is no lifeguard.  "Queen's Pond" at the south/east end sometimes offers safe swimming.
3. Road to Polihale. Trust us, you still won't forget this very now somewhat bumpy dirt and rock sugarcane road about 5 slow miles long, starting at the highway. While 4 WD is generally not needed, expect to take that drive slowly. If it has been raining, it may be best to wait until the road has dried out.
4. Car rentals. Do remember to keep your car rental clean, since there are enforced fees for excessive red dirt. You may want to visit one of the two car washes in Puhi on your return drive from Polihale and come clean again.
5. Camping. Permits are required. $12/night.
The Drive
Map and Directions