Some of you may be thinking that Valentine's Day is too hyped-up. But honestly, when we saw the place to stay we're going to tell you about, we thought, who wouldn't fall for this? We're also going to tell you about two romantic restaurants in Hawaii and a hike that has sweetheart written all over it.
Some things take advanced planning, and the piece de resistance here definitely does. But it will be so worth it. And when you've had enough of flowers and chocolates, what Valentine wouldn't appreciate a surprise trip to Hawaii's Big Island?
Top of our list is The Falls at Reed's Island. While that name might be confusing and lead you to believe there's a new Hawaiian island you've never heard of, this property has a spectacular setting about a mile from downtown Hilo. What a great location. So here are the details, both great and not-so-good, about this dream vacation spot, so read on for that.
Valentine's Day hideaway on the Big Island – The Falls at Reed's Island.
Selected by Beat of Hawaii's friends, Frommer's, as one of the 15 top picks on the planet – properties with a view. It also made HomeAway's top 10 romantic properties in the world and Concierge magazine's Editor's Pick.
The Falls at Reed's Island is a Hilo neighborhood where the wealthy built their homes in a bygone era and still holds that reputation today. You will enjoy a two-and-a-quarter acre estate located at the very end of the neighborhood's only road, giving it the most prestigious and secluded setting;- "You will feel like being on a private island."
The Falls at Reed's Island is about 1 mile from old historic Hilo town and Hilo Bay, "The Beautiful Bayside City." The land is more vertical than horizontal, a sliver with about 700′ of frontage on the Wailuku River, the largest river in the State. It is protected by a fragment of State land on its side away from the river, and the land across the river is protected by a conservation easement. You will feel like you are deep in the rain forest, although just outside of downtown Hilo. This is, of course, a legal vacation rental.
Details include 2,500 square feet, three bedrooms, and three bathrooms. It accommodates up to 6 people. Nightly rates from $419.
Most romantic restaurant on Maui – Mama's Fish House.
Here too, you need to plan in advance, especially for a big romantic event like Valentine's Day. This is a great place to celebrate any special occasion. It's on the beach, and people generally rave over food and service. Mama's Fish House gets rated 4.5 stars on Yelp.
Perfect location on Kauai – The Beach House Restaurant.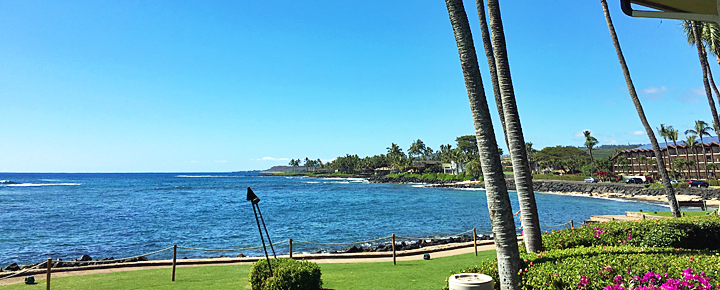 Merriman's-owned Beach House Restaurant Kauai has one of the island's most iconic views. The Poipu Beach drop-dead oceanfront location is second to none. The food isn't up to the view, but the drinks are, and who cares when you're sitting here?
After over five years of new ownership, the restaurant only gets rated 3.5 stars on Yelp, and even very enthusiastic visitors are challenged to see beyond the issues. Truth be told, the Beach House has long suffered from inconsistent service, poor quality food, and a lack of value other than the view. At the other end of the scale are an attractive and lively bar and lounge combined with arguably the most spectacular Kauai sunsets from its incomparable oceanfront perch at Lawai Beach.
As you can see from our photo, the views are simply the best you'll find at any Kauai restaurant. Plan to take extra time after or before dining for some photos.
Sweetheart Rock hike on Lanai.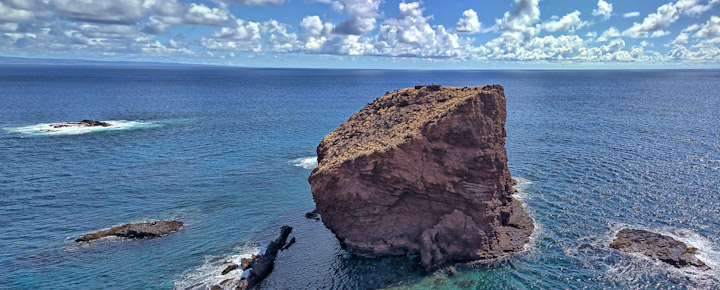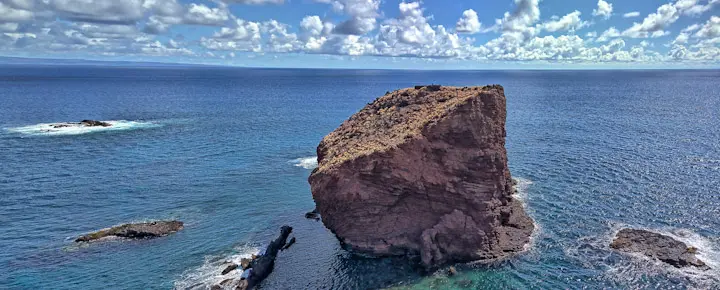 In the perfect place between Manele Bay and Hulopoe Bay sits Sweetheart Rock, known in Hawaiian as Puupehe. It stands 80 feet out of the ocean and is as beautiful as any we've seen. It also is storied in Hawaiian folklore. You can reach the overlook on a short 15-20 minute hike from the Four Seasons Resort Lanai. Sunsets are said to be the most romantic, with picturesque Hulopoe Bay in view. Watch for wildlife sightings in the water too.
The Hawaiian legend is of a maiden named Pehe from Lahaina Maui and a warrior, Makakehau, from Lanai. He cried upon seeing her beauty. And so the name means literally, eyes mist. She returned to Lanai with him, where she was hidden in a sea cave. She is said to have died in a storm, and when he found her, he climbed the rock to bury her, after which he jumped into the ocean because of his heartache.
Please share your most romantic spots in Hawaii. Hau'oli (Happy) la (Day) Aloha (Love).