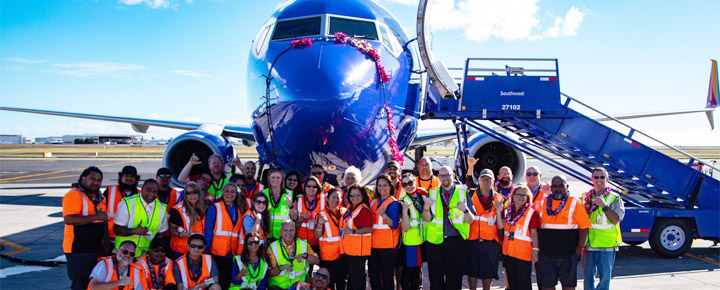 It is now possible to book flights through November 2. Read on for many updated details and what's coming up, including the next schedule release for flights until January.
We honestly didn't know what to expect on the first schedule update since inaugural Southwest Hawaii flights were announced. Two big questions were:
Would the remaining routes we are awaiting be announced?
No new routes were announced. We expected the schedule update might include the addition of flights to and from Kauai, San Diego and Sacramento, plus nonstop flights to Kona (those are currently only connecting). It was thought that those might be a part of last week's roll-out, but they were not. More inter-island flying will be announced with those routes.
What would the next Southwest Hawaii airfares be.
Mainland: Starting at $159. Those are the lowest fares in October from Oakland and San Jose to Honolulu and Maui and went up from there. By contrast Hawaiian Airlines has fares as low as $147 each way this spring between Oakland and Honolulu. Alaska Airlines has fares as low as $139 each this spring between Oakland and Maui. Thus the Southwest airfares may not be sustainable and this is not the Southwest effect we are still expecting.
Inter-island: Starting at $65 each way. Lowest fares in October between Honolulu Maui and Kona.
Meanwhile, we still look forward to the arrival of the first Southwest Hawaii flight this Sunday at HNL. Last week thus far remains unprecedented as their first routes and first Southwest Hawaii deals were announced.
There's no doubt to us that the issues around the grounding of Boeing 737 Max 8 are complicating additional Hawaii routes. Before the Max 8 Ethiopian crash, "the game" appeared to be officially "on," with the company positioned to announce more Southwest Hawaii deals. Then there was the partial ban on Max 8 jets to Hawaii. And lastly the global ban on the new Max jets.
While the Southwest Max 8 planes are not and were not in service to Hawaii, we had heard rumors that the Max 8 aircraft problems would delay release of new Southwest routes. The reason may be to prevent further aircraft availability issues related to taking Max 8 planes out of service.
Schedule as of March 15, 2019
March 17, 2019
✈ Flights between Oakland and Honolulu start
April 7, 2019
✈ Flights between Oakland and Maui start
April 28, 2019
✈ Inter-island flights between Honolulu and Maui start
May 5, 2019
✈ Flights between San Jose and Honolulu start
May 12, 2019
✈ Inter-island flights between Honolulu and Kona start
✈ Flights between Oakland and Kona start (connecting service)
✈ Flights between San Jose and Kona start (connecting service)
May 23, 2019
✈ Southwest schedule update for flights through January 5, 2020
May 26, 2019
✈ Flights between San Jose and Maui start
What comes next?
✈ Flights to and from Kauai
✈ Flights to and from San Diego
✈ Flights to and from Sacramento
✈ Flights (non-stop) to and from Kona
✈ Flights to and from Los Angeles
✈ Addition of inter-island and/or direct flights to Hilo
✈ Flights from Phoenix, Las Vegas and later, Denver to Hawaii
Summary of where SWA Hawaii flights stand today.
1. Newly completed terminal at Honolulu airport's Diamond Head Concourse will be unveiled this Sunday. We hear it is stunning. It will be ground floor using boarding ramps, and dual door boarding is possible. In November 2018, the airline said it will begin testing front/rear door boarding to shorten time. This is well suited to Honolulu given our good weather. Maui is ready as well.
2. Entertainment on-board. Expect to see the SWA inflight entertainment portal on Hawaii flights. That includes flight tracker, gate information, games, free live TV, on-demand TV, free movies and messaging, in addition to the $8 Wi-Fi.
3. $8 satellite Wi-Fi. Southwest will be offering Wi-Fi on all Hawaii flights. Their Hawaii planes, "all of which are equipped with satellite-based WiFi," will provide gate to gate connectivity.
What will West Coast to Hawaii fares be after SWA Hawaii's entry?
When flights were announced, they started at $29 inter-island and $49 to/from the mainland. We will continue to see wide-scale Hawaii airfare sales from all carriers and some of the best deals we have ever seen for flights to Hawaii. We are still looking for intermittent sale prices $99 range each way for the foreseeable future.
Unique food and drink on-board.
1. Food.
Southwest 737 galleys do not have the facilities to support customary airline meals. With no traditional chillers/ovens or food trolleys in their aircraft, they have decided to offer free food, provided as two snack services. One soon after take-off and another two hours before landing.  This is reminiscent of the snack boxes SWA had on longer flights until about five years ago.
The main post-departure service will feature a snack bag that includes crackers, pretzels, cheese spread, Tic-Tacs and fruit snacks. The second service will consist of Pepperidge Farm cookies.
2. Some Hawaii-style beverages.
The airline will help try to capture the island environment through unique drink offerings. Those are said to include pineapple/orange juice, Kona Longboard beer and Blue Chair Bay (Caribbean) rum.
Planes will rotate in and out of Hawaii.
As Southwest executives told us previously, all aircraft will rotate through the islands rather than any dedicated fleet ever being based in Hawaii. Their typical scenario is one where a plane arrives from the mainland on one day, spends a day flying inter-island, then returns the next day to the mainland. That will also help mitigate issues with any late mainland arrivals impacting the timeliness of inter-island flights.
Will the liberal Southwest fee structure change?
Jim Ruppel, Vice-President for Customer Relations, said that they will not. Thus, there will be no fees for the first two checked bags per passenger. Also there will be no change fees (other airlines charge up to $200).
What will be the legroom be?
Southwest executives told us that their planes will have the most legroom in economy of any carrier across the Pacific. Standard pitch on all seats will be 32 inches.
Pricing will be aggressive.
"We will come in with lower fares, and not introductory fares. We have the structure to offer low fares…. It's got to be a price that's competitive and the lowest price in the market." — SWA president Tom Nealon.
BOH: First, a fare war with unprecedented low prices was inevitable. $49 was even lower than we anticipated. We also wonder if Alaska Airlines might withdraw from some of these routes once Southwest service starts.
Long Beach as a future departure city? JetBlue is cutting back service to Long Beach. That will make additional slots available for Southwest, should it be interested. Hawaiian Airlines started flying from Long Beach to Honolulu earlier in 2018.
Aircraft for Hawaii flights. Flights are still set to start on existing 737-800 aircraft, as are being used by other carriers on flights to Hawaii. Once issues are resolved, they will then transition to their new 737 MAX 8 and perhaps 737 MAX 7. The latter brings cities like Denver into range.
Southwest service offerings. Southwest's unique one-class service paradigm will remain unchanged according to CEO Gary Kelly. They include:
Two free checked bags.
No seat assignments. There will still be an early boarding option for $25, which should prove to be extremely popular on flights to Hawaii.
No charger ports. You'll need to bring a charged battery and perhaps a charger pack. We use the Anker ones, which have been the best performing and most reliable.
Hawaii overnight/red-eye flights and East Coast connections.
Kelly stated that while they may offer overnight flights in the future, "we don't really desire to fly red-eyes right now…. For our style of operation, it would complicate things."
BOH: Overnight service will definitely need to come to their Hawaii flights at some point. That could occur much sooner than later out of logistical necessity.
Updated March 15, 2019.