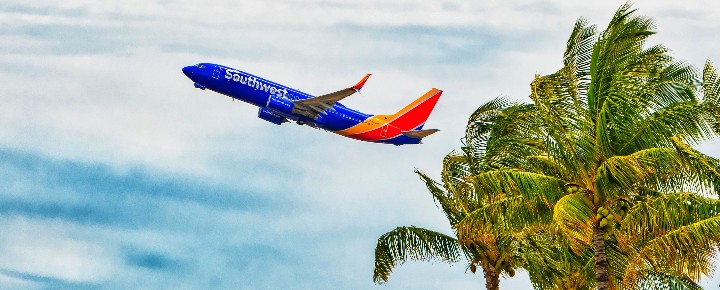 Southwest Hawaii announced today that it will increase its presence in the islands once again. In total, that makes sixteen new routes just since last month, making SWA officially a huge deal in Hawaii travel. See the most recent news and much more below.
New Sacramento to Kona route just added. Is there more ahead?
Starting December 19, four-times-weekly service commences on this much-asked-for route. Southwest said, "As Southwest begins previously announced service this month to Hawaii from Los Angeles (LAX), Las Vegas, and Phoenix, the carrier is also adding new service between Sacramento and Kona on Mondays, Wednesdays, Fridays, and Sundays, starting Dec. 19, 2021."
Commentor Ken previously asked for this route: "As a resident located 90 minutes north of Sacramento who travels to Kona 3 times a year, I'll second this! The prior Alaska flight, direct from Sacramento to Kona, was fantastic. So bummed when that route went away. Plane was always full, so not sure why nobody else has picked it up?"
And commenter Kim had also said: "I wish SWA would pick up the Sacramento to Kona route that Alaska dropped a couple of years ago… It was so nice to have a 5 hour flight instead of 8-10 hour flights with a layover on Maui or Oahu, or to have to drive to the Bay Area to take a direct flight."
Today's announcement comes on the heels of Southwest Hawaii's enormous recent expansion that included 15 new routes and additional mainland gateways.
Will Southwest expand further in Hawaii? It is entirely possible, and the list of cities where that could happen is below.
All of their new island routes had probably been long-planned, with deployment sidetracked due to COVID and the MAX grounding. However, Southwest is on certainly a roll and making the most of the incredible rebound in Hawaii travel.
Competition is hot, introductory prices and more airfares sales are coming soon.
Of significance to Hawaii visitors, this new route and the 15 previous ones are helping keep Hawaii airfare prices in check from across the U.S.
As the peak of summer comes, we will soon see new Hawaii fare wars unfold for the remainder of 2021!
All of the recently added Southwest Hawaii routes face competition, with most of that coming from bellwether Hawaiian Airlines. American Airlines is another opponent from Phoenix, Alaska Airlines vyes for many California routes, and there is a plethora of competition at LAX.
Airfares from $139.
Many SWA Hawaii routes are still available for as little as $139 each way. In addition, SWA has introductory fares for the new SMF-KOA route, which are priced at $179 each way, even at the peak of the upcoming holiday season. Those are selling fast.
So much competition remains ahead from Southwest and Hawaiian Airlines. On that note, we don't expect great deals through early August or during the holidays; there remains too much demand for that. However, fall is looking better every day, so we anticipate many rock bottom Hawaii deals.
New Southwest Hawaii routes added on May 13 were as follows:
Los Angeles flights started June 6 to Honolulu and Maui and June 27 to Kona and Lihue.
Phoenix flights begin June 27 to Honolulu and Maui, on September 7 to Kauai, and September 9 to Kona.
San Diego flights began June 6 to Maui, June 27 to Kona, and June 29 to Kauai.
Las Vegas flights commenced June 6 to Honolulu, June 27 to Maui, September 7 to Kona, and September 9 to Kauai.
Oakland and San Jose flights resumed on June 6 to Kauai.
Back in January, Southwest announced flights from Long Beach to Maui, their second route following Long Beach to Honolulu. These compete directly with Hawaiian Airlines' flights. This has been keeping downward pressure on pricing not only from Long Beach but from all of Southern California.
Book Southwest Hawaii holiday travel through January 5 today!
Travel on Southwest to Hawaii and elsewhere was opened today for flights through January 5, 2022. As to their next schedule update, the company said, "We do not have a date for our next schedule extension therefore please check back frequently."
SWA 737 MAX fleet has returned.
See our update: It's Back: Boeing 737 Max Flights to Hawaii Have Resumed.
Complete Southwest Hawaii nonstop routes:
LAS VEGAS: Honolulu. Kona. Maui. Kauai.
LOS ANGELES: Honolulu. Kona. Maui. Kauai.
LONG BEACH: Honolulu. Maui  
OAKLAND: Honolulu. Kona. Maui. Kauai.
PHOENIX: Honolulu. Kona. Maui. Kauai.
SAN JOSE: Honolulu. Kona. Maui. Kauai.
SACRAMENTO: Kona, Honolulu. Maui.
SAN DIEGO: Honolulu. Kona. Maui. Kauai.
HAWAII INTERISLAND: Hilo, Honolulu. Kauai. Kona. Maui.
Will Southwest Hawaii expand further?
Southwest Hawaii's expansion beyond today and last month's routes remains unsure. However, should it resume, the following is our list of possible cities.
Denver
Burbank
Salt Lake City
Spokane
Albuquerque
Updated. 6/10/21.
Photo credit: SWA.
Disclosure: We receive a small commission on purchases from some of the links on Beat of Hawaii. These links cost you nothing and provide income necessary to offer our website to you. Mahalo! Privacy Policy and Disclosures.