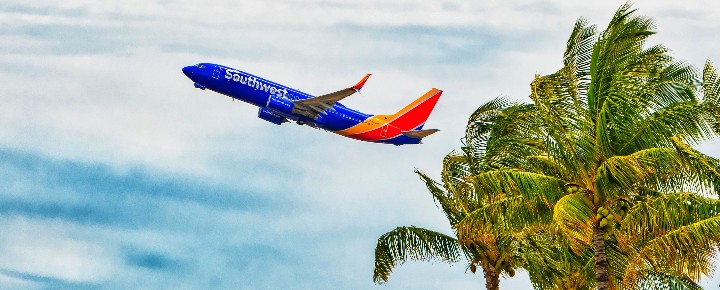 Southwest Hawaii announced today that guests can now book through summer 2022. The airline said, "we are currently accepting air reservations through September 5th, 2022. At this time, we do not have a date for our next schedule extension therefore please check back frequently."
50% Off summer in Hawaii with Southwest?
Good news here. On checking their just updated schedule and prices, fares are almost all running about half-off traditional summer airfares. As just one example, Los Angeles to Maui will cost you $174 each way. The traditional fare on that route in summer starts at $350 each way.
This also means you can expect other airlines to join in holding down summer 2022 Hawaii vacation airfares.
Will Southwest expand further in Hawaii?
Our answer is that it is entirely possible, and the list of cities where that could happen is below.
All of their existing island routes were long-planned, although deployment was sidetracked due to both Covid and to the MAX grounding. However, Southwest Hawaii remains on a roll and they are making the most of the incredible rebound in Hawaii travel.
What is the competition like on Southwest Hawaii routes?
All of Southwest Hawaii's routes face intense competition, with most of that coming from bellwether Hawaiian Airlines. American Airlines is another opponent from Phoenix, Alaska Airlines vyes for many California routes, and there is a plethora of competition at LAX.
Book Southwest Hawaii holiday travel through September 5 today!
Travel on Southwest to Hawaii and elsewhere was opened today for flights through September 5, 2022.
SWA 737 MAX fleet has returned.
See our update: It's Back: Boeing 737 Max Flights to Hawaii Have Resumed.
Complete Southwest Hawaii nonstop routes:
LAS VEGAS: Honolulu. Kona. Maui. Kauai.
LOS ANGELES: Honolulu. Kona. Maui. Kauai.
LONG BEACH: Honolulu. Maui  
OAKLAND: Honolulu. Kona. Maui. Kauai.
PHOENIX: Honolulu. Kona. Maui. Kauai.
SAN JOSE: Honolulu. Kona. Maui. Kauai.
SACRAMENTO: Kona, Honolulu. Maui.
SAN DIEGO: Honolulu. Kona. Maui. Kauai.
HAWAII INTERISLAND: Hilo, Honolulu. Kauai. Kona. Maui.
Will Southwest Hawaii expand further?
Southwest Hawaii's expansion beyond their current routes remains unsure. However, should it resume, the following is our list of possible cities.
Denver
Burbank
Salt Lake City
Spokane
Albuquerque
Updated. 12/16/21.
Photo credit: SWA.
Disclosure: We receive a small commission on purchases from some of the links on Beat of Hawaii. These links cost you nothing and provide income necessary to offer our website to you. Mahalo! Privacy Policy and Disclosures.