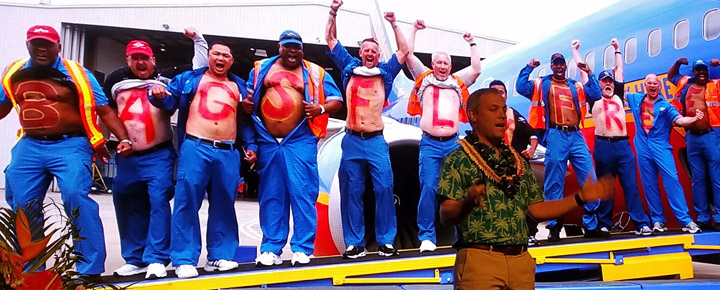 We've long awaited Southwest Airlines Hawaii flights from the mainland, but now there will be Southwest Hawaii inter-island flights as well. Here's what we learned about those yesterday and what you can expect. But first, our prediction of what inter-island competition will look like.
Southwest will use aircraft with 175 seats, or approximately 50 more than Hawaiian Airlines. We don't know how many aircraft could be in Hawaii at one time, but we are guessing between 6-10. Hawaiian has a dedicated fleet of 20 aircraft flying inter-island. While Southwest will therefore be a minority component in the overall competition, we think that it will still be enough of a driving force to bring prices down significantly. We will go out on a limb and predict best fares could as low as $39 inter-island.
1. Southwest will fly inter-island. Andrew Watterson, SWA executive vice president previously said, "on the mainland, we're known for short flights, quick turn around times…." 
We spoke one-on-one with Andy yesterday regarding inter-island flights, planes and more. Andy indicated that Southwest will have a unique way of providing inter-island service.
2. All Southwest Airlines' planes will be mainland based.
There will not be a separate fleet of aircraft for Hawaii inter-island service. These will be the same planes that fly between California and Hawaii. Our understanding is that the aircraft used will initially be 737-800 and will migrate to 737 MAX soon thereafter.
3. Aircraft rotations.
Planes will fly in rotation both in and out of the state, with Hawaii inter-island being part of that routing. One day a flight will come in from the mainland. It will then spend a day flying inter-island. The follow day it will return to the west coast. As a result, no separate Hawaii maintenance base should be required.
4. Southwest Hawaii personnel. 
Honolulu and Kahului Maui airports will be staffed by Southwest employees. At Lihue and Kona, however, staffing will be a mix of a limited number of Southwest employees with the remainder being contracted employees from local companies. That is similar to what Alaska Airlines does in Hawaii.
5. Is there an issue with 737-800/737 MAX flying short hop Hawaii inter-island flights?
We have heard from many sources that there will be an issue with the 737's flying many short haul flights. This relates addition engine stress created by these rapid short cycles, especially in our island weather conditions. We don't in any way claim to have technical expertise in this area but we've had discussions with those who know.
When we asked Andy about it, he stated emphatically that flying inter-island flights will not be any problem for the 737 fleet. Period.
6. Southwest on Boeing 717-200.
We asked about Southwest's take on the 717-200 that is the Hawaiian Airlines workhorse. You may recall that Southwest inherited a fleet of 88 of these planes that they subsequently sold to Delta Airlines. Southwest indicated that they did not care for that aircraft type and that in their minds it presents no advantage here in Hawaii.
7. Will Hawaii inter-island start from day one?
Yesterday, Southwest intimated that they may not fly inter-island at the very beginning. With so many questions to ask and so little time to do so, we did not pursue that line of questioning further. Connecting and inter-island service might be part of the initial offering from SWA or it could come subsequently or just be added gradually. We'll all know more soon.
See our latest updates on Southwest Hawaii Inter-Island flights with all the details from yesterday's meeting with their Hawaii team including company executives in Honolulu. To recap that, flights should be announced by October (or sooner) with service to commence within weeks thereafter.
Beat of Hawaii "Southwest Bags Fly Free" photo from 8/7/18 event in Honolulu.