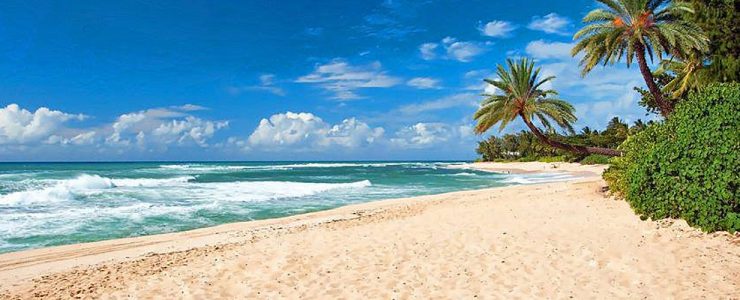 Once Hawaii starts seriously contemplating resuming tourism, perhaps as soon as July, you're about to step back in time a whopping four decades. You will arrive at a Hawaii you may not have ever seen before. The beaches are the same, but the crowds are fewer and there is a feeling of having more of Hawaii to yourself. This is an unequaled opportunity.
You may want to hold on to those Hawaii vacation plans, as this is going to get really interesting.
Perhaps the best experience in decades is yet to come for late 2020 and 2021 Hawaii vacations. That includes airfare sales that will be widespread in order to get you flying again and sales on hotels and vacation rentals too. There is simply no doubt about that. Yes, we're going to be seeing sub $100 airfares again.
Hawaii will welcome just over three million visitors this year.
This is a massive decrease of more than two-thirds from last year, according to data from the state. Hawaii is hopeful that by 2021, that number will increase to six million, which is still a drop of 40% from 2019. Estimates for 2022 are perhaps eight million, and 9 million in 2023. "Visitor arrivals will not reach the 2019 level until 2025…spending will decrease more during the next few years due to the decrease in daily spending." (State of Hawaii).
It will be a unique time to visit Hawaii.
This is especially true while international travel and cruise ship travel may remain largely on hold. And with fewer tourists competing to fill everything from hotels and vacation rentals, to activities, restaurants, and air travel, you can be sure to find more discounts than expected. Everyone working in tourism will be happy you are back.
How will locals, not connected to tourism, feel about visitors?
When unemployment checks run out soon, the mood is expected to suddenly change. Hawaii's unemployment insurance fund is projected to be depleted in June, while Federal benefits will end in July. Hawaii has seen a 765% increase in unemployment.
People here need to work. And no tourists means no work and no money. As we said before, tourism impacts the vast majority of the entire state in one way or another.
Will masks be required or reservations at beaches?
We can't say exactly what Hawaii will decide. Probably yes on masks and distancing in most instances, as we have now, and as is the norm in many places. And beyond that, we will have to wait and see. Please stay tuned.
We always look forward to hearing from you!
Did you read As Desperation Ensues, Hawaiian Airlines Speaks on Restarting Tourism Now? Yesterday's read has fascinating comments from a huge number of visitors.
Disclosure: We receive a small commission on purchases from some of the links on Beat of Hawaii. These links cost you nothing and provide income necessary to offer our website to you. Mahalo! Privacy Policy and Disclosures.