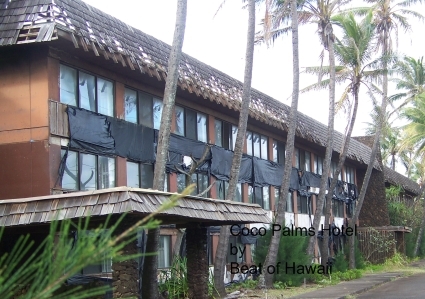 What's the eyesore of Kauai?  If you guessed Coco Palms you're right.
Gone are the days when Elvis sang Blue Hawaii here and Queen Deborah Kapule, the last reigning queen of Kauai, had her home.  Ever since Hurrican Inkiki swept through Kauai in 1992, this 19 acre property has sat in ghost town condition.
The plans for rebuilding the legendary Coco Palms appear to be doomed.  This project has been on-again, off-again for years.  The only thing about the hotel plans which is still intact is the developer's marketing website.
Brief history.
The hotel has been unoccupied, except for occasional vagrants, for seventeen years.
Developers had been planning to recreate the Wailua Bay hotel made famous in part by its 1961 filming of Elvis Presley's movie.  The original Coco Palms consisted of thatched-roof bungalows scattered among royal ponds and coconut trees. The grounds also include an unmaintained yet beautiful, leased 17 acre coconut grove.
What went wrong with the redevelopment plan?
In early 2005, Kauai County approved permits for the resort, which was scheduled to include 48 bungalows and 200 condos at a cost of a quarter billion dollars.  Reopening of the abandoned beach side Seashell restaurant and a pedestrian overpass, along with a spa, were also at times planned.  The project, which was soon to commence with demolition of the dilapidated buildings, however, never even got started.
Now four years and much trouble later, the building permits are set to expire within 90 days.  The developers have asked the County for 3 more years to commence work.  They want the extension due to the current unfavorable economic conditions.  The County, however, appears unlikely to provide such a permit extension.  While one cannot contest the developers issue regarding the economy, that certainly was not the case at the time when construction was to have occurred.  At this point, it is unclear whether the developers can actually go forward with their project in any event.  They have indicated that their plans for the condominiums have now been scrapped, and that they are thinking instead of a 200 to 300 room hotel only.  Demolition of the existing buildings would also not now occur, with the old remaining concrete building structures likely reused.  In order to proceed, the developers first need to enlist a new investor and then determine whether any part of the project remains feasible.  Even if all that works out, the County will likely require a new and complicated permitting process due to the significant changes envisioned in the plan.
What might happen now.
It certainly seems unlikely that Coco Palms will be redeveloped for a long time, if ever.  There has also been talk about the State buying the land and converting it into a park.  Hopefully something can be done to remove the broken down remains from the Wailua Bay landscape.
What do you think should be done with Coco Palms?