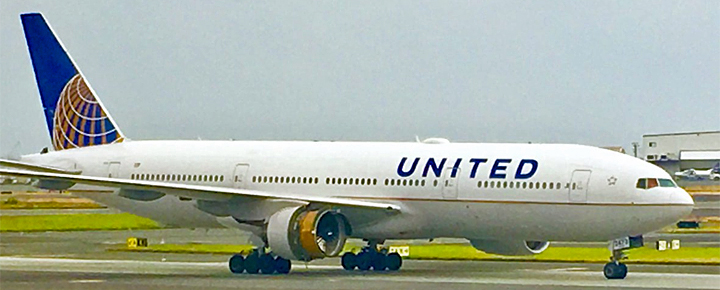 Yesterday's widely reported issue on board a Honolulu bound UAL Hawaii flight appears to have been much worse than has been indicated. Sources have told us that the issue was in fact not caused by the loss of the engine cowling. Read on for the details of what may really have happened and just how lucky we are that the 363 passengers and 10 crew members landed safely in Honolulu.
The Boeing 777 UAL Hawaii flight from San Francisco was just over a half-hour from Honolulu and nearing approach when it suffered an engine failure over the Pacific. That's something that should rarely (if ever) happen given, among other things, the exacting specification associated with ETOPS certification. The great news is that everyone is okay, albeit perhaps psychologically impaired by the terrifying incident they endured.
Passenger comments varied from, "a tremendous bang and a depleting very sudden vibration," to "I thought we were going to die," and "get the emergency card out….we reviewed all that while we held hands and prayed." One said, "When it came over the end of the runway they had us brace for landing."
Another passenger reported that "the casing to the engine had sort of flown off. There were pieces flying into the ocean, nuts and bolts flying out a little bit. A bolt hit the wing, and it just made this huge bam."
Did media reports miss real issue?
Outlets have generally been reporting "an engine covering apparently came off mid-flight." Our sources, however, have said that while the engine covering indeed did blow off, that issue was likely the result of a far more serious and potentially deadly problem that occurred.
Commercial jet engine covers (cowls), such as found on this advanced Boeing twin-jet aircraft, are, after all, held in place by a sophisticated system of closures. These are designed to prevent just such an opening and detachment. That is unless something else happens to damage the cowls.
Uncontained engine failure.
Photos we have seen might indicate that there was a failure of the engine fan blades themselves which damaged the cowling and caused it to fail. This is under evaluation. Such an issue can result in an extreme danger to the aircraft structure itself.
One of the fan blades in image below appears to be missing entirely and another one is damaged. Also, vanes located behind the fan itself were missing, indicating engine parts exited, causing further damage. Thus is seems that fan blade failure itself was the causal event.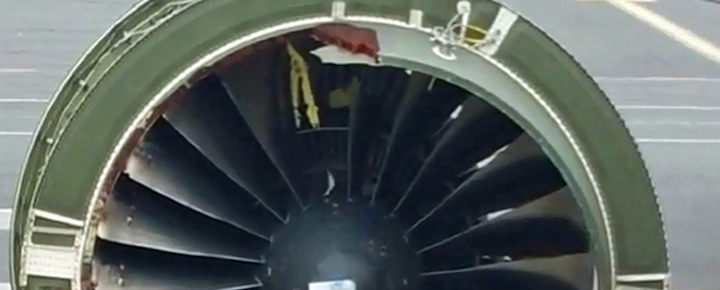 The missing fan blades and other engine parts may have exited away from and to the rear of the aircraft. That's great news. This type of issue, however, obviously presents potential for disaster. Flying engine parts could have penetrated either the wing or the cabin, which might have resulted in an explosive decompression, fuel tank rupture or loss of control.
Luckily, uncontained engine failures don't necessarily result in crashes. They have, however, been indicated as the possible source of crashes including American Airlines flight 587 and United Airlines flight 232.
Most gratefully, the 777 landed safely, although pilots requested and emergency vehicles rolled into place, just in case.
Kudos to United airlines pilots.
Passengers reported "when we were leaving the plane, they shook everybody's hand. They looked them straight in the eye and that was real. It was comforting and they were so brave."
United said that their pilots "followed all necessary protocols to safely land the aircraft." The company is cooperating with NTSB and FAA in their investigations of the incident.
Engine photo courtesy of khon2.com.
Disclosure: We receive a small commission on purchases from some of the links on Beat of Hawaii. These links cost you nothing and provide income necessary to offer our website to you. Mahalo! Privacy Policy and Disclosures.