Updated 4/6/15. Very interesting comments (including from a passenger on that flight), both below and many on Facebook. On the statement from United Airlines about the problem being excessive headwinds: Headwinds on Hawaii flights are typically encountered traveling to Hawaii, not from Hawaii. At least that's our experience in hundreds of flights. More will be revealed.
Also read: Spring, Summer and Fall Hawaii Deals From $189
United Airlines flight 724 was forced to return to Honolulu after nearly two hours of flight on Sunday. That after the crew realized that they did not have enough fuel to safely reach their destination in San Francisco. The obvious question in our minds, how can such a thing happen?
Flight 724 on Sunday used a Boeing 777-200 (see image below), which is typically capable of making the 2,393 nautical mile flight with ease. The aircraft is in fact rated for a much longer minimum range of 5,235 nautical miles given adequate fuel. That minimum range for the aircraft being more than double the actual distance of this flight.
So what went wrong?
United Airlines has characterized the issue as one caused by excessive headwinds. Passengers were apparently not impressed by the incident or that explanation.
Aircraft weight, winds and temperature are certainly all factors. The most important issue, however, must have been how much fuel was calculated to be needed and was then loaded at the Honolulu point of flight origin.
Whatever went wrong, it was troubling for the 260 passengers returning from vacation, as well as expensive for United Airlines. Passengers were fed and housed in a Honolulu hotel overnight before again making the trip to California on Monday. They arrived in San Francisco after 23 1/2 hours. In addition to its other unanticipated expenses, United will also be providing unspecified compensation in terms of mileage credit and by other means.
Running out of fuel is very dangerous. Most recently, last year the FAA investigated an incident in which an Allegiant Air plane nearly ran out of fuel and had to make an emergency landing.
You can see UA 724 details below, as provided by Flight Radar 24.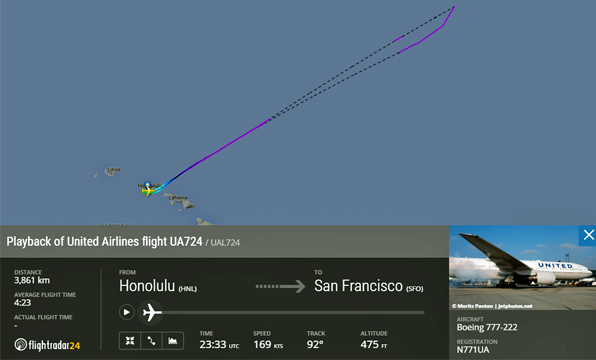 Were you on board UA flight 724 on Sunday?
As a Facebook fan said: "Fill it up! Don't just put in $5. #DOH