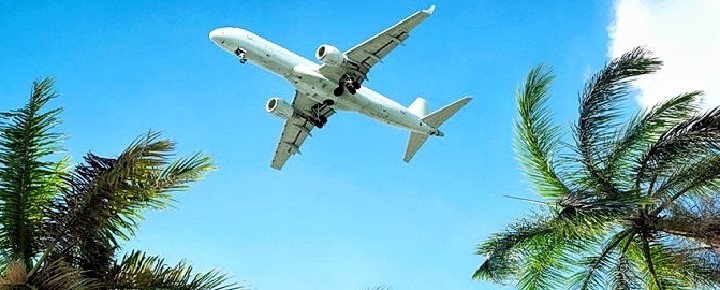 This subject was in the front of our minds this weekend due to a far larger than normal number of Hawaii flight issues due to Southwest Hawaii flight cancellations. Theirs amounted to 40 flights canceled yesterday alone.
This type of problem isn't as severe when you are still at home and can reschedule for another date (especially with SWA's flexible policies). On the other hand, if you are already on your Hawaii vacation and are trying to get home, or have gotten part of the way either to Hawaii or to home, then it gets far more complicated.
It's always good to know your rights and to have a backup plan. As regular commenter Richard said today, "Just got an updated from SW saying our flight tomorrow home is good to go, but if things go wrong I have a plan B locked and loaded."
Enter the question force majeure (defined below) and a hat-tip to commenter Kelly.
If there is a problem outside of the control of your airline, as was alleged by Southwest this weekend, passengers' rights become severely limited. The airline said that the cause of this weekend's problems was air traffic control issues and weather, or in other words, force majeure." Force majeure" means unforeseeable circumstances that prevent, in this case, an airline from fulfilling its contract. While Southwest indicates their issues fell into this category, not only can we not say if that's true or not. Also, we aren't clear about who the judges of such an issue are. FAA noted, however, there were no issues this weekend "other than weather, military training, and limited staffing in one area of the Jacksonville Air Route Traffic Control" on Friday. Other airlines reported no issues.
Southwest says in its contract of carriage that it "shall not be liable for any failure or delay in operating any flight, with or without notice for reasons of aviation safety or when advisable, in its sole discretion, due to Force Majeure Events, including, without limitation, acts of God, meteorological events, such as storms, rain, wind, fire, fog, flooding, earthquakes, haze, or volcanic eruption. It also includes, without limitation, government action, disturbances or potentially volatile international conditions, civil commotions, riots, embargoes, wars, or hostilities, whether actual, threatened, or reported, strikes, work stoppage, slowdown, lockout, or any other labor-related dispute involving or affecting Carrier's service, mechanical difficulties by entities other than Carrier, Air Traffic Control, the inability to obtain fuel, airport gates, labor, or landing facilities for the flight in question or any fact not reasonably foreseen, anticipated or predicted by Carrier."
Southwest's issues, including the possibility as widely suggested that they were labor-related due to the recent federal vaccination mandate, would make them not responsible, with travelers left holding the checked bag, so to speak. Not to single out Southwest, however, we suggest you also review Hawaiian Airlines' terms of carriage here.
Kelly's comment reminded us of the issue of who is responsible when a domestic flight is delayed or cancellations. She said,
Our last 3 Southwest flights outbound from Dallas have been canceled or delayed to the point where they had to reschedule to the following day. Each time we were quoted "air traffic control" issues… it's their "canned" response. Therefore, no vouchers & no overnight hotels. They don't lose any money & just rebook you (without even notifying you prior).
Our experiences.
We have had both good and bad experiences with flight delays and cancellations to and from Hawaii. On one occasion Hawaiian moved us to American Airlines when a flight was delayed. And on another occasion, we sat parked at Honolulu airport for what seemed like an eternity. And then there have been the shorter, thank goodness less memorable delays. It is also worth noting that domestic, including Hawaii, vs. international cancellations, are handled very differently. Then too, it varies by country. Not long ago, your editors were delayed departing London and received $600 compensation each plus other accommodation from the airline, as required by UK law.
What happens when cancellations are due to a problem deemed to be within the airline's control.
Those can include mechanical problems, equipment change, crew availability, etc. The airlines will typically be generous in caring for dislocated passengers. In such cases of airline responsibility, meal vouchers for shorter delays are offered. For longer delays, hotel rooms are provided. Alternate travel, including on other airlines, or a refund may or may not be included.
Have you had a Hawaii flight delayed or canceled? How was it resolved?
Disclosure: We receive a small commission on purchases from some of the links on Beat of Hawaii. These links cost you nothing and provide income necessary to offer our website to you. Mahalo! Privacy Policy and Disclosures.