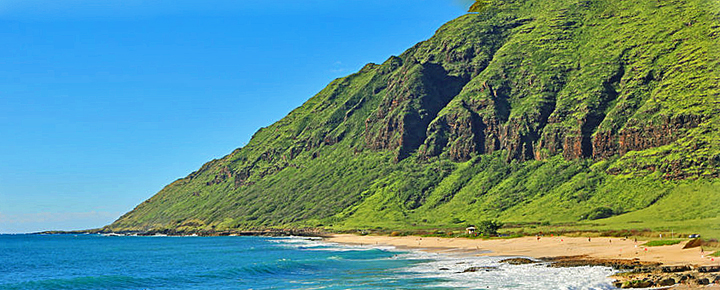 Plenty of you are on a Hawaii vacation right now or have been in the last few weeks. Dozens of you have shared your first-hand experiences with us, which we've highlighted below by island. If you're thinking about returning, these reports may help you get a sense of Hawaii following the reopening of tourism on October 15, including getting here and being here.
Those coming now are enjoying tropical weather, non-existent crowds which makes social distancing easier and assess to the natural beauty of the islands. While everything is not open, your comments say you are surely having a wonderful and arguably more authentic Hawaii experience.
Kauai Experiences.
Nancy S. Without the crowds, it is an experience of a lifetime. Yes, it is a hassle getting there but worth it. United's color testing is fast and the flight was not crowded. The beauty of this island lifts your spirits after so many months of lockdown. Just wear your mask always and follow safety guidelines by the State of Hawai'i and you can enjoy paradise.
Nani C. I have been here on Kauai since October 9th. It's still pretty quiet on the south shore. I quarantined for 14 days and was planning on going back to California on December 18th. Given the most recent news Im wondering if I should change my reservations and return in January when it might be safer to travel. Hopefully people will have received the wear a mask message by then. Stay safe everyone! Aloha!
Tony T. We returned from Kauai a week ago and here was our observations… Air travel via Hawaiian – At the time, there were no direct flights so we had to fly into HNL which concerned us. Hawaiian's A330 had the middle seats blocked out which made flying Main Cabin comfortable. I wish they could keep doing it (but we have already seen the announcement to discontinue the practice). Arrival at HNL was fine, we arrived in the first week after 10/15 so they were still figuring things out. As long as you did your pre-travel tasks, we were through in 15 minutes. BOH has already reported those who did not follow the rules. Waiting in HNL for interisland – The wait was ok since the terminal was pretty empty. Most of the stores were closed and the only food was Burger King. Everyone was masked and separate. COVID station at LIH – the national guard and other staff were professional and did what they could to get you through. True Aloha Spirit. There was a bit of delay after HNL didn't process us correctly which affected us in LIH. 25 minutes to clear.
2 weeks in Kauai – BOH is right! Traveller volume increased as we stayed on island. At the beginning, everyone was masked and social distancing. Very polite. The only issue was the size of groups at pools and beach without masks. As our visit progressed, you could see more people and less compliance. We started seeing more mask in hand and in pockets instead of on face :(. We were on Poipu early and everyone kept their distance but as the morning wore on, visitors started filling in the gaps without masks. We left when distances were less than 3 feet.
LIH and HNL outbound – Hawaiian was following the same seating pattern but more travelers not following the rules.
We were so happy to see that Kauai was doing so well when things started opening up. We took the first opportunity to see our relatives on the island. With the recent travel advisory in western US, we won't see them for the holidays 
Bert C. My wife and and took the vault test on Friday 11/7 and we had our results by Saturday 11/8 in the evening. Our flight was a Monday 11/9 at 7:50 from Sacramento to Oahu and then another flight to Kauai. In Sacramento we were told we needed a QR code for each flight which no one on our flight was aware of. We had to go back to the Safe Travel site and get another QR code for our flight from Oahu to Kauai. At the airport in Oahu if was seamless. We were through the screener quickly. A lot of passengers were held up in Kauai because they did not get the connecting flight QR code and those passenger were doing that on their phones trying to get through the screening. All things considered I thought it went smoothly and I would not let the requirements for testing stop themselves from traveling.
John and Denise. Hello… on vacation from Valencia CA we're watching from the lanai in Kapaa Thursday afternoon and observed a humpback breaching approximately 4-500 yards offshore. This was about 5-530 in the evening.
Jacob M. We're currently visiting Kauai from the San Francisco area. Unfortunately we leave tomorrow. It's been a great trip and honestly hasn't been too different from our normal Hawaii visits. We scheduled COVID testing with Kaiser at the 72 hour mark before our departure flight to Hawaii and got our results 28 and 36 hours after testing. Landing in Lihue was easy; we just had to show our QR code that included our travel info and negative COVID results. Everyone on the shuttle to the car rental location was obviously wearing a mask so no issues there. Mask wearing has been consistent with that of the Bay Area. People wear them 100% of the time indoors and whenever you can't maintain social distancing outside. Walking to/from the beach, most people haven't worn them (we stayed three nights in Princeville and three nights in Poipu) but that isn't an issue since you're able to maintain distance from everyone. Our experience with locals has been the same as usual; friendly and good. While we've been here we booked another trip to Maui in January and can't wait to return.
Rebecca H. We were just on Kauai for a restful 10 days. For the most part we were welcomed back and folks let us know how glad they were for business trade. In Kilauea, The Bistro and Palate Wine Bar refuse entry for anyone who has been off-island until they have quarantined for 14 days. They say the policy applies to both tourists and locals. I understand their caution but honestly tourists are known to be negative because of testing. Denying entry to restaurants seems a little over-the-top. One tip for folks is make a reservation for restaurants. There are fewer choices and more people wanting tables.
Marty W. I have now been on Kauai for 3 days. The "procedure" to adhere with the health policies has been smooth. I have had nothing but positive exchanges with everyone I have run across. Leaving the smallest footprint possible when active. I hope the local businesses appreciate my patronage. I appreciate how welcome I have been made to feel. It is spectacular to have experienced the beach with so few other souls! I close with one thought about the future…perhaps there should be limits to the amount of visitors at one time on the island… I believe this would appeal to everyone…
Truly. Interesting, I am currently in Kauai and having a wonderful time…I am flying to Oahu on Sat.
David B. We flew to Lihue last Thursday (5th). Southwest nonstop from San Jose. Airfare dirt cheap ($129 one-way). Plane not even 1/3 full. We had taken/shipped Vault tests on the 2nd, and received our results emails late on the 3rd. You "print" the first page (only) of the results email as a pdf, and upload the pdf on your trip profile on the HI web site. This can be easily forged (not that we did that!). You need to wait until one day before your flight to answer the health questions on the HI web site, which is what triggers the QR code email from HI. Keep that email!
The exit process at LIH took maybe 3 minutes. No paper print outs were needed/wanted. The guy at LIH ("Kimo") asked me to locate/open the QR code email, enter my password, and hand him my phone. He scrolled around a bit, and handed my phone back along with a little paper "admit one" ticket. Same for my wife. Then we made our way to the little security area that has AC (those of you that fly to LIH know what I mean) and a kid in a national guard outfit wanted to see the paper ticket, after which you must toss it in a waste bin. Then you are done and can exit through the baggage claim.
If you rent a car, they will also want you to click onto that same QR code email and enter your password (and just hand them your phone, it goes faster). We have a house here, so I don't know about hotels and vacation rentals, but they probably also ask. We were told some restaurants may ask, but that hasn't happened, yet. One place did take our temperature. Mask wearing is about the same as on mainland. Wear one in stores and for entering/exiting restaurants, but take it off when you sit down.
Flight attendant said you can get free tests with fast results at OAK that HI accepts. I was told Walgreens in CA also offered free tests with fast results. We did Vault because our home state WY paid for them, and it is less invasive to spit than have a swab shoved into your brain.
Maui Experiences
Patrick G. I am currently on Maui and come about 6-7 times a year to the islands. It is very different but it's nice to not have it so crowded. The beaches are very wide open compared to the recent past. Lots of the stores in Lahaina and in other areas are boarded up and gone. Most of the larger stores are open (corporations like Quicksilver, Billabong and such). Much less crowded overall and check with your restaurants and places as most of shorter hours and shorter menu's.
Maui was well organized when it came to the COVID process. Make sure you upload a picture of yourself before you leave on the state site. My situation was a bit different as I did my pre Covid test at CVS in California. I did not get my results until the 5th day so I had to self quarentine in my room for two days. You have to check in on the state of Hawaii site daily until you get your test results. I finally got mine and uploaded the results and my account was immediately changed to non-quarentined. Not sure if CVS is always late in results or not but that was the most stressful thing in visiting Maui. Not knowing when you would be free to go do the things you love to do. My girlfriend did hers through Kaiser and she got hers in time. Mine, not so much.
Irene S. We just returned from Maui. I am grateful we travel twice a year. I understand the article as far as there are a lot of activities that are not currently open. A number of stores are closed (done not coming back) open but limited hours. The best thing about the Hawaii environment is eating outdoors – the weather is always pretty nice. We stayed primarily on the west side – when we usually venture out so this was a different trip. I'd say if it's your first visit you may want to wait. As of this past week the amount of people visiting is by far less. The beaches are more open. It was really nice and even more relaxing than our prior trips. What the past it may of been like.
Make sure you're on top of the testing etc. That was more stressful than anything. They were very organized as you arrived from the mainland. My 
Goes out to our ohana on Maui. It will get better. See you hopefully in may 2021.
Linda M. We have been on Maui for 2 weeks now and almost no one is wearing a mask at the beach. People are in their family clusters, 10 or 12 feet apart at least, and no one even walks within 6 feet of another person. With the ocean breezes, we feel safe.
Kim L. I am currently visiting Maui and I am finding less visitors (less crowds) to be quite refreshing. It is correct some restaurants or shops remain closed, yet many are open. Even with limited capacity these businesses are worth a stop. I was up in Lahaina (Front Street) a couple days ago and found most storefronts and restaurants remain boarded up, contrary to the comments in your post. Some are open, but far more are closed. I recommend a Hawaiian getaway now yet it depends what one expects. Beautiful weather, blue and aqua waters, breezes and swaying palms …. it's worth it to me masks and all. Aloha!
Kevin J. Thanks for this interesting article. We purchased a second home in Lahaina right before the pandemic. We waited and hoped for travel re-opening with pre-testing. Finally, we came over at the beginning of August and did our quarantine. We did get tested prior to travel just to be good citizens. We spent over three months and it was a very unique and ultimately worthwhile visit. The first two months we experienced Maui as we never had before. Yes, it was very sad to see the shops closed in town. But we did witness many businesses re-opening at the end of October and into November. We will return next month and look forward to a wonderful experience.
Louise H. Just got back from Maui for 2 wks. It is hard to see the number of businesses and restaurants that are still closed. Not a lot of visitors yet which was kind of nice. Open air markets were taking your temp and sanitizers everywhere. Gotta wear your masks and everyone is being careful. If you go….Enjoy. Aloha
Terry M. We just returned from a two week stay on Maui. We got our test through Walgreens free and received within the 72 hour required timeframe. It took us 5 minutes to get through the airport required admission but we did have everything in order. We flew Delta that keeps the middle seat free. Very nice visit.
Jerry G. We had a great trip to Maui 10/30 to 11/7. We all took our tests at CVS (TX, CA, and KY) and all six of us had our negative results before the last leg from OAK to HNL then on to OGG. We made an entry into Hawaii Safe Travels for both legs and passed through with our QR codes relatively easy. On Maui we were able to spend lots of time at the beaches where we could always find a parking spot and shade! Restaurants were open although not all. We got in the habit of calling ahead to make sure they were open. We did sunset sail, Road to Hana, parasail, zip-line and Haleakala sunset. We were the only ones at the Haleakala summit to view the Milky Way – fantastic! Always wore out masks except when in the car or on the beach. Don't hesitate if you want a relaxing Maui vacation!
Kathleen I. We just got back from a lovely, restful Maui vacation. It was a little stressful hoping for our tests to come back in time so we got two (free) just in case. It was confusing upon arrival in HNL because they had changed our flights from direct to Maui from LAX and of course we didn't know what we were doing. Kudos to Hawaiian Air for their social distancing and to all the airport workers for being helpful and patient as we navigated unfamiliar territory. We're used to wearing masks so no big deal
Thrilled to be able to see family and relax on Maui again at last!!!
Bill F. Too bad because if you have your negative tests in hand and QR Code it's easy and we had great long weekend on Maui. Every where we went the Aloha spirit was there!
Big Island Experiences
Liz W. We discovered we should have added our Honolulu to Hilo trip on the travel website when we landed in Hilo. You need a NEW QR code every-time you are on an incoming flight. Also, we were required to do a second naso COVID test in Hilo and await results in the airport. There was no charge and luckily we were all negative. You do also go through an entire online enrollment in another health care registry system to obtain these results. I'd been following protocols and requirements closely prior to travel, but the second QR code and second test came as surprises. That being said, being able to enjoy Hawaii (if in an all new COVID Safe Way) is worth it. I appreciate Hawaii attempting to safely open its doors to a few respectful visitors.
Amy S. I am here on the big island arrived on November 5th. I took the precovid test with in 72 hours and had a second test upon landing. Both negative and we had to show that to rent a car and check into our timeshare. They are eliminating the second test here except for 20-25% randomly selected. Once you get here everything is great except many restaurants closed and some only open for takeout. Since we have a kitchen I. Our unit no problem for us to cook in our unit. Masks required inside and at stores but at beach or pool not needed if over 6 feet away from others. Enjoying our trip very much do far. Most everyone is happy to have tourists back since our resort was closed over 6 months. Hope you have a great trip.
Trish V. I am currently vacationing in big island with my husband and two children. We are respectful and follow all rules, so it is super frustrating to see other tourists being so disrespectful. Seeing their behavior makes me understand why so many locals dislike tourists. I feel like we get judged because of their abhorrent behavior. We witnessed one awful family in volcanoes national park. No one was wearing masks, they took an infant into the sulfer vents, and one of them carried a speaker in his back pocket blaring loud music. Another couple repeatedly shone a bright lazer into the night sky at the Mouna Kea visitors center after being asked by the ranger to stop. I support strong fines and punishments for visitors who break the rules because they are the ones making it harder for travelers like me.
Gina. Hello, just spent a week on the big island! I took all the required covid tests and even some prior to the week of travel to be extra safe! As someone who works with the general public daily ( I am a barber) I have no issue abiding by the mask wearing rules anywhere I travel to. I feel it does not ruin my vacation, it is the new norm. I love to support local businesses, being in one myself. I feel like if you can't abide then don't travel! For everyone else who has no issues with mask wearing, I'll have to say I truly enjoyed my time on the big island and talked to lots of friendly locals! It was a great escape from city life and I'm great full for the opportunity to come and enjoy the island. Just follow the rules
Oahu Experiences
Mike B. My parents and I flew out of Sacramento to Honolulu on the 1st Saturday of the pre-travel program. Got our free Covid-19 PCR tests (thanks Kaiser) at our local Kaiser on Wednesday and got our results Thursday night. We flew Hawaiian Air where they checked your temp at the gate and the flight attendants gave you a disinfectant wipe upon entering the plane. Seemed like everyone wore a mask or neck gaiter on the flight except for eating/drinking. Bathrooms were clean. My parents and I had our own sanitizer/disinfectant wipes so we used them frequently. We wore our masks and face shields as a extra precaution. Turned up my a/c vent for better airflow down. Upon arrival In Honolulu, we got in line to present our QR codes and printed Covid-19 test results since the website didn't recognize my scanned PDF copies of our results. People in line to get verified weren't maintaining social distancing and some were wearing their masks improperly (masks below their nose). The whole pre-travel confirmation process took about 20min. Staff that processed us was nice. Overall, I wouldn't have a vacation in Hawaii now. Lots of businesses/attractions are closed down temporarily or permanently. Next year when the Covid-19 vaccine is widely available is probably the best time to go. We mostly went back to Oahu to check on our 2nd home and see some of our family with no big gatherings. If you do choose to travel to Hawaii, abide by their rules of wearing a mask in public and no large gatherings. If you can, tip big at local restaurants even if it's to go. They could use the help. Very surreal to see barely anyone at Waikiki or Ala Moana but kind of good to as it's not jammed pack like it normally is. Stay safe y'all!
Alice T. We flew home on the on October 29th on Hawaiian from HNL to SFO. The middle seat was already full then. It was a bit of a surprise. Three seats on each side. Overall, a great trip. Looking forward to our next! Aloha
Karen Z. Aloha. Just returned to Phoenix from Oahu yesterday and I want to thank you for all the up-to-date information you publish daily. It was so very helpful prior to our departure on 10/28 with the Covid testing etc. Our flight over was so full that American Airlines was offering up to $450 a seat to take another flight. We were staying at the Marriott Ko Olina and walked down to the beach to check out the chair situation and started talking to two of the young men working there. The one young man said 11/1 was their first day back and he thanked us for being there because if it weren't for us he wouldn't have his job. He was so happy to be back to work. Our entire stay was totally delightful and we were always treated well and we were out and about everyday eating and sightseeing. Hawaii was wonderful!!
Disclosure: We receive a small commission on purchases from some of the links on Beat of Hawaii. These links cost you nothing and provide income necessary to offer our website to you. Mahalo! Privacy Policy and Disclosures.