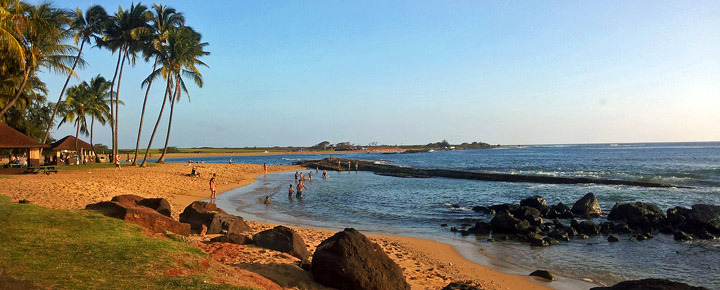 We're asked frequently whether using a Hawaii travel agent for a vacation is a good idea. For most of us the answer is no. We haven't used travel agents in decades. Yet at the same time we're often presented with questions regarding complicated itineraries. For example, reader Ronnie wrote:
"Hi my husband and I and 8 other family members from Canada are planning a trip to HNL July 22 to July 29. We are flying in from Houston and my family are flying from different city in Canada, Vancouver and Calgary. Per your suggestion on purchase timing my husband and I should purchase our tickets now. Does that sounds right or should I wait? Also for my family in Canada, should they wait or purchase now? Thanks in advance for your advice."
While we can advise on when best to purchase tickets, a Hawaii travel agent might help Ronnie. They can build the high season itineraries from multiple cities and handle the ticketing for 10 people who, while it is a long shot, might even be eligible for group pricing. Sometimes it just comes down to how much time you have and how comfortable you are doing requisite research and planning. We love it. Many people don't. Then too keep in mind that travel agencies operate on a fee for service basis.
Top 6 reasons for using a Hawaii travel agent for your vacation:
1. First time visitors needing help choosing the right island(s) to see. This can sometimes be overwhelming if you're not familiar with researching new destinations. One caution we've mentioned is trying to visit too many islands in one week. When self-planning for those unfamiliar with the Hawaiian Islands, you can also start by reading the Hawaii Revealed guidebooks. And for first time visitors, we enjoyed and suggest the four-island NCL 7 night cruise. 
2. Where to stay is an issue, especially if you're not familiar with the Hawaii hotels and vacation rental companies. Many visitors ask about and may want to consider Hawaii vacation packages that include air, hotel and rental car.
3. Complicated itineraries for people going to and/or coming from multiple locations.
4. Planning a honeymoon or wedding in Hawaii.
5. Group travel of 10 or more for extended family vacations and business meetings. You can chase that down or have someone else do the work for you.
6. Cruise related travel. There can be significant coordination for overnights before and after, air transportation, ground transportation and off the ship activities.
When using a Hawaii travel agent:
If you decide that your upcoming Hawaii vacation does require a travel planner, be sure to choose the right person for you:
1. Are they accredited by ASTA (American Society of Travel Agents)?
2. Ask your travel-experienced friends for a referral.
3. Find out about all fees you will incur before you start.
4. What if any discounts can the agent obtain on your behalf?
Beat of Hawaii Tip: When you plan to use a Hawaii travel agent for your vacation, find out what their exact experience with Hawaii is. How many times have they been to Hawaii personally. What islands have they visited, when were their trips, and what were they composed of? How do they charge for each aspect of your travels and by whom are they compensated?
Disclosure: We receive a small commission on purchases from some of the links on Beat of Hawaii. These links cost you nothing and provide income necessary to offer our website to you. Mahalo! Privacy Policy and Disclosures.