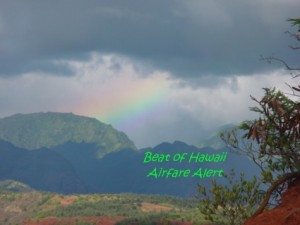 Airfares are a moving target.  If it isn't clear just how fast a target they are, here's why:
Daily airfare distribution schedule.  The airlines update domestic fares, including those between Hawaii and the US Mainland, three times each weekday and once each weekend day.  Therein is why some deals can disappear almost as quickly as I can type.
Certain airfare sales have remained valid month after month.  Notably, the East Coast to Hawaii deals that started last fall (some of which are still good).  Others unfortunately have disappeared within hours of posting.  Such was the case with the elusive $300 airfares I wrote about just yesterday.
Rapidly changing airfares are frustrating to you and to me, but are merely how the airline industry works.  Our job is to try to outsmart the carriers, and I know from your feedback that many of you are succeeding very well in your efforts.
RSS is key to finding the best travel deals.  The only way that I know of for you to have the earliest opportunity to take advantage of the terrific Hawaii airfare deals we find, is to subscribe to Beat of Hawaii's RSS feed in either GoogleReader, MyYahoo or IGoogle, not email.  That way you'll see the deals usually within an hour or less of the time I post them, while they are still available and have the most date options. If you receive them in email, however, they usually don't show up in your mailbox until many hours later, which for some deals is simply too late.
I try booking all deals before posting to be sure that they are actually available at that time.