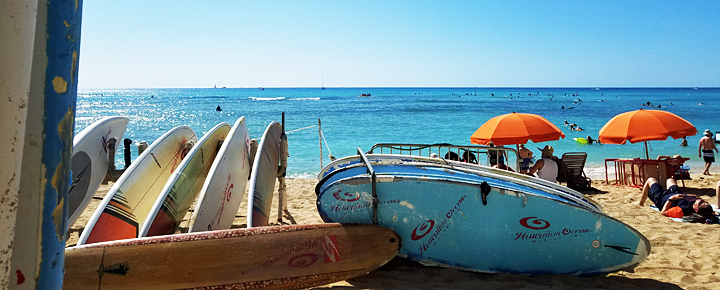 Here is why we think Hawaii travel will rebound first. Yesterday, Dr. Anthony Fauci gave indications that suggest Hawaii may be sooner to recover than other travel destinations. Also, a study was just conducted to help determine travelers' future plans. Read below and add your comments (which are responded to). After 12 years of publishing Beat of Hawaii, we have become a very engaged community with over 300 comments weekly. If you haven't participated, we invite you to now. Question: When do you plan to return to Hawaii?
International travel may stay on hold.
Dr. Fauci suggested that international air travel may not be able to resume fully, even when the number of new cases in the U.S. drops. This as China is facing concerns about new cases coming from abroad rather than internally. Fauci said to the World Health Organization regarding international travel, the US will need to "very carefully examine how you are going to release the constraints."
Beat of Hawaii: Travel to Hawaii is now on hold at least through May 20. Once the domestic threat eases, travel restrictions to Hawaii will end. At that point, there are strong indications that Hawaii travel will rebound first as cheap flights to Hawaii will return.
Further regarding international travel, Fauci went on to say, "I think we're going to have to remember, we don't want to import cases in."
90% of Travelers Surveyed Intend to Travel Again in 2020.
The travel app company, TripScout, just surveyed 3,000 users in order to find out what travelers intend and help the travel industry better understand what to expect.
1. While 77% of those surveyed had to cancel or reschedule existing travel plans, a whopping 90% still plan on traveling in 2020.
2. 79% think the current crisis will be over in less than 6 months while 45% think it will be over under 3 months.
3. 60% indicated they plan on traveling as much in 2020 as originally planned, assuming the crisis abates relatively soon.
4 .70% are planning for trips 6 months away while 34% are booking refundable future travel.
Konrad Waliszewski, CEO of TripScout said "We wanted to quickly survey frequent travelers in order to gauge its impact on current and future travel plans. We hope this survey will shed light on what travelers are actually doing and thinking in order to help our industry better navigate the crisis."
Where do you see yourself in these survey results? Comment below.
Disclosure: We receive a small commission on purchases from some of the links on Beat of Hawaii. These links cost you nothing and provide income necessary to offer our website to you. Mahalo! Privacy Policy and Disclosures.