When we first saw this story in the Sacramento Bee four days ago, we didn't give it much thought. Since then, it has shown up throughout the online world and it shows no signs of waning interest. So why did this garner some 6,000 comments on Zillow Gone Wild's Facebook page?
The Zillow listing says, "Get ready to fall in love." It is referring to the $165,000 home in Naalehu on the Big Island above South Point. Oh yeah, the price dropped. Today, Zillow says it is still for sale at just $159,000.
Okay, well it's interesting. No, you don't get a bedroom exactly, and the kitchen is located outdoors. And the bathroom, well, it is outdoors, but hey, this is Hawaii. The just-built house does have great views, there's no denying that. And it sits on about one-quarter acre of land.
Utilities, what utilities? This is off-grid.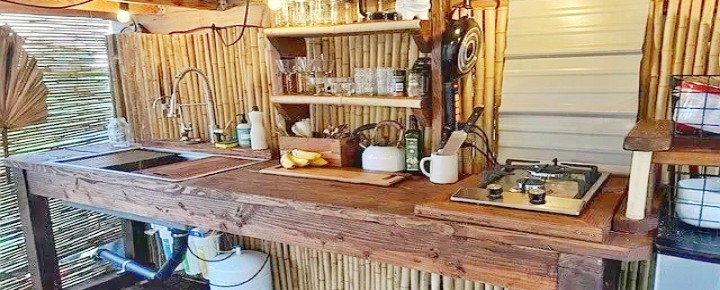 Water, well, there isn't any. Electricity, no none of that either. There is a cesspool, however, and its listing says that it has access to natural gas, which means that the Gas Company truck will drive over to fill your tank if you have one. Or you can pop in to Home Depot.
Property taxes? Well, there really aren't much of those either, as they are estimated at just $200/year.
But if you're creative, really creative, you may just be able to make this work.
The size of the home is just 100 square feet according to news reports. We think that's interior space and doesn't include the lanai or outdoor kitchen, however.
Is this for you? Have you ever dreamed of moving to Hawaii?
Nāʻālehu is one of the southernmost communities on the Big Island and in the US. In Hawaiian, the name means "the volcanic ashes." It is not far from South Point.
Off-grid Hawaii.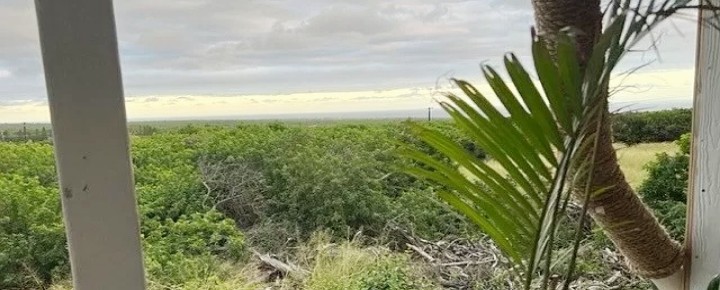 This is a home for someone or someones who are foragers, composters, and can rely on rainwater or very expensive trucked-in water for bathing and drinking. For power, solar may well be the way to go. It's either that or expensive propane, so take your pick.
You may need to be okay with centipedes, scorpions, lizards, cockroaches, mosquitoes, mice, mongoose, and other creatures wanting to move in with you too.
This listing comes as off-grid living is becoming ever more popular as many of us try to unplug from public utilities. Did we mention that Hawaii has, by far, the highest cost of power in the US?
The idea of unplugging isn't always practical. But in Hawaii, with milder year-round temperatures and lots of sunshine, it seems to make more sense. On the Big Island especially, many residents have no choice but to go off-grid, as in this example, for both water and power.
Living off-grid in Hawaii is legal. Greywater and compost toilets are permitted, and water catchment systems are doable too.
Why do visitors move to Hawaii?
While thousands of people move to Hawaii every year, an equal or greater number move away. For those leaving, it is largely about the cost of living, with finding a reasonably priced place to live near the top of the issues list.
Then why do people still move here? For a variety of reasons including everything from typically gorgeous weather year-round, access to Hawaii's natural resources including its renowned white sand beaches, a rich array of outdoor activities, and, much more. Please tell us your reasons in comments.
Living here in Hawaii means life in a tropical paradise. But paradise has drawbacks. It isn't just the highest energy costs in the country or the fact that the cost of living is very high, especially in relation to income.
With most things being imported, you can also get ready for a grocery bill higher than anything you can expect or have probably ever seen. We find it so high that even when traveling to Europe, food in other places seems like a relative bargain.
Before deciding is this the right move for you, be sure to spend enough time here in Hawaii to make good decisions. It is not for everyone. With that said, your editors have called Hawaii home for decades and would not live anywhere else.
Images courtesy of Zillow.