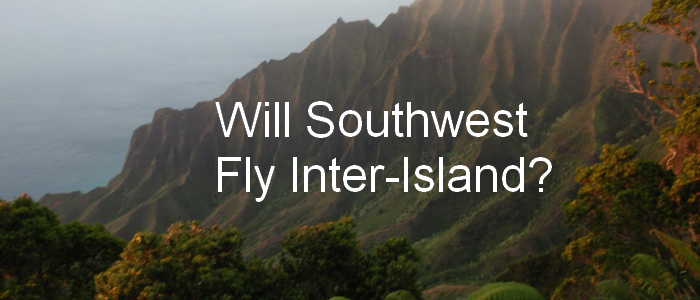 Southwest is definitely reconsidering Hawaii, a story we broke one day prior to even their own CEO's announcement last week.
But could there be even more to it than meets the eye? If true, this might be one of the greatest boons to Hawaii tourism ever.
What if Southwest's plan is unconventional and includes service between the Hawaiian Islands? Consider these facts and you'll see why my prediction has merit.
1. Southwest is without doubt the most highly experienced carrier when it comes to operating profitable short haul, high frequency, low cost services. They have the precise expertise to make inter-island work financially.
2. Southwest just acquired 86 Boeing 717-200 aircraft. These are the exact same planes that Hawaiian uses to fly inter-island. They came to Southwest as part of their purchase of AirTran. This gives them an abundance of an ideal plane for providing inter-island service in conjunction with U.S. Mainland to Hawaii service.
3. If Southwest flies only point to point between the Mainland and Hawaii, it would be a more limited offering with lots of current and future competition. Not to downplay their abilities, Southwest has a great network capable of bringing Hawaii passengers from throughout the US to connect to Hawaii. Their reliance on 737 aircraft, however, limits direct flights to on or near the Pacific Coast. Adding inter-island service in conjunction therewith, would be a unique and likely highly successful venture.
What would become of existing inter-island services?
1. I'll discuss Hawaiian Air separately, in a follow-on article.
2. GoMokulele appears to me likely on the brink of discontinuing service in any event. Their Hawaii operation is too small, probably not profitable and seems to have nowhere to go. It just doesn't make sense for Republic Airways, the primary owner, to keep this going when it has much bigger and more profitable mainstream fish to fry.
3. Island Air. Hawaii's only true Hawaiian offering (being a Hawaii corporation), will probably keep going, no matter what. They've shown continued resiliency, and would find a space within which to operate successfully in the event Southwest enters the marketplace.
Subscribe to our email updates.
Disclosure: We receive a small commission on purchases from some of the links on Beat of Hawaii. These links cost you nothing and provide income necessary to offer our website to you. Mahalo! Privacy Policy and Disclosures.