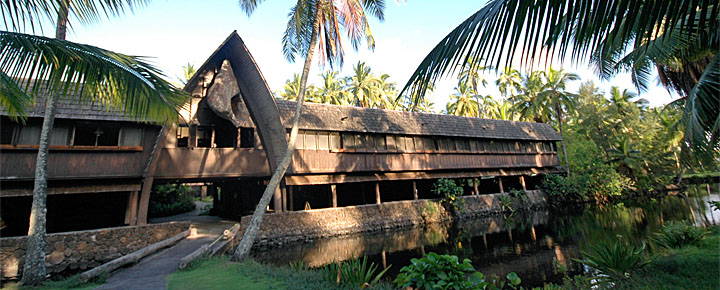 Update on Kauai Coco Palms Hotel, Kauai's first and arguably most iconic resort ever. The place where the rich and famous once stayed and where Elvis Presley's Blue Hawaii was filmed.
Depending on who you ask, the Kauai resort is still scheduled to open as a Hyatt managed property with 273 rooms, 77 suites, 3 restaurants, a cultural center, retail space and more. It is to be part of Hyatt's Unbound Collection, a group of upscale luxury properties.
Until something happens, Coco Palms sits largely unchanged, destroyed through hurricane, fraud and neglect for a quarter century.
Coco Palms Kauai | Resort Project at Standstill.
Since last we reported in summer 2017, little has occurred at the disfigured Coco Palms. County officials are tiring of the endless nonsense surrounding the project, even by Kauai standards, while offering nothing to move the project forward in any direction. It is looking more every day like a project destined for nowhere.
There is talk again about an alternative plan for Coco Palms, such as a county park. This is something that has been suggested for years. How that would happen, however, and where funds would come from to undertake such a process, is totally unclear.
If these issues aren't enough, three major new problems have arisen at Coco Palms.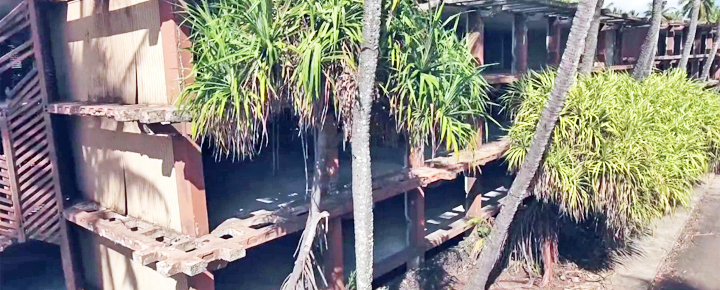 Coco Palms Kauai | Recent Developments, New Problems and Construction update.
Following demolition, construction was to have begun last spring, but never occurred. Dozens of building permits are apparently still pending. If started, the $135 million construction may take two years or more to complete, with target completion date now in the 2020 range. We know from experience that on Kauai everything takes longer than anticipated, and in the case of Coco Palms, even longer than that.
1. A land dispute continues that arose last year when a group of Native Hawaiians claiming to be descendants of Kauai's King Kaumualii began living on the property. Last summer a judge refused to remove them from Coco Palms as more information was needed to determine the rightful owners.  A court date was set for this month. The developers have taken the position that "the county recognizes us as the owner of the property, and so we see it as criminal trespassing."
2. Flood zone concerns. We've heard that county engineering is saying that the resort, if rebuilt, would need to comply with current flood abatement standards. Those did not exist at the time of the original resort. That could result in significant unanticipated costs and delays in order to flood-proof large areas of Coco Palms.
3. Is there a market for this new hotel? If the resort is ever rebuilt, how it can position itself in relation to other nearby Kauai hotels isn't clear. Coco Palms is directly located on a very noisy stretch of Kuhio Highway, with no beach access. Competitive hotels have been built in recent years that, while not Coco Palms, offer beachfront locations at prices that could undermine the potential for profitability.