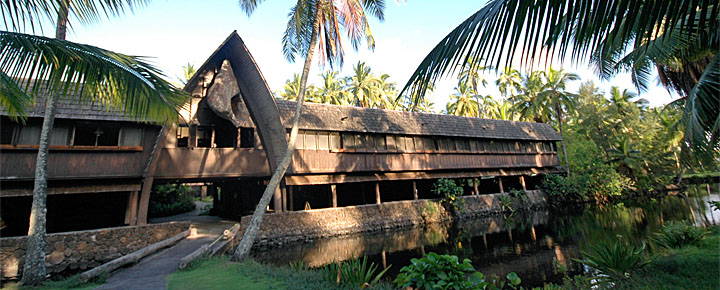 Update on Kauai Coco Palms Hotel, Kauai's first and arguably most iconic resort ever. The place where the rich and famous once stayed and where Elvis Presley's Blue Hawaii was filmed.
The resort is still scheduled to open as a Hyatt managed property with 273 rooms, 77 suites, 3 restaurants, a cultural center, retail space and more. It will be part of Hyatt's Unbound Collection, a group of upscale luxury properties.
We suspect that barring anything unforeseen, the resort might open in 2019.
Demolition progress.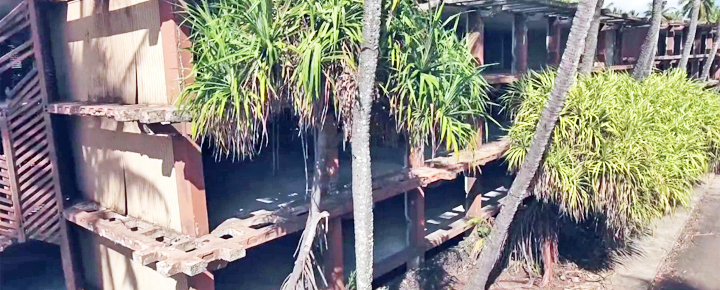 It appears to us in frequent drive-by's that the $3.5 million selective-demolition project has been completed as can be seen from photo above. The demolition began in fall 2016, and according to the County, there is no deadline for its completion. Remaining by intention are the Queen's Audience Hall and the parking garage.
Demolition included drywall removal, electrical and mechanical repairs, renovations at the Lotus Restaurant and bungalow building elevation. It pretty much looks stripped clean.
Reconstruction update.
Phase II – renovation and reconstruction was to begin this spring, although we have not seen any signs of that ourselves. Earlier this year the developers said that the building permits were still in process. Once started, the $135 million construction may take up to two years to complete, although the builder last indicated 2018 as their target date. We know from experience that on Kauai everything takes longer than anticipated.
When complete, the 74-acre resort will feature 350 rooms, 12,000 sq. feet of retail, three restaurants, a four-acre cultural center and other areas. It is anticipated to create many new jobs, rumored at perhaps over 1,000.
Other issues.
A land dispute arose at Coco Palms last year when a group of Native Hawaiians who claim to be descendants of Kauai's King Kaumualii began living on the property. Last month a judge refused to remove them from Coco Palms as more information was needed to determine the rightful owners.  The developers have indicated that "the county recognizes us as the owner of the property, and so we see it as criminal trespassing."