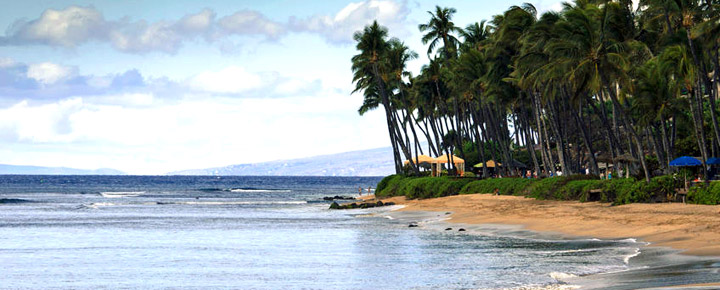 The airlines were planning to "standardize" the size of carry on luggage. Reading between the lines we know that means in most cases, being able to bring less with us onto the plane in the near future. IATA is suggesting an "optimal" size of 21.5 x 13.5 x 7.5, which is smaller than the current size most airlines allow. So far at least, this hasn't been implemented.
Packing for Hawaii can still be easy. Here are our top 11 suggestions revised, plus several shared by visitors. Please let us know if you have anything else for the list. We think the main rule to go by is "Keep it Simple."
1. Leave the turkey at home. We once met a visitor who brought a turkey from the mainland for Thanksgiving dinner. Just remember there's nothing much you can't buy here if you need it, including food and medications. And much of it won't cost any more than on the mainland. So don't loose sleep if you should forget something. But thinking of trip planning – don't forget to check out Hawaii's most acclaimed travel guide series (online and in print), Hawaii Revealed. Available for all the major islands.
2. Travel clothes that make sense. Pack things that don't need a lot of care. Stay away from dry cleaners and you won't pay $10 or more per garment. One durable product we've found that works well is t-shirts and travel clothes from Ex Officio. They wash in the sink, dry in a few hours and always look good. Do you have a fast-dry travel towel, an indispensable item for us?
3. Pack carry-on snacks and other helpful items for the trip.
To make the trip more pleasant, how about downloading some award-winning Hawaiian tunes.
Keep your travel documents organized and dry in reusable packing envelopes.
To avoid getting sick, more and more people (including us) are wearing these highly recommended germ masks.
To stay comfortable we don't leave home without these versatile travel cushions. We swear they work.
What about a travel blanket and travel pillow – the ones we use.
For packing food, we use reusable and collapsible silicone food containers and water bottles. You'll just love these.
4. Unlined Goretex type shirt/jacket is helpful for rain and wind protection without making you steam. Something warm for the plane and nights, like a lightweight sweatshirt or sweater, might be good too.
5. Hiking boots are useful and can be worn to lighten your baggage. If you have old shoes/boots, consider wearing those and leaving them behind to have even more luggage space on the return.
6. Limit T-Shirts you bring. There are so many great shirts to buy in Hawaii. Even living here, we all have a plethora of Hawaii t-shirts. If you are bringing tshirts, how about a travel t-shirt that washes and dries in two hours?
7. Snorkeling gear can stay home. Why not rent, or purchase inexpensively in Hawaii.
8. Sunscreen. We suggest sticking with environmentally friendly sun screens that are both safe for your skin and our coral reefs.
9. Luggage scale. Travel with an inexpensive and lightweight luggage scale and know your carrier's limitations. This is a "can't travel without" item at Beat of Hawaii and about the best $7 you can spend.
10. USPS Flat Rate Boxes. With an abundance of post offices throughout state, take advantage of fast and relatively inexpensive shipping in both directions to supplement what you can take with you. Including liquids that won't make it in a carry-on environment. Easy to find bubble wrap keeps fragile things safe.
11. Dufflebag or Tote for the return trip. Consider either bringing a collapsible nylon dufflebag or buying a Rubbermaid tote for the return trip. After you go shopping, you may need it. Yes you will pay for the checked bag, but it will likely be far cheaper than shipping all that stuff home, even by Priority Mail.
Need more ideas? We've assembled our favorite things to pack here.