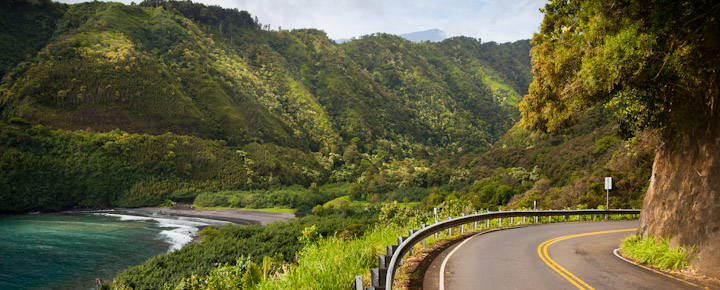 Maui's prominence in Hawaii's travel puzzle is undoubtedly due partly to its profound beauty and larger-than-life sense of adventure. So it comes as no surprise that the island makes for among Hawaii's most spectacular road trips. Read on for six of our favorite Maui road trips based on personal experience.
The Road to Hana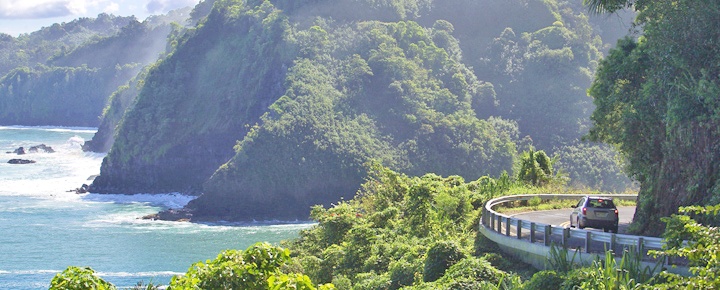 A top favorite, this is one of the great road trips anywhere, not only in Hawaii. So it is not surprising that it is plagued with traffic and much controversy.
The Hawaii Tourism Authority recently asked that visitors use tour companies rather than individual cars when heading to Hana. Maui is trying new ways to mitigate traffic, illegal parking, and dangerous pedestrian crossings along the highway.
As you recall, 70 no parking signs were installed, with warnings of a $35 fine with a $200 surcharge. The state has created a flyer for visitors traveling the Hana Highway. We went looking for a shuttle-based trip to Hana and could only locate one. The price was $299 per person.
The 65-mile-long Hana Highway takes you from Kahului to Hana town in east Maui. This is not a road to be rushed, and the time to cover the distance is longer than expected. The road is narrow and winding, with some 59 bridges, of which most are one-way. Many of the bridges are over 100 years old. You will be greeted with waterfalls and unparalleled views of the Maui coastline and rainforest.
There are many stops possible along the way. A first stop might be Paia town, where you'll have plenty of chances to refill your stomach, trip supplies, and gas tank. Nearby you'll find epic windsurfing at Hookipa Beach Park, another favorite stop for photos, if nothing else, along the way before getting serious about this drive. Hana town is a step back in time, and if you continue even further, you'll be greeted with more fabulous views, including Hamoa Beach, a favorite of Ernest Hemingway. Also, read Why Hawaii Tourism's Shocking Return Hit Maui Hardest.
Mount Haleakala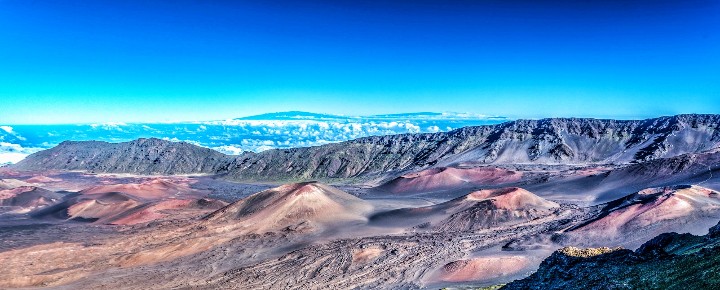 At 3055 meters tall, Mount Haleakala is a vast dormant shield volcano that makes up three-quarters of Maui's landmass and is both the highest peak on the island and the second-tallest mountain in Hawaii.
Mount Haleakala sits within Haleakala National Park, renowned for its valleys, lava fields, and silversword fern, and over one million visitors are attracted to the summit each year.
Visitors can enjoy the slow and winding road to the summit while taking in the views and preparing for an indescribably beautiful sunrise or sunset over the crater.
It is now necessary to have reservations when arriving for the sunrise viewing, and some visitors choose to begin the journey as early as 3 am. Depending on your starting point, the drive-up can take up to three hours, which is quite the journey.
Don't forget to dress warmly for this adventure, especially true for sunset and sunrise viewings. It is cold, and we tend to bring everything, including blankets. This is important.
Kahului to West Maui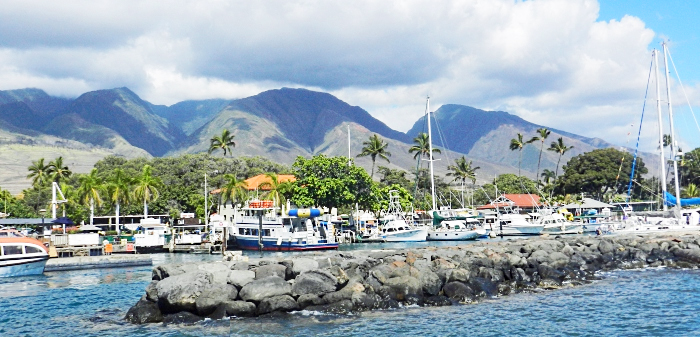 Kahului is the island's commercial center and is home to the island's main airport and the cruise port, where visitors arrive and depart. The drive from Kahului out to Maui's West Coast, home to Lahaina (pictured above) and the famous beach resort areas of Kaanapali Beach, Napili Bay, and Kapalua, is at once one of the most heavily trafficked and also one of most scenic driving adventures on Maui.
En route, leaving Kahului, you'll enjoy beautiful verdant hillside views as you head towards Maalaea Harbor.
Maui is blessed with abundant Humpback whale viewing from late fall into spring; we've even seen them from the highway.
Continue to Lahaina, once a whaling village and now a bustling town of stores, dining, and art galleries. The areas north of Lahaina are renowned for spectacular white sand beaches and good snorkeling.
South Maui from Kihei to Makena Beach State Park
South Maui is known for its generally relaxed feeling, and the towns of Kihei, Wailea, and Makena are in some ways very different from their West Maui neighbors.
Kihei is the first town you'll approach. It has a local feel and is a good place for shopping and dining. Nonetheless, Kihei still has excellent beaches (think Kam beaches, Charley Young, and more), plus less expensive accommodations.
Makena Beach State Park is one of Maui's finest beaches, including nearly a mile of white sand and incredible views of the islands of Molokini and Kahoolawe. It sits nestled between two outcroppings of lava, affording it protection from trade wind.
There are two beaches, one called Big Beach and the other Little Beach. Big Beach is located south of Kihei and Wailea. It is one of our favorite spots and is often less crowded than the west Maui beaches in the Lahaina area.
As its name suggests, Little Beach is the smaller of the two and has neither lifeguards nor amenities. It is known as a nude beach, even though that is illegal.
Upcountry Maui
On the back slopes of Mt. Haleakala, you'll find Upcountry Maui (lead photo), known for vineyards, farms, ranches, restaurants, Maui Wine, and the homes of Hawaii's rich and famous, including Oprah.
We enjoy stopping at the Surfing Goat Dairy, produce stands, and country stores. You'll also find places to try local Maui-grown coffees and take in the scents of Ali'i Kula's lavender farm.
West Maui Loop
An adventuresome drive, and in a sense not unlike the drive to Hana, while being entirely different and without the traffic. We have driven this road, and it's slow and breathtaking and very narrow in places, especially between Olivine Pools and before Waihee. While only 60 miles long, it can take 5 hours with all the stops you'll make.
Some of our favorite stops are the Nakalele Blowhole after mile marker 38 and Kahakuloa Village with its gorgeous bay and the Kahakuloa Head. There are so many scenic stops, and we sometimes felt we had Maui all to ourselves. It is highly recommended.
Beware that sometimes the road is too narrow for even two small cars to pass. That makes it even more exciting. Most car rentals are allowed, but you may want to check your policy before heading out.
Disclosure: We receive a small commission on purchases from some of the links on Beat of Hawaii. These links cost you nothing and provide income necessary to offer our website to you. Mahalo! Privacy Policy and Disclosures.