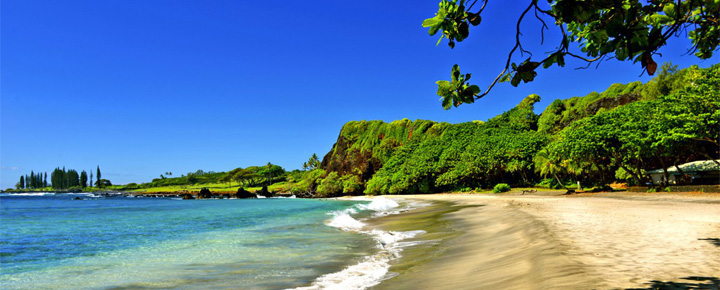 Have you ever spotted a celebrity in Hawaii? We have seen Charo at Long's Drugs in Lihue and Pierce Brosnan at the Macy's Store on Kauai. When swimming at Hanalei in summer, we pass the former estate owned by Julia Roberts and another by the late author Michael Crichton. While many celebrities vacation here, others make it their home. Here's a partial list that came to mind. Please add others. The most recent celebrity to move here is Paul Simon, who chose Maui.
Roseanne Barr (Big Island).
TV star Barr purchased a 46-acre macadamia farm with ranch style house sight-unseen back in 2007. Located in Honokaa, it was known as Hidden Hamakua Farm. Several years later, it was the location of the reality show, Roseanne's Nuts.
Pierce Brosnan (Kauai). 
The 67-year old former James Bond star, originally from Ireland, is frequently seen in and about north shore Kauai. We've run into him in passing. He's lived here for some 15 years. Recently he said in an interview that his "Home is very much here in the islands."
The iconic former James Bond star, age 67, is often spotted around Kauai's north shore. Speaking of life and times, he said of this disease, "No matter where you are and how beautiful it may be, you still have this awful threat to life looming. You have to keep pushing the rock uphill, and you have to keep involved in life. We are at war. People are dying." He recently lamented two friends' death to C0VID, who were friends of 45 years, and one to whom he is godfather to his son.
Pierce returned to Kauai before the shutdown of normal travel in March. "I was on a plane the next day. I was told I might not get out, and I wanted to be with my family."
Clint Eastwood (Maui).
Eastwood's home is set in highly desirable Wailea, South Maui, which he terms his adopted second home.  It sits on secluded Palauea (White Rocks) beach.
Mick Fleetwood (Maui).
Fleetwood Mac legend Mick purchased his Lahaina property in 2017. It is a modest 2,500+ square foot home consisting of four bedrooms, two baths, and a swimming pool. It sits behind massive security gates.
Woody Harrelson (Maui).
Actor Harrelson's home is located at one of our Maui favorites, Hamoa Beach, pictured above. It sits on 8.5 secluded acres with spectacular views. He has owned the prior ranch-land property for twenty years, and he later bought an adjacent piece to add to it.
Kris Kristofferson (Maui).
Singer/actor Kris Kristofferson's home is at, like Woody Harrelson's, set at iconic Hana, Maui.
Michael McDonald (Maui).
The Doobie Brothers singer purchased his Lahaina home in 2011, but we understand it is now on the market. It is a relatively modest sub-3,000 square foot, three-bedroom house. The property was listed at $3.85m.
Willie Nelson (Maui).
Willie and his wife Joy live in Kihei, while he is frequently seen hanging out in Paia.
Chuck Norris (Kauai).
Martial arts and acting famed Norris owns a 4k+ square foot home on Kauai's north shore. He paid $7m for the plantation styled home when he purchased it about five years ago.
Carlos Santana (Kauai).
Santana's Anaho0la, east-shore plantation-style property is perched on a coral reef that offers great oceanfront access year around. It sits on a bank with spectacular ocean views. It too is said to be on the market at this time.
Paul Simon (Maui).
One of the most recent transplants to arrive on Maui is also one of its most famous. Last year, Simon performed two benefit concerts on the island. Before last year, Simon hadn't done a concert in Hawaii since Simon and Garfunkel's time. Simon shares his Maui home with his singer-wife, Edie Brickell.
Steven Tyler (Maui).
The Aerosmith famed musician's small but exotic 2,500 square foot home sits in Kihei, on sun-drenched South Maui. It was purchased for $5m in 2012.
Owen Wilson (Maui).
Famed actor Owen Wilson has a more modest bungalow-style home (at least compared with Oprah and Zuckerberg), at about 4,000 square feet in quant Paia. He purchased the property in 2007, remodeled the home, and later acquired an adjoining lot for additional space and privacy. He is seen in town.
Oprah Winfrey (Maui).
When you are identified by only a first name, what more is there to say about fame and fortune. She has even been called the island's queen, and she is perhaps the largest landowner on Maui. Her farmhouse estate has fabulous views of the Pacific that we can attest to from a recent drive-by. Oprah's up-country, Kula-Maui Thompson Ranch home is set on approximately 1,000 acres. It sits on the slopes of Mount Haleakala. Oprah also purchased 63 acres at Hana to prevent the development of the property.
Mark Zuckerberg (Kauai).
The Facebook co-founder purchased approximately 750 acres of pristine north shore Kauai land in 2014, and since expanded it further with massive fencing to boot. He is frequently seen on the island, mostly in the water, including on his jet surfboard. Zuckerberg's Pilaa Beach estate has thousands of feet of beachfront. The spread comprises two large parcels: Kahuaina Plantation, a 357-acre former sugarcane plantation that now functions as an organic farm, and Pilaa Beach, a 393-acre property with beachfront access. The property was designated for nearly 100 homes.
Other interesting and related articles we've written that feature the rich and famous:
Disclosure: We receive a small commission on purchases from some of the links on Beat of Hawaii. These links cost you nothing and provide income necessary to offer our website to you. Mahalo! Privacy Policy and Disclosures.