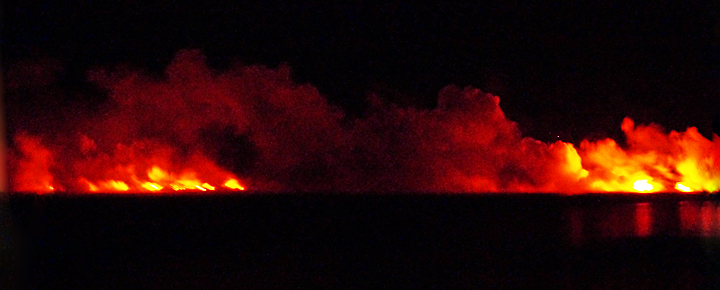 Our favorite cruise ship has just changed directions again and is indefinitely cancelling plans for weekly stops at both Kona and Hilo on the Big Island. The Pride of America update is as a result of "uncertain conditions resulting from volcanic activity" on the southern tip of the Big Island. The Hawaii-based, 2,138 passenger Pride of America is the only ship that provides regular weekly trips exclusively within the Hawaiian Islands.
This is very unfortunate news for visitors and especially for the businesses on the Big Island. We hope that the Pride of America Big Island stops will resume very soon. On the bright side, you'll now have the ship as an overnight stay in Honolulu. It also opened up a second port on Maui. We've enjoyed the views from Lahaina when docked there previously and you will too.
How long this new itinerary will be in place is unsure. When we checked the NCL website today, we saw Big Island stops resuming on August 4. Our suggestion is to call NCL if you are currently booked or plan to sail with them this year.
Big Itinerary changes Include Overnight in Honolulu and Lahaina Stop
The company will hold the ship in port overnight after boarding on Saturdays. Departure for Maui will now be on Sundays at 5 pm instead of Saturday at 5 pm. The ship will dock at Kahului on Monday morning through Tuesday afternoon, then anchor at Lahaina on Wednesdays before continuing on to Kauai on Thursdays.
Norwegian said "Hawaii is an incredible destination and we are proud to have faithfully visited its ports for the last 14 years. We will continue to monitor the situation and hope to return to Hilo and Kona again as soon as possible."
We've enjoyed two Hawaii cruises on Pride of America and have thoroughly liked the ship and crew.
Read our Pride of America Review | Hawaii In A Nutshell.
Stay tuned for a further Pride of America update. Photo by Beat of Hawaii taken along the Big Island Coast in September 2016, showing lava flow from Hawaii Volcanoes National Park.