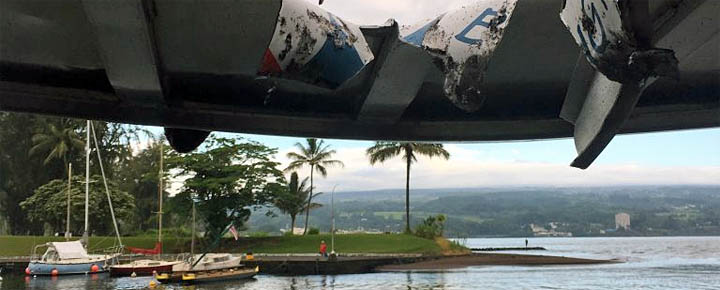 After this week's incident there is a change in rules for those seeking an up close view of the lava flow. As you know a Big Island lava tour boat suffered from an explosion of hot lava rocks that were thrown through the tour boat's roof and onto the deck filled with visitors.
Following that accident, boats will now be required to be at least 1,000 feet from the lava entry points according to the U.S. Coast Guard. Boats had generally been required to maintain the 1,000 foot distance from the lava flow for safety. Certain boats, however, were permitted to be as close as 165 feet from the flow entry. It is believed that the boat was only about 750 feet from the flow when the explosion occurred.
Monday's early morning incident injured 23 passengers. The boat owned by Lava Ocean Tours was bringing visitors to view the Pohoiki lava flow entry point. The lava there continues to enter the ocean following a flow line which is approximately 4 miles long.
Following the Big Island lava boat tour explosion, the boat returned to Hilo where emergency responders assisted the injured and transported some of them to the Hilo Medical Center for treatment.
Beat of Hawaii will be on the Big Island again very soon to check out conditions, view the new lava flow and report with visitor information. Big Island and Volcanoes National Park in particular is a quintessential favorite of ours, is always incredible and even surreal. Here's what it was like at Big Island Volcanoes National Park before the current events began.
Photo courtesy of State of Hawaii DLNR.
Updated 7/18/2018.