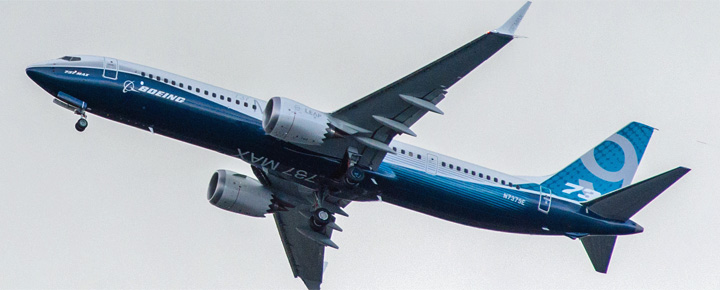 In just over one month, the Boeing 737 MAX will return to the skies. Where are flights to Hawaii in the airlines' MAX plans? Hawaiian Airlines and Delta Air Lines are the only two airlines flying to Hawaii that do not have MAX aircraft.
Alaska Airlines, for one, plans to introduce the MAX 9 to its schedule starting in March. Before that, pilots, technicians, and safety gurus will fly their planes over 19,000 miles, including to Hawaii, during extensive flight testing. Max Tidwell, Alaska's VP of Safety, said, "I'm very confident with all the steps the FAA and Boeing have taken and the steps we're taking at Alaska to prepare us to safely bring this aircraft into our fleet." We are unaware of when Alaska plans to fly the MAX to Hawaii regularly. See their MAX expansion plans below.
The worldwide MAX fleet was grounded almost two years ago, in March 2019. In two preceding deadly crashes, single aircraft 'angle of attack' sensors apparently provided wrong data to the Maneuvering Characteristics Augmentation System (MCAS), and the system became uncontrollable, leading to the accidents. Since then, changes made have included dual-sensor provided MCAS information and changes to how MCAS operates, including a functional manual override.
Upcoming FAA proving regimen includes flights to Hawaii.
Alaska's FAA test flights include Hawaii, the west coast, Alaska, and cross-country. These government-supervised proving flights have FAA representatives on board.
While Alaska Airlines, American Airlines, Southwest Airlines, and United Airlines are all Boeing "Max" customers, the only planned Max flights to Hawaii we are aware of are Southwest Airlines' Max 8. Below you will find how to know if your SWA flight will be on a MAX or not.
Alaska Airlines:

Alaska has 68 of the planes ordered and scheduled for delivery. That includes 13 more later this year, 30 next year, and 25 over the following 2 years. It also has options for an additional 52 planes.
American Airlines:
American Airlines plans to have 34 of the Max 8 planes in service this year with an additional 66 on order for later delivery.
Delta Airlines:
No Max aircraft are in their fleet or are planned.
Hawaiian Airlines:
Hawaiian has no Boeing Max aircraft in their fleet, and they have none on order.
Southwest Airlines:
Southwest has 34 Max 8 that were in service before the grounding and 245 more on order. While the MAX planes were out of service, all Southwest Hawaii flights have using the company's 737-800 aircraft. The company said that the Max problems cut income by over $800 million in 2019, its last regular year.
Southwest has always planned for the MAX to be its Hawaii workhorse, and that is still the case. We look to see these planes back on their Hawaii schedule as soon as March.
To determine if your Southwest Hawaii flight will be onboard a MAX, here's what to check. Go into the booking process and select the flight. Once flights are selected, you will be shown flight numbers. Those are clickable. When you check, the aircraft type will be listed. At this time, it doesn't appear that MAX flights are being shown. However, the website says, "Boeing 737-MAX8 Aircraft are currently grounded by the FAA (that's obviously old language that hasn't been updated). Until the MAX8 aircraft returns to service, Southwest plans to operate MAX8 flights with a different aircraft type. Flight schedules and aircraft type remain subject to change per the Contract of Carriage.
Look for an update from us soon regarding which Southwest flights will be onboard MAX planes.
United Airlines:
UAL has 14 of the 737 Max 9 in their fleet, with 71 scheduled, and has 100 Max 10 planes on order. United Airlines plans to commence MAX flights on February 11, starting with routes from Denver and Houston.
Updated 1/26/21.
Disclosure: We receive a small commission on purchases from some of the links on Beat of Hawaii. These links cost you nothing and provide income necessary to offer our website to you. Mahalo! Privacy Policy and Disclosures.