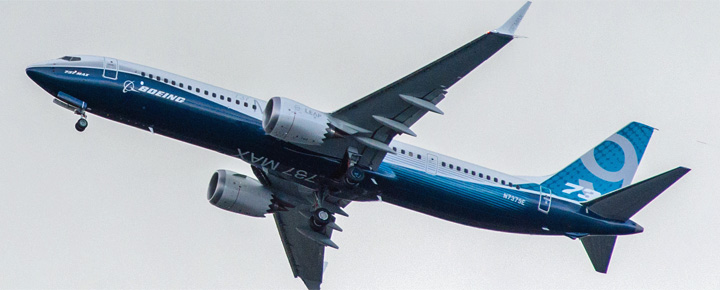 Two nagging issues in the news today could well prolong the absence of Boeing 737 Max flights to Hawaii. In the first case, American Airlines' pilots union president Dan Carey said today he wants Congress to be involved in order to prevent further issues following the two fatal Boeing 737 MAX airplane crashes. He indicated that the we are in a "global aviation crisis of trust."
Checking in on the first issue, famed pilot "Sully" Sullenberger also testified before Congress today saying that that pilots should receive simulator training prior to the aircraft being recertified for flights. "These crashes are demonstrable evidence that our current system of aircraft design and certification has failed us. These accidents should never have happened."
In another major issue related to the new planes, FAA's review process is being delayed in part due to difficulty in manually operating the aircraft's trim wheel crank, which is used to control the aircraft's nose angle. That according to The Wall Street Journal. The FAA however, denied that this will delay the plane's return to service. In particular it is being reported that female pilots, who may have less upper body strength than male pilots, might not be able to turn the device during an emergency situation. FAA said last week that they were "aware that Boeing Co. is working with manufacturers of Boeing 737 MAX and NG simulators to adjust the fidelity of the stabilizer trim wheel. The FAA will make sure that all FAA-qualified simulators are properly modeled and will reproduce representative forces on the trim wheel during all phases of flight." We take that to mean that Boeing plans to somehow make the wheel easier to operate.
Here is our latest update on when we expect these planes to return.
Further Delays Possible | Boeing 737 Max Flights to Hawaii
Of the airlines that fly from the US Mainland to Hawaii, Alaska Airlines, American Airlines, Southwest Airlines and United Airlines are all Boeing next generation "Max" customers. Here's what you need to know about Boeing 737 Max flights when they return to Hawaii. As a point of clarification, while the only planned Max flights to Hawaii we are aware of are to be on Southwest Hawaii Max 8, in fact the entire Max family (models 7-10) and all of its operators are impacted by these same issues.
Alaska Airlines

They have ordered 32 of the 737 Max 9, and they are scheduled to begin delivery of those later this year.
American Airlines
American Airlines has 24 of the Max 8 planes in service and 76 on order. These have largely been based out of Miami, but in the future they may well be flying to Hawaii.
Delta Airlines
No Max aircraft are in their fleet.
Hawaiian Airlines
Hawaiian has no Boeing Max in their fleet and they have none on order.
Southwest Airlines
Southwest has 35 Max 8 that were in service prior to the grounding and 245 more on order. However, all of the current Southwest Hawaii flights are using the company's 737-800 aircraft. The company does intend to use the Max 8 to Hawaii in the near future.
United Airlines
They have 14 of the 737 Max 9, with 71 on order as well as 100 Max 10 planes on order.
Disclosure: We receive a small commission on purchases from some of the links on Beat of Hawaii. These links cost you nothing and provide income necessary to offer our website to you. Mahalo! Privacy Policy and Disclosures.