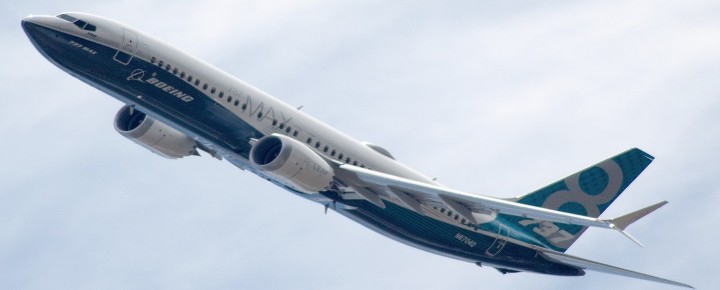 The Boeing 737 MAX flights have returned to the skies. Today's Southwest Hawaii flight from Sacramento to Maui was onboard a 737 MAX 8. And that isn't the only flight today.
That is the first time we are aware that Southwest resumed flying MAX to Hawaii. We received this tip from reader Bruce, which we confirmed. He said, "News tip. First 737 MAX returning to the islands… Another one is inbound to HNL." Thanks, Bruce!
We also have an update from Alaska Airlines today about their MAX Hawaii flights which are soon to start. Read on for that.
In March, SWA began the relaunch with flights to fifteen domestic cities and fifty routes. In 2019, all MAX aircraft were grounded globally for nearly two years. That was due to two deadly crashes, wherein single aircraft 'angle of attack' sensors apparently provided wrong data to the Maneuvering Characteristics Augmentation System (MCAS), and the system became uncontrollable. Since then, changes have included dual-sensor-provided MCAS information and changes to how MCAS operates, including a functional manual override.
Before restarting MAX flights, Southwest CEO Gary Kelly said that "Every active Southwest Pilot will complete additional FAA-required flight training in one of our nine 737 MAX simulators and will complete additional FAA-required computer-based training covering MAX procedures. Southwest will also require active Pilots to re-take our original 737 MAX 8 computer-based differences training as a refresher to complement the FAA-required training. Additionally, Southwest will conduct multiple readiness flights on each of our 34 MAX aircraft and complete thousands of hours of work, inspections, and the software updates before any of our Customers board a Southwest 737 MAX."
Where else are flights to Hawaii in the airlines' MAX plans?
Remember that Hawaiian Airlines and Delta are the only two airlines flying to Hawaii that do not have MAX aircraft in their fleet. American Airlines and United Airlines are all Boeing MAX customers, although the only planned Max flights to Hawaii we are aware of are onboard Southwest Airlines' MAX 8. Below you will find how to know if your SWA flight will be on a MAX or not.
Alaska Airlines:

Alaska has 68 of the planes ordered and scheduled for delivery. That includes 13 more later this year, 30 next year, and 25 over the following 2 years. It also has options for an additional 52 planes. Earlier this year, they were testing the planes alongside the FAA on flights including those to Hawaii. We reached out to Alaska Airlines and heard back from them almost immediately, as we are unaware of when Alaska plans to regularly fly the MAX to Hawaii.
Alaska's representative said "We are planning to operate our Boeing 737-9 MAX to HNL & KOA on select flights from SEA & PDX beginning in mid-July." They also said, "We have high expectations and confidence that Boeing has made the required changes and necessary improvements to the MAX.  With these enhancements and the FAA's thorough inspection processes, this aircraft meets our high safety standards.  Learn more about our dedication to safety and our training programs for the MAX at alaskaair.com/737MAX."
American Airlines:
American Airlines plans to have 34 of the MAX 8 planes in service this year with an additional 66 on order for later delivery.
Delta Airlines:
No MAX aircraft are in their fleet or are planned.
Hawaiian Airlines:
Hawaiian has no Boeing MAX aircraft in their fleet, and they have none on order.
Southwest Airlines:
Southwest has 34 MAX 8 that were in-service before the grounding and 245 more on order. While the MAX planes were out of service, all Southwest Hawaii flights have using the company's 737-800 aircraft. The company said that the MAX problems cut income by over $800 million in 2019, its last regular year.
Southwest has always planned for the MAX to be its Hawaii workhorse, and as we see from today's developments, that is clearly still the case. As a result, we look to see these planes dominate their Hawaii schedule from now on.
United Airlines:
UAL has 14 of the 737 MAX 9 in their fleet, 71 scheduled, and has 100 MAX 10 planes on order. United Airlines resumed MAX flights in February, starting with routes from Denver and Houston.
Reader George just pointed out, "United has had the MAX9 in the June schedule between Los Angeles and Maui for a few weeks now."
Not happy about your scheduled MAX flight?
Through the end of May, we're told Southwest is offering changes at no cost to move to a non MAX flight, if that option exists. You will need to contact SWA for this and the flight needs to be within 72 of the originally scheduled flight.
Updated 5/20/21.
Disclosure: We receive a small commission on purchases from some of the links on Beat of Hawaii. These links cost you nothing and provide income necessary to offer our website to you. Mahalo! Privacy Policy and Disclosures.