For the second third time in three weeks, a Southwest Hawaii flight has had an over-water diversion. Today, Southwest flight 1281 departed Oakland this morning at 9:38 AM, and was inbound to Maui. Something severe enough occurred mid-Pacific that the plane made a u-turn nearing the half way point to Hawaii.  Data from Flightaware would seem to indicate the diversion took place at just over 90 minutes into the flight. The flight did a u-turn then landed safely at Oakland at 12:42 PM. There was an unexplained delay before the aircraft actually arrived at the gate, thirty minutes later. Southwest said only that the cause was a "mechanical issue requiring review." The aircraft involved was a Boeing 737MAX 8.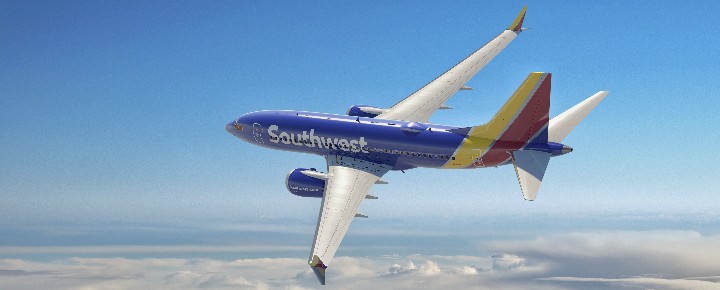 Another plane was brought to the ready and the flight, now en route to Maui, departed Oakland at 2:55 PM and is due in Kahului at 4:49 PM. The replacement aircraft is also a  Boeing 737MAX 8.
What caused the flight diversion?
It had earlier been reported that the plane had a missing engine panel, but apparently that information was not correct. Another report indicated there may have been a problem with engine thrust reversers. We'll update this as soon as we have more definitive information.
July 25 mid-Pacific smoke-in-cabin diversion on Southwest Boeing 737MAX 8.
You may recall that last month, a Southwest 737 Max-8 flying from Kona to Las Vegas diverted. That incident was reportedly due to smoke in the cockpit and occurred rather soon after takeoff. The plane landed safely in Honolulu.
August 6 Maui to Sacramento Diversion for a possible fuel leak and engine shutdown.
Then on August 6, SW1188, a Boeing 737MAX 8 traveling from Maui to Sacramento diverted to Oakland. A comment we received said it may have been due to "a fuel leak and had to shut down one engine for the final 90 minutes to the mainland." Thanks for this tip David B.
Safety onboard flights over the world's longest stretch of water without a diversion point.
Read: Hawaii Has the World's Longest Over-Water Flights.
Kudos to Southwest for the safe return to Oakland.
If you were on that flight, please let us know.