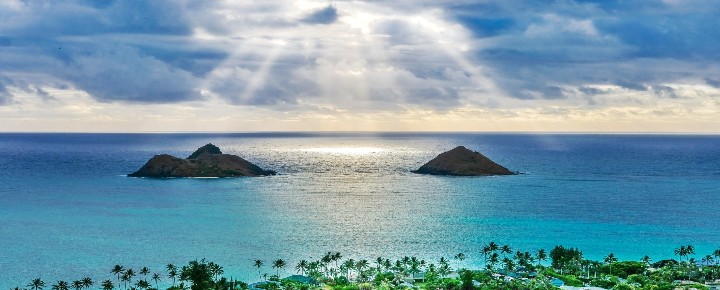 Hawaii's Governor Ige has just announced the first significant loosening of restrictions, these to initially take place on Oahu (see below for other islands). The announcement happened today at a virtual press conference between the governor and others and comes as both cases and hospitalizations have dropped. Ige said the changes are in part as "our 7 days average of new cases is trending towards and for the first time since July is under 200." And, as hospitals are no longer under pressure from the pandemic.
Read on for important news coming on Hawaii travel.
One of the issues addressed today is the permitted size of events including weddings. Another is opening hours for bars. How children are being handled in the rule change isn't entirely clear. Also, COVID vaccination will be strictly required among the change, and those with a negative COVID test will not be permitted.
Travel is being addressed separately as indicated below. Also, see "Hawaii's Open For Travel" | Pressure Mounts As Governor Crushes Hawaii Tourism.
Bars will remain open later.
Effectively immediately bars are able to stay open and serve alcohol until midnight. Previously that was 10 pm. In normal circumstances, bars in Hawaii are open until 2 am.
Weddings and other events will be permitted in larger sizes.
The governor has been meeting with the Hawaii wedding industry, to forge a plan to allow larger weddings to safely take place. That industry has been especially impacted by COVID. Ten people indoors and 25 outdoors have been the limit. Rules will now change for larger, professionally organized events as indicated below.
Outdoor seated entertainment can now proceed with 50% venue capacity. All attendees must be vaccinated. Mask-wearing is required. No food will be allowed. This rule takes effect on October 13.
Indoor seated entertainment will retain a 10-person capacity. Again vaccination and mask-wearing will be required. No food will be allowed.
Interactive events (weddings) on Oahu will now have a 150 person capacity effective October 20, instead of the prior 25 person limit. Vaccination will be required. Food will be allowed. Mask wearing when not eating or drinking is required. What about the bride and groom, will they be wearing masks?
Golf tournaments and road racing will also be able to resume with 100% vaccination required.
Professionally managed events will be permitted up to 1k persons. Vaccination and masks are required.
What about children?
There was inadequate clarification on how the rules impact children who are too young to be vaccinated.
Where do welcoming visitors and Hawaii Safe Travels stand?
There were no specific announcements today with regards to welcoming back visitors and to the Hawaii Safe Travels program. We know now that those are upcoming and the governor addressed that today.
"I am working with the hospitality industry in general and we will have an announcement next week for sure." That follows the governor having asked visitors to stay away from Hawaii in August.
Impact on the other islands.
The governor said, "I am working with Mayor Kawakami, Mayor Victorino and Mayor Roth. . We had another meeting today to discuss restrictions and relaxing restrictions on the neighbor islands… I will be signing orders for Maui and Kauai as well and we are in discussions with Mayor Roth… Every county is slightly different," said the governor.
Governor Ige concluded: "It has been a difficult time for us but certainly things are improving."
Note: We will be updating this as we obtain further clarification and other information.
Disclosure: We receive a small commission on purchases from some of the links on Beat of Hawaii. These links cost you nothing and provide income necessary to offer our website to you. Mahalo! Privacy Policy and Disclosures.