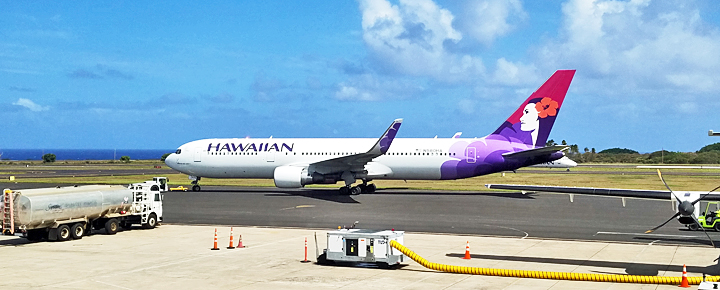 Hawaiian had a quarterly earnings call this week. We listened and it was certainly disheartening. That was followed by multiple stories regarding the company's rapid downsizing. Hawaiian is currently operating only 15% of its normal flight schedule. CEO Peter Ingram hopes to see Hawaiian Airlines, "being a smaller airline by about 15% to 25% next summer compared to 2019 levels."
Here's why in 5 bullet points.
1. Ongoing Hawaii quarantine and uncertainty about the reopening of Hawaii travel. That before all of the other considerations of safe travel in this unfortunate new era.
2. Revenue was down 92% in the past quarter compared with the prior year. Nothing unexpected there, with Hawaiian now losing $3 million every day.
3. Significantly reduced staffing ahead.
Hawaiian issued notices to labor unions that it could need to furlough 2,000+ union employees soon. That's about one-third of its 6,200 unionized staff.  Hawaiian is first trying early retirements and voluntary reductions before resorting to involuntary separation. If there is any further government support, that too could help.
Non-union staff will see more cuts too, with 8% of those employees already having accepted voluntary layoff packages.
"None of this is the fault of any of our employees, who continue to do a terrific job every day… I just feel terrible that we've come to this point. But it is really important that we take some steps to preserve the company for the long term as we try to weather this coronavirus storm." — Peter Ingram, Hawaiian Airlines CEO.
4. Dreamliners on a one to two-year delay. Hawaiian was to begin delivery of its newest fleet starting early next year. Peter Ingram said this week, "We don't expect to put the first two 787s into service until 2022 or 2023."
5. Reinstitution of inter-island quarantine possible. Inter-island flights may return to a quarantine status, at least for the time being, since Hawaii's cases have been at all-time highs. Yesterday, there was a report of a Kauai resident becoming infected as a result of inter-island travel.
Beat of Hawaii © photo at Lihue Airport, Kauai.
Disclosure: We receive a small commission on purchases from some of the links on Beat of Hawaii. These links cost you nothing and provide income necessary to offer our website to you. Mahalo! Privacy Policy and Disclosures.