Hawaiian Airlines reported Wednesday on their first quarter results, which are, at best mixed. There are big issues the carrier is still grappling with, including a fleet of planes with engine problems and a runway gone missing at their primary airport. But there are bright spots, too, like travel bookings ahead of last year, more demand for international travel, and four 787 Dreamliners scheduled to arrive by 2024.
Five A321neo aircraft are out of service and awaiting new engines.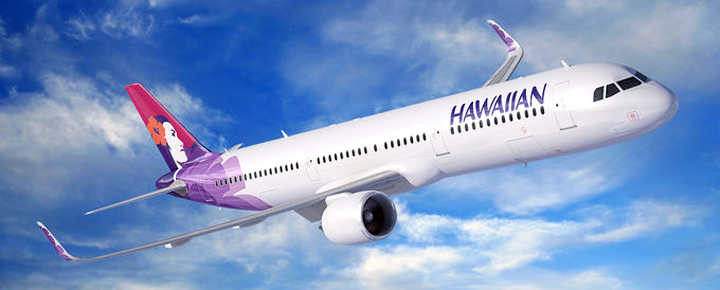 Hawaiian hopes to resolve these problems by the end of this quarter, which would be by June. But clearly, the situation has gotten worse, not better, since last they spoke about it. In February, HA spokesperson Alex Da Silva told us, "Yes, we've had supply chain issues – many companies – during the pandemic. We've been working with our suppliers to prevent disruptions to our operations." But disrupted, they are.
When we previously wrote about the Hawaiian A321 engine problems, just two planes had gone out of service and were awaiting new engines. Peter Ingram had said that parts availability issues resulted in the "A321s being grounded for an extended period, awaiting available serviceable engines."
We were aware several weeks ago that the problem had since gotten worse, and at that time, four planes were already down. Now, however, five out of the eighteen narrowbody planes are disabled and awaiting engine repair/replacement. It has been suggested that more of the aircraft could be at risk of going out of service, which we hope is, in fact, not the case.
Others have commented that the issues are supply chain limitations and overall engine reliability problems. We were told the Pratt engines have multiple issues, including heat causing unexpected wear and engine vibration problems.
When one of the two engines has a problem, the plane can no longer be dispatched.
Airbus A330 widebody fleet is picking up the slack for the missing A321neos, which isn't ideal.
In the interim, Hawaiian has had to replace 189-seat A321neo planes with larger, more expensive to operate, 278-seat A330 aircraft. That results in more fuel consumption, among other things. The widebody aircraft is too large, with an additional capacity of 89 seats, to be effective for application on less trafficked routes.
The ongoing Honolulu Airport runway outage severely hurt Hawaiian, far worse than other airlines.
Hawaiian reported that the ongoing outage of Honolulu Airport's runway 8L, which is still being rebuilt, significantly impacts its operational performance. As a result of the delays, this is causing additional "block time" and "turn time" to be required. Block time is how long it takes from pushing back from the departure gate ("off-blocks") to arriving at the destination gate ("on-blocks"). Turn or turnaround time is how long a plane spends at an airport between landing and departure.
Hawaiian said they hope the runway repair, which they expected to have been completed in February, will be completed later this quarter. When we spoke with the Hawaii DOT/Airports about the outage in February, they did not indicate that the work, which they referred to as "a big project," would be completed anytime soon.
Reading between the lines, Ingram perhaps confirmed our doubts about the state completing the runway timely when he said, "We are hopeful that the project stays on track."
Air Traffic Control protocols hurting performance.
Hawaiian reported that the FAA's Honolulu Air Traffic Control prioritizes mainland flight arrivals. Therefore, as we have experienced, interisland flights can either be held before departure for Honolulu or can have a prolonged approach into Honolulu.
The airline said that this impacts Hawaiian more than Southwest since Hawaiian has most interisland flights (double the number), and more of the flights are clustered during the day when Air Traffic Control slows interisland traffic.
CEO Peter Ingram said today they are suffering from "Extensive waits for approval from air traffic control. During the most recent period, this has been a daily phenomenon." This will undoubtedly impact Hawaii's on-time performance, which had been stellar for nearly two decades before these unending problems.
Mismanaged website upgrade impacts this quarter's financials.
Hawaiian said that problems with its website upgrade last week would result in a $4,000,000 to $6,000,000 "drag" reflected in this quarter's results. According to HA, direct website bookings typically generate 60% of its revenue.
Hawaii travel bookings are ahead of both 2019 and 2022!
Hawaiian said the most significant growth is the return of international traffic compared with last year. They are currently ramping up capacity to both New Zealand and Japan.
The company said that they continue to outperform SWA on interisland travel. They acknowledged that interisland will be "the most difficult year-to-year competitive data point."
Four Hawaiian Airlines Dreamliners scheduled by 2024.
The company still believes it will receive its first Boeing 787 Dreamliner (lead photo) delivery in the last quarter of 2023. The plane will enter service early in 2024, after which three additional Dreamliners will join it before the end of 2024.