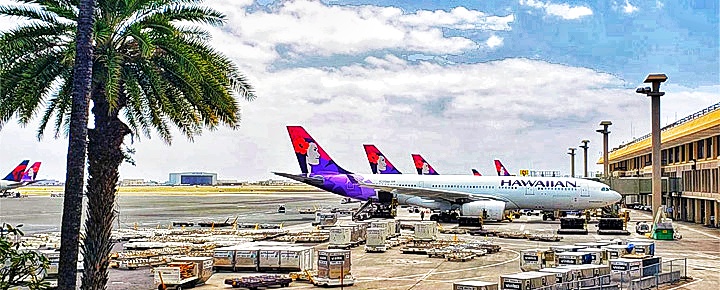 Hawaiian Airlines just became the third US airline to require that all staff be vaccinated against Covid-19. The mandate will be effective November 1.
CEO Peter Ingram said that there would be exceptions for medical or religious reasons."There is no greater demonstration of our values than ensuring the safety of others. Safety is the foundation of air travel, and it is ingrained throughout our operation and service. This is no different."
Timing of the mandate is similar to United Airlines.
UAL said last Friday that vaccination is "incredibly compelling" and that it will require its entire 67K employees to be vaccinated by October 25. They may even move that date closer. Then, Frontier became the second airline on Friday, and today, Hawaiian became the third. The remaining US airlines may well follow suit. United acknowledged that "some of you will disagree with this decision to require the vaccine for all United employees," according to CEO Scott Kirby. United had already required new hires to be vaccinated since June.
Full vaccine approval and airline vaccination mandates are closely tied.
Timing of the implementation of these mandates appears to be in concert with expected upcoming full approval from FDA for one or more of the vaccines. United said that the mandate would take effect five weeks after full approval, which may be sooner than October 25. The airlines will also require proof of vaccination rather than accepting employees' word for it.
At United, employees who are already vaccinated or become vaccinated by September 20 will receive a bonus of an extra day of pay.
Thus far, American, Delta, and Southwest have not ordered employees to be vaccinated. Delta, however, already requires that new hires be vaccinated. Once the vaccines have full FDA approval, the mandates could well be industry-wide.
Delta variant impacting forward Hawaii travel reservations.
Travel has been on a tear for nearly six months. However, that appears to be taking somewhat of a pause due to the highly contagious Delta variant. We'll see how that plays out in the coming weeks, which will be largely dependent on whether the Delta variant peaks and then declines soon or does not.
Question: Do airline vacation mandates influence your choice of carriers to Hawaii?
Disclosure: We receive a small commission on purchases from some of the links on Beat of Hawaii. These links cost you nothing and provide income necessary to offer our website to you. Mahalo! Privacy Policy and Disclosures.