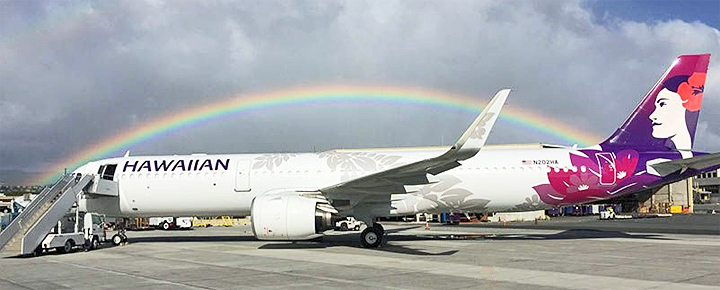 This week's preparation for downsizing at Hawaiian Airlines, the largest private employer* in the state of Hawaii, does not bode well for travel or our economy. CEO Peter Ingram said 2,041 of the company's 6,162 employees had received their upcoming furlough notices. Hawaiian Airlines employed about 7,500 people before COVID, almost all of whom are Hawaii-based. Ingram went on to say that the virtually imminent furlough was "Necessary to ensure our business survives and is poised to respond to opportunities when we can resume a more normal flight schedule."
Hawaiian Airlines grounded and burning cash.
For the past six months, Hawaiian has been largely shuttered as the result of a 14-day mandatory quarantine for arriving passengers. With an unknown future based on when travel resumes and a hard to predict demand, the airline said it expects to be at least 15% to 25% smaller in summer 2021 compared with summer 2019. We sense that is optimistic. The company plans to "Build back the business over time from the smaller base."
Hawaiian has been running through over $3 million daily during this tumultuous time. Nonetheless, the company is confident it will get through these unprecedented times.
Ingram had hoped voluntary departures and additional federal government support might forestall the inevitable. Thus far that hasn't panned out. He reiterated his prior statement, however, that "The company would survive, but not as we were, not for a while… 90% of our people are based here in Hawaii. These are people who live and work and raise their families here in Hawaii."
"We would welcome a six-month extension of… the CARES Act… Keeping our teams intact through March of next year would provide more time for demand to recover and hopefully reduce the scale of workforce downsizing. We will adjust our plans as legislative developments unfold. It is, however, critically important that we continue the preparations for furloughs while we wait to see what emerges from Congress."
Hawaiian Airlines largely silent | Primary Hawaii travel stakeholder.
As the most influential and visible travel stakeholder in Hawaii, we would like to hear their voice at this uniquely critical time. For example, how do they envision providing an environment for the resumption of safe travel? That includes their take on testing (both pre-travel and on arrival), and any additional protocols that could help prevent their company's further implosion, with the resulting impact on its employees. To say how ubiquitous Hawaiian Airlines is here, you are not likely to talk with someone who has been here very long who doesn't know some of their employees or their families.
Ingram said that Hawaiian is working with the state to assure a safe reopening of travel. He cautioned that any further delay in the previously announced pre-travel testing could result in even more planned furloughs ahead. However, we continue to hear very little from Hawaiian about the state's inability to implement or elucidate its previously announced pre-travel testing program. While we don't know what Hawaiian may be thinking or saying behind the scenes, the state's failure has resulted in their business collapse.
We are left asking ourselves, and you, what can Hawaiian Airlines do to help move the state of Hawaii forward?
Your comments speak to the situation at hand.
Jonathan said, "I'm surprised that the tourism industry is not camped outside Ige's door screaming for blood. I would think that the first in line would be the CEO of Hawaiian Airlines. It's strange to me that we've not heard more about why influential travel companies like Hawaiian are just rolling over and letting this happen?!?"
Jeanie added, "If Hawaiian Air would establish 'rapid test' procedures at every gate, and only passengers with a negative test would be allowed to board, thousands of tourists would return to Hawaii. No quarantine!! No increased danger to the islands. If a passenger has a positive test, they could be guaranteed ticket refunds for their party."
Lisa said, "Some of the Federal-Aid Hawaii has received could have been used ingeniously to form a partnership between a qualified lab, Hawaiian airlines and the state of Hawaii. The state could have been on its way toward economic recovery and freedom. Having a local airline with this sort of partnership could have ensured responsible testing of visitors before they ever set foot in the islands."
And James noted, "Why not form a partnership with Hawaiian airline carriers to temporarily eliminate Oahu from their schedules in favor of direct flights from the mainland and safer countries such as Japan and NZ? The "safest place in the U.S." still works as a branding slogan. The airlines would include expedited CV19 testing. Their fare basis would include and factor in that partnership with labs that can offer 72 hour turnaround."
Beat of Hawaii: All of your comments are appreciated. The reality is that Hawaiian Airlines cannot make testing mandatory. So even if they did offer it at the gate, people could opt-out. The entire testing debacle we were told would happen, was always shrouded in secrecy. There was supposed to be a contract with CVS to offer testing 72 hours prior to departure. That never happened and there are no obvious plans in place or on the drawing board.
* Hawaiian Airlines is the largest private employer in Hawaii other than health care providers.
Disclosure: We receive a small commission on purchases from some of the links on Beat of Hawaii. These links cost you nothing and provide income necessary to offer our website to you. Mahalo! Privacy Policy and Disclosures.