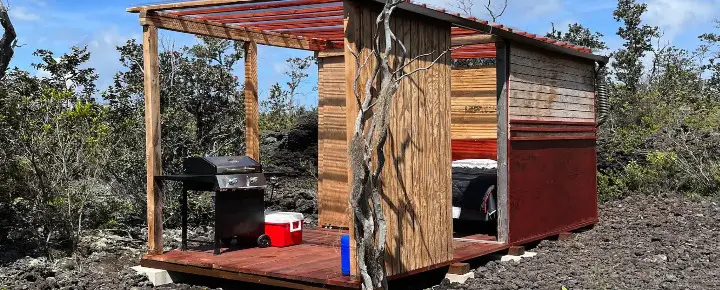 Hawaii vacation rentals of all types make the perfect match for Hawaii visitors. There are so many reasons that's true, including a full kitchen, room to spread out, and more. But the range is extreme, and we're going to share those two ends of the spectrum with you today.
Cheapest Hawaii vacation rental.
We found Hawaii vacation rentals starting at an incredible $13 a night on Airbnb not far from Volcanoes National Park on the Big Island. It's the one pictured in the lead photo above.  The listing in Ocean View, which is west of South Point in the coffee-growing Kau District.
You'll pay just $13 a night. With all the various taxes and fees, it'll set you back just $178 for a 7-night stay.
So what's the catch at this cheapest Hawaii vacation rental we could find?
The listing reads, "Perfect spot for the adventurous type. Great location for entire island exploring. Very comfortable high end queen bed. A host that will go above and beyond to help you enjoy your adventure. No shower or bathroom onsite."
Okay, so we can understand heading to the beach to shower, but what about the bathroom? Hmmm. As for the kitchen, what we see is a gas grill and an ice chest. Hopefully, there's more.
Looking upmarket from there, we found a number of rentals in the $50-$60/night range. But here, we sometimes found buyer beware was the rule. The listings via Google search seemed dominated by those from Vacasa. In the example pictured below, the fees and taxes more than doubled the prominently featured price. This Molokai rental came out to $777 for 7 nights.
Most expensive Hawaii vacation rental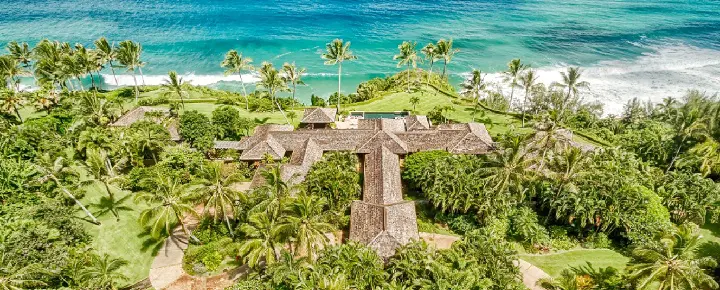 To our knowledge, Hale Ae Kai, located on Kauai, is the single most expensive of all vacation rentals in Hawaii. This goes beyond luxury and includes 15 acres, a private trail to Secret Beach, and incredible ocean views from its clifftop perch. You won't be far away from Mark Zuckerberg's immense compound that makes this look tiny by comparison.
Be in touch with nature on the estate's organic farm with tropical fruits and flowers. For relaxation, it includes an infinity-style pool and spa, while enjoying views from Kilauea Lighthouse to iconic Bali Hai.
The cost per night ranges from $15,000 to $21,000 depending on your dates, with a 7-night minimum. There's also a $1,600 departure cleaning fee, plus another cleaning fee of $480 daily. Expect to pay an additional 20% in taxes and a $20,000 security deposit. It's good to know, however, that heating the pool is included in the price.
This rental is comprised of four "pavilions" all surrounded by ponds and gardens and connected by footbridges and breezeways.
The main pavilion offers a gourmet kitchen, dining area, living room, media room, wet bar, full bath, and a king-size bedroom. There's also a fully-outfitted fitness studio and for frivolity, a ping pong table.
Its master pavilion has another king suite of more than 1.1k square feet, living area, wet bar, spa with indoor and outdoor shower, dressing area and walk-in closet. It has three view lanais.
Two additional guest pavilions each feature king suites, large full baths, private indoor/outdoor showers, wet bars, and lanais.
Which one are you ready to book? And if it's Hale Ae Kai, we hope you invite us to visit.
Disclosure: We receive a small commission on purchases from some of the links on Beat of Hawaii. These links cost you nothing and provide income necessary to offer our website to you. Mahalo! Privacy Policy and Disclosures.