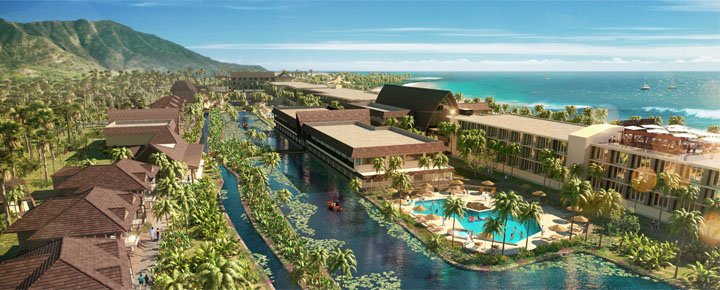 In ongoing comments you continue to ask about what became of the Coco Palms Hotel and will it ever be redeveloped. Here's the latest on the forever pained Kauai Coco Palms Hotel, where amazingly little has changed in the many years since we first toured the grounds and starting writing about Kauai's most iconic resort. This, the place where the rich and famous once stayed and where Elvis Presley's Blue Hawaii was filmed. The property consists of 20 oceanfront (or actually now highway front) acres together with 15 acres of state-leased land.
In 2019, Utah based Stillwater Equity became the developer, after the prior group defaulted on financing valued at $22 million. At the time, Stillwater said it was going ahead with redevelopment plans and permits and was looking for a partner with hospitality experience who could contribute the funding needed to bring the project back to life.
Coco Palms' Update from Beat of Hawaii:
1. On checking today, we find a range of permits with the County of Kauai that are still open. At the same time, we can find no reference to Stillwater on the permits, nor any reference to Coco Palms on the Stillwater website. There are no longer any websites we found that are associated with the Coco Palms Resort.
2. We also discovered that Colliers is showing a current listing to sell the property. It says "Since 2016, the new owners have obtained the entitlements and permits necessary for the redevelopment of the 350-room hotel along with restaurants, lounges, swimming pools, wedding venues and a spa. The concrete foundations and frames of the main hotel buildings remain allowing for expedited and less costly redevelopment." We tried to reach the agent at Colliers, but weren't successful.
3. To help control drug dealing and other illegal activity that was rampant at the property, security fencing was previously removed from the Kuhio Highway fronting property, and other safety measures have been implemented.
Connection to Koa Kea and Hyatt Hotels.
In 2019, Stillwater was rumored to be in discussions with Poipu's Koa Kea Resort management company, the Meritage Collection, about running the Coco Palms. And before that, Coco Palms had been scheduled to reopen this year as a Hyatt managed property with 273 rooms, 77 suites, 3 restaurants, a cultural center, 12k square feet of retail and more. Living here, we just knew the 2014 Hyatt Unbound Collection plan would never come to fruition.
Zoning problems.
It is interesting to note that zoning at the Coco Palms is a major roadblock. Prior developers had received grandfathering of most aspects of the original property. Given that much of the permitting would seem to have been terminated, developers might need to meet current day standards (instead of 1992 standards), creating an unworkable situation.
Coco Palms Kauai Resort project is dead, so what's next?
The project has completely disintegrated as multiple developers have been unable to acquire funding required. All to the chagrin of visitors, locals and to some in the Kauai government.
When driving by, you see a great deal of ugly, original concrete and steel, as in image below. The developers had planned to use these pre-existing steel and concrete structures as the base of the new resort. The iconic lagoon was also set to be restored as is shown in image depiction above.
For years we've heard talk about an alternative plan for Coco Palms, such as a county park. How that would happen, however, and where funds would come from to undertake such a process, is totally unclear. Various county officials have supported such a concept, at least in theory. Mayor Derek Kawakami was not supportive of the hotel project, although we do not know of alternatives he may promote.
Beat of Hawaii: Until something more happens, Coco Palms sits largely unchanged, destroyed through hurricane, fraud, neglect and to this day, ongoing controversy, for over a quarter century.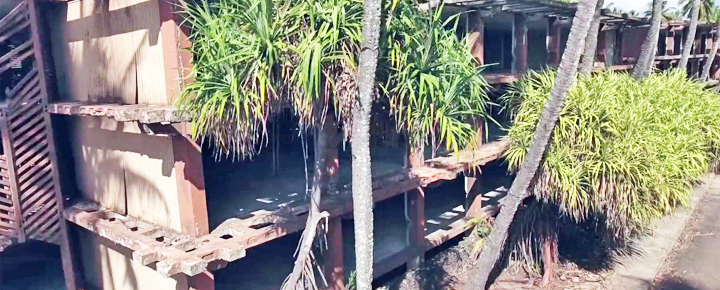 A multi-million dollar selective-demolition project was completed in 2016 as seen in photo above. This included drywall and asbestos removal, electrical and mechanical repairs, renovations at the Lotus Restaurant and bungalow building. It pretty much was stripped clean.
More big problems occurred at Coco Palms.
1. Following demolition, construction that was to have begin in 2017 never occurred. Dozens of building permits were issued and remained pending for years.
2. Also in 2017, a land dispute arose when a group of Native Hawaiians claiming to be descendants of Kauai's King Kaumualii began living on the property. A judge refused to remove them from Coco Palms as more information was needed to determine the rightful owners.  The developers have taken the position that "the county recognizes us as the owner of the property, and so we see it as criminal trespassing." That position was affirmed by the court in 2018, when a summary judgment hearing ended the dispute.
3. Ongoing flood zone concerns. We've heard that Kauai County engineering is saying that the resort, if rebuilt, would need to comply with current flood abatement standards. Those did not exist at the time of the original resort. That could result in significant unanticipated costs and delays in order to flood-proof large areas of Coco Palms. We aren't aware of any update on this issue.
Is there even a market for Coco Palms Resort?
If the resort could ever be rebuilt, how would it position itself in relation to other nearby Kauai hotels isn't clear. Coco Palms is located on what has become a very noisy stretch of Kuhio Highway, with no beach access. The idea of a pedestrian bridge had been thrown around, but we aren't aware of any specific plans. In addition, competitive hotels have been built in recent years that, while not Coco Palms, offer beachfront locations at prices that could well undermine any potential for profitability.
We welcome your thoughts.
Image courtesy of prior website cocopalmskauai.com.
Updated 4/16/20.
Disclosure: We receive a small commission on purchases from some of the links on Beat of Hawaii. These links cost you nothing and provide income necessary to offer our website to you. Mahalo! Privacy Policy and Disclosures.