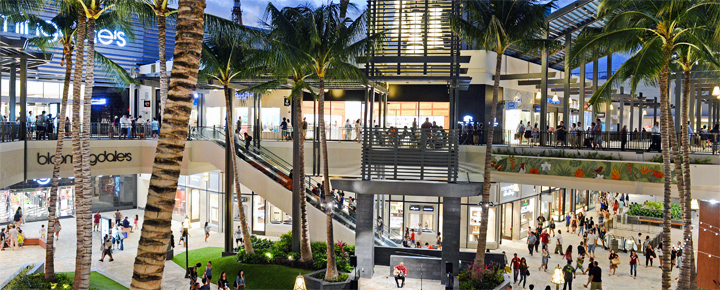 You'll recall that last month, a famous 20-year-old YouTube video publisher from Alabama was arrested in Honolulu when she broke quarantine following her arrival in Hawaii. Mika Salamanca traveled to Honolulu early in July and was seen four days later brazenly out in public. We hadn't given this much thought, until looking at it again this morning and wondering if justice was best served.
Going rogue, Mika Salamanca published social media videos from Honolulu's City Nails, Ala Moana Shopping Center (pictured above), at a nearby Korean restaurant, and when hiking in Lanikai. These videos, available to her millions of followers, were brought to the attention of the Hawaii Tourism Authority. The matter was then turned over to the State Attorney General, after which Salamanca was arrested. Salamanca first claimed she was advised by law enforcement she could go out in public so long as she had a negative C0vid test. Attorney General Clare Connors said that was incorrect and that her having, "so many followers makes her actions that much more dangerous…"
Potential $5,000 fine and a year in prison reduced to $575 and 6 months probation.
She was originally released on $2,000 bail. Mika Salamanca subsequently agreed to and has now issued a PSA on her social media accounts. She apologized per a state-approved script. As a result, her fine has been reduced to $575, she is on probation for 6 months and has agreed not to return to Hawaii at this time. As an interesting side note, this is not the first time we have heard of penalties for these violations being greatly reduced or dropped entirely.
One of the infamous videos still online.  
PSA apology video. 
The video below is in Tagalog as Mika has over 2 million subscribers largely in the Philippines. In it, she said  (per Google Translate) "I admit that was a big mistake so I apologize to all of you my followers and the people of Hawaii… I admit in front of the court my mistake so I was given the opportunity to clear my name… I hope you understand me and I'm sorry for everything I did."
What's your take?
Was justice best served in the way this is being handled? We're not sure ourselves and look forward to hearing your thoughts.
Disclosure: We receive a small commission on purchases from some of the links on Beat of Hawaii. These links cost you nothing and provide income necessary to offer our website to you. Mahalo! Privacy Policy and Disclosures.