Hawaiian Airlines is indeed celebrating its 93rd Anniversary. Read more about that below. But first, a Facebook fan page purporting to be that of Hawaiian Airlines using the lead photo above, said that on Monday, November 14, "we will choose 82 people who have shared and typed (Hawaii) on this, each of them will be rewarded with one of these vacation packages including a paid trip to Hawaii for five people! (This includes Airfare and a 7-night stay).
Do not

follow these steps, but see how the hoax was perpetrated.

Your editors found that many of their friends had already fallen for this scam.

To enter, you would have needed to be on Facebook. Then, navigate to the Hawaiian Airlines Fans (fake) page. It called for people to "Please note that sharing (to your friends) and then commenting (on this specific fan page) are the only necessary steps to enter this giveaway! You could also Follow/like us to stay updated! Reply here saying done once you have completed all the steps (optional)!
Why does Facebook allow this lookalike brand hoax to continue?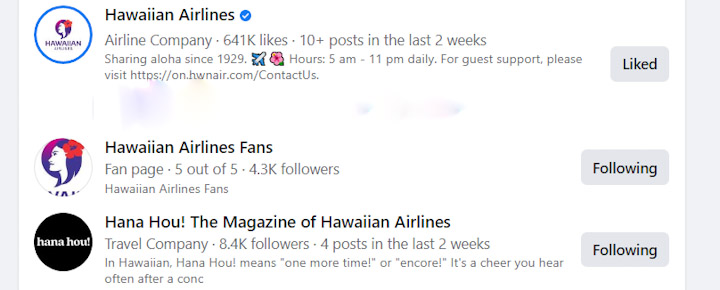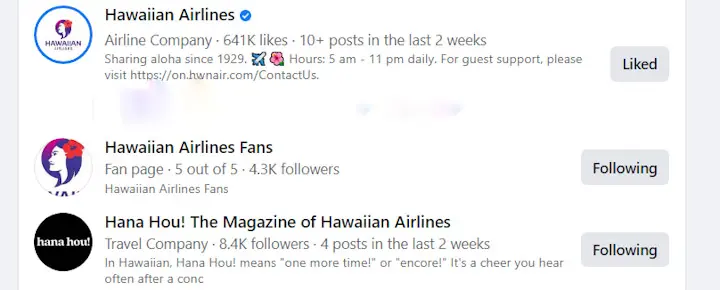 Honestly, we almost fell for this ourselves given all of the brand photos and similar logos as you can see. One of the most suspicious parts was the lack of fans.
Editor Rob first found it because so many friends had already fallen for it. Editor Jeff was very suspicious but continued to check further. We're shaking our heads and don't know why this is still available.
Ultimately Rob found the answer here which is from Hawaiian Airlines officially:
Please be informed that any official news or giveaways will only be on Hawaiian Airlines' official social media channels. Our social media accounts are verified with a blue check only (except our TikTok account). Mahalo.
When Hawaiian Airlines started in 1929, was it ever a different world?
In a pre-hoax world, Hawaiian Airlines was incorporated in 1929 under the name Inter-Island Airways Ltd. When they started, thousands of people showed up in Honolulu to see the departure of Hawaii's very first scheduled interisland flights. Those began to Maui and the Big Island.
Inter-Island Airways was a subsidiary of Inter-Island Steam Navigation Company. They started flying in October using a Bellanca CH-300 and launched scheduled interisland service on November 11, 2029, using Sikorsky S-38 planes.
The first scheduled flight was from Honolulu to Hilo. But on the way, it made stops on both Molokai and Maui. My how things have changed.
The company changed its name to Hawaiian Airlines in 1941 when it moved to Douglas DC-3 aircraft. Jet service began in 1966 when not still familiar DC-9 planes arrived for interisland flights, of which the current 717s are a later variant.
Hawaii bellwether airline.
Hawaiian Airlines has been the bellwether of Hawaii ever since its founding and is Hawaii's only flag carrier. Hawaiian is based largely out of Honolulu and, secondarily, Maui, with a big presence on the Big Island and Kauai.  The company continues to fly interisland, to the U.S. mainland and Asia, American Samoa, Australia, French Polynesia, and New Zealand. It currently has a fleet of wide-body A330-200 and narrow-body A321neo aircraft and uses Boeing 717 interisland. In the next year or so, Hawaiian will start to take delivery of their new Boeing 787 Dreamliner fleet. That will bring more premium service and open new route opportunities to Southeast Asia and the UK. Hawaiian has never incurred a fatal accident or hull loss.
Did you get caught up in this?