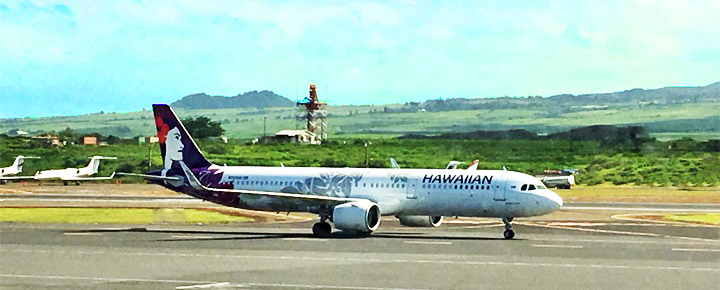 We were alerted by a Beat of Hawaii visitor to the possibility of free Hawaiian Airlines tickets earlier this week. They were buying flights from LA to Maui, and much to their surprise, the price was $11.20 RT per person. They went ahead and booked the tickets, but were left wondering what would happen next. News of the glitch spread quickly on the internet and in social media.
"Last night I booked RT from LAX to OGG using Hawaiian Airlines…. When I signed into my Hawaiian account… expecting RT for 80,000 miles but it said ZERO miles and $11.20 RT. I was able to book my flight for two people for a total of $22.40…. I have read about mistakes happening before. Do you know how I should proceed?"
Thirteen hundred free tickets were issued.
What happened is that Hawaiian Airlines booked over 1,300 free tickets (tax only) to Hawaii. That was until the company realized a computer glitch had caused the problem and it was rectified. Hawaiian Airlines said that following US DOT guidelines, "Hawaiian has reached out to impacted guests to inform them these tickets will not be honored and that they will be reimbursed for any taxes and fees associated with the ticket." We learned subsequently, however, that free tickets for flights through May 24, were in fact honored.
A further glitch apparently caused some people to be charged over $100,000 for their tickets. While we didn't hear about that directly, that issue was also resolved. Those charged that much must have had a very high credit limit.
Compensation from Hawaiian Airlines.
Hawaiian has offered each affected passenger 10,000 Hawaiian Miles as compensation for the error. Ten thousand miles has a value of $100. What's your take on how Hawaiian Airlines handled this?
History of airline mistake fares.
Computer mistakes happen occasionally, even to the airlines. We don't make it a policy to share those because the airlines do not need to honor them, as was largely the case here. It can just turn into a big waste of time. Bottom line, a deal like $49 tickets to Hawaii is great, and if we publish it, it's real. Beyond that, buyer beware.
In the past, airlines did sometimes honor erroneous fares, but that is for the most part no longer true. DOT required that airlines honor these, until that policy was changed about five years ago. Now, if you book a mistake fare in the US, the airline theoretically does have to reimburse any out-of-pocket expenses you incur as a result of the mistake fare. But proving that and getting your money back, will be difficult if not impossible.
Should you take a chance with erroneous fares?
When it is free, you honestly know it is too good to be true. Thus it is a virtual certainty it will not be honored. If you decide to give this a try, best to not make any other non-cancellable travel plans until some time has passed.
Have you ever flown using a mistake fare? Let us know.
Disclosure: We receive a small commission on purchases from some of the links on Beat of Hawaii. These links cost you nothing and provide income necessary to offer our website to you. Mahalo! Privacy Policy and Disclosures.