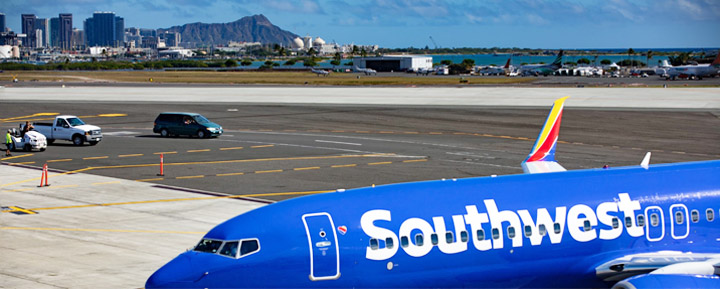 Another day, another final test flight. We now expect Southwest Hawaii tests to be completed, and final ETOPS certification to occur, possibly as soon as within the next few days. In the past three days there were three additional test flights, and there's another one today, Presidents' Day, as the process moves rapidly to completion.
Within the next week or so, tickets to Hawaii on SWA will go on sale.
Final Southwest Hawaii Tests
1. Saturday, there was a test flight due to travel from Oakland to Honolulu that subsequently included a diversion. As a result, the flight landed instead at Hilo.
2. Inter-island was tested late on Saturday with a flight as well, when the Boeing 737-800 aircraft continued from Hilo on to Honolulu.
3. Sunday, the test flight was from Honolulu to Oakland.
4. Today, Monday, the test flight is from Oakland to Maui, departing at 12 noon, Pacific time.
Why is Hawaii so important to Southwest?
Last week, Andy Watterson, SWA Executive VP said, "We have all these California customers who fly us for business and family, and we couldn't provide them with their number one leisure destination…. That was a big hole for us." He also said that they expect "a flood of demand for our flights" and that "we know the California market better than any other airline."
Southwest Hawaii flight plans were finalized in 2017 and the company has been working since then to get government approval. Test flights, one of the very last aspects of that process, began earlier this month.
Read all about Southwest Hawaii flights.
Disclosure: We receive a small commission on purchases from some of the links on Beat of Hawaii. These links cost you nothing and provide income necessary to offer our website to you. Mahalo! Privacy Policy and Disclosures.